Here at WTF1, we're continuously empowered and inspired by the number of women working in motorsport and their hard work and dedication 💪
This International Women's Day 2022, we wanted to celebrate the incredible women who make the sport we love possible. Here are just a few! 
KRYSTINA EMMANOUILIDES 
ALFA ROMEO
Having grown up near Albert Park in Melbourne, Krystina moved halfway around the world, aged 18, to study Motorsport Engineering at Oxford Brookes University and later studies a Master's at Durham University.
Hard work and determination pays off 👊

Aussie CFD engineer for @alfaromeoorlen @kr_ys_ti_na discussed her motorsport career path in our latest podcast episode 🇦🇺

LISTEN: https://t.co/yNToQc0yc6 pic.twitter.com/PjtDWKDjR6

— F1 Australian Grand Prix (@ausgrandprix) March 8, 2022
In 2018 she joined Alfa Romeo as a Computational Fluid Dynamics Development Engineer, designing and maintaining the software used in the team's aerodynamic computer simulations.
She's also an industry ambassador for Racing Pride, which aims to promote LGBTQ+ inclusion in motorsport. 
FABIANA VALENTI
ALPHATAURI
A long-standing face of the F1 paddock, Fabiana has been a part of AlphaTauri since the Minardi and Toro Rosso days as their senior press officer.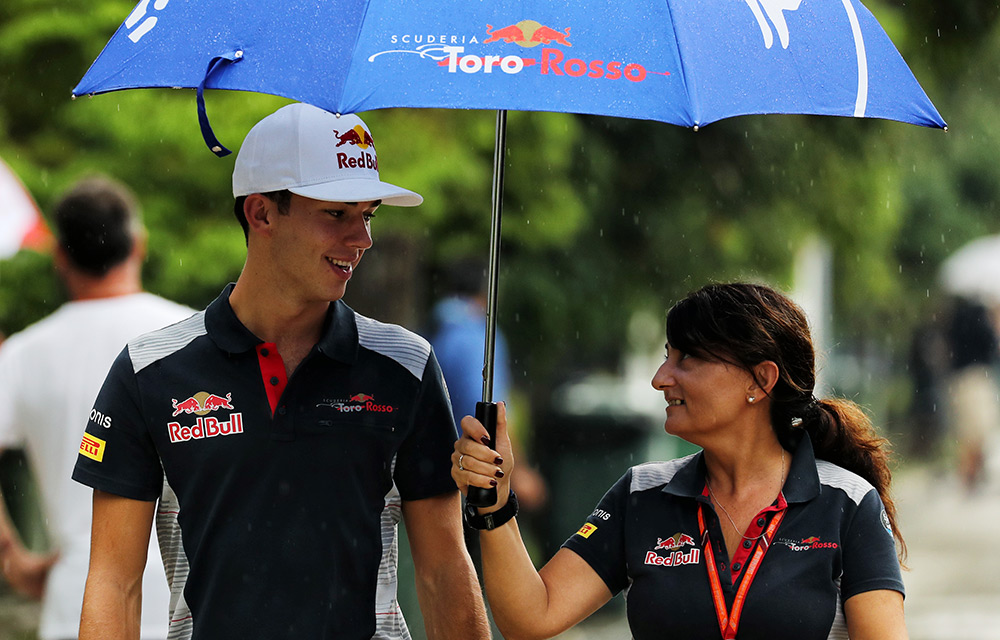 Now working as their Head of Communications, she's the first point of contact for the media. Fabina also has the challenging task of balancing the team's hectic schedules with constant demands for interviews, alongside all the PR activities.
ALEX THOMSON 
ALPINE
Alex studied Marketing and Management at the University of Adelaide, later winning an exchange programme scholarship to study in Singapore and returned to Australia to complete a postgraduate degree.
She then founded her own blog Alelbuth in 2013, covering F1. From there, she joined Lotus' F1 Team as a Media and Communications intern and then headed to Abu Dhabi to become the Social Media Manager for the Yas Marina Circuit.
Four years later, Alex began working for the F1 Paddock Club and went on to launch her own company, Alelbuth Media. These days, you'll find her creating content trackside as Alpine's Digital Media Officer.
BERNADETTE COLLINS
ASTON MARTIN
Bernadette grew up in Northern Ireland and studied at Queen's University Belfast, specialising in Mechanical Engineering. After getting involved in the University's Formula Student team, she secured a place on McLaren's graduate programme and became their performance engineer in 2012.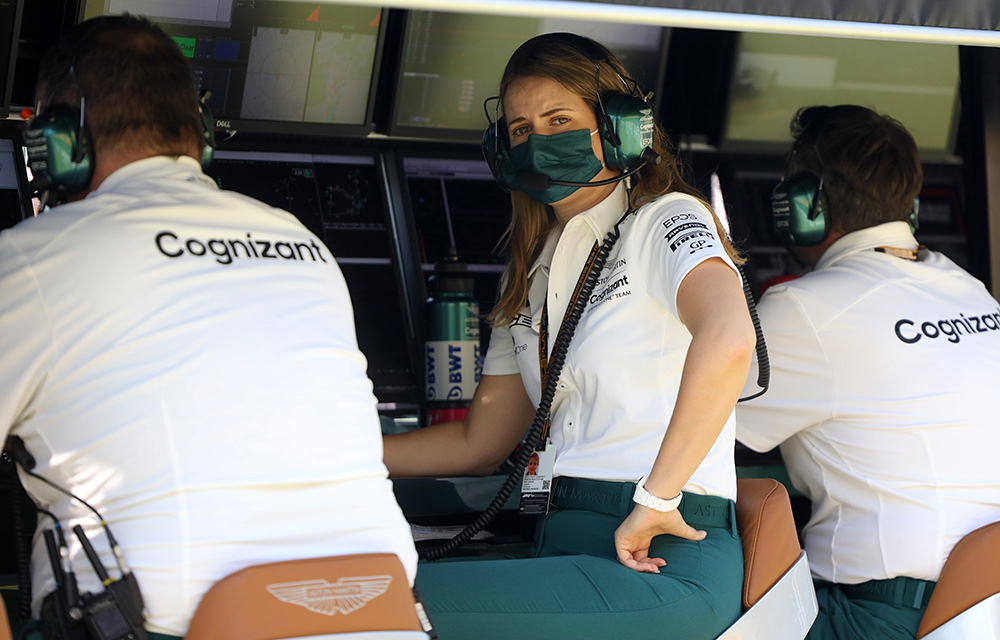 After a year away working in GT, Bernadette returned to F1 as a race engineer at McLaren before joining Force India as a Performance and Senior Race Strategist in 2015.
Promoted to Head of Race Strategy at Aston Martin in 2020, she's announced she'll be moving on later this season, and we're really going to miss her!
QIN LI 
FERRARI
Li studied Automotive Engineering at Tongji University in Shanghai. During her degree, she was a finalist for the Infiniti Performance Engineering Academy in 2014, a programme that worked with Red Bull Racing.
After completing a Master's degree in Mechanical Engineering at the University of Michigan, she interned in IndyCar before becoming a junior aerodynamicist at Haas in 2016 before being promoted two years later. 
"It doesn't matter if we're male or female, it doesn't matter where I come from or what language I speak, we're all just part of this team".

For #IWD, some of our female employees talk about how they started working at @ScuderiaFerrari and #BreakTheBias 🏎#essereFerrari 🔴 pic.twitter.com/h8wK1xvKW1

— Scuderia Ferrari (@ScuderiaFerrari) March 8, 2022
In October 2019, she joined Ferrari and currently works as a senior aerodynamicist at the Prancing Horse.
KIMBERLEIGH HILLSDON 
HAAS
Joining Haas in 2020, Kimi's previous role as their Race Programme Project Coordinator meant that she acted as the essential go-between from engineering to purchasing. Working alongside all the team's bases in the UK, US and Italy, she ensured that all the parts were transported correctly, repaired or replaced accordingly.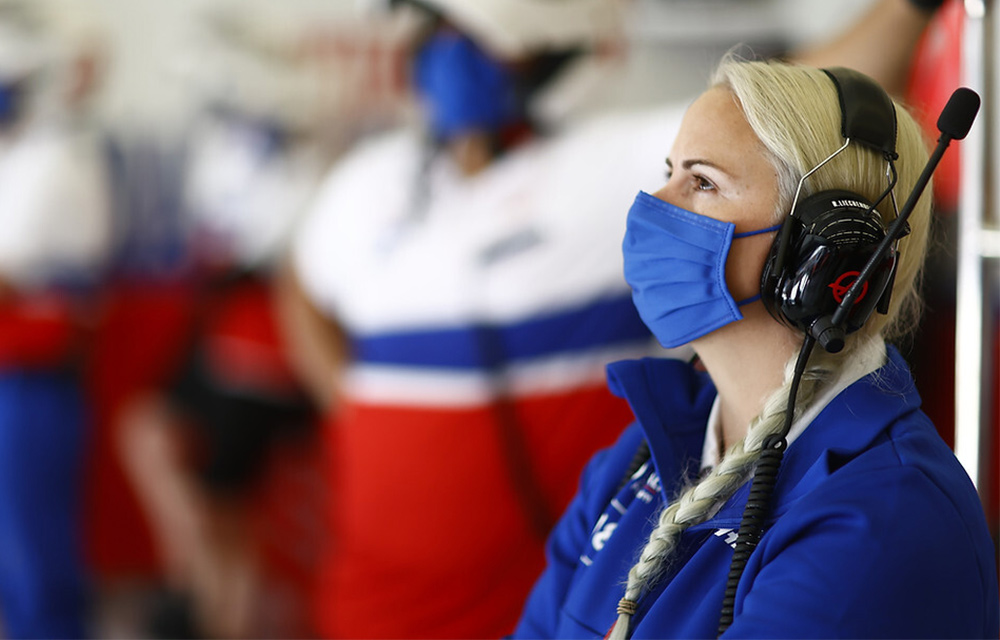 This season sees her remain with the team as their Parts, Spares and Stores Supervisor.
LUCINDA BROWN
MCLAREN
After earning a degree in Public Relations and Business Studies from Leeds Beckett University, Lucinda made her way up as a PR and Marketing Executive in British Touring Cars before joining McLaren as a Marketing and Events Manager in 2011.
What. A. Race. 👏🏼

You absolute hero, @Carlossainz55! 🏆🧡 pic.twitter.com/OMq3wZ000T

— Helen Crossley (@helencrossley) September 6, 2020
Recently promoted to Senior Specialist for Partner and Brand Experience and Trackside Marketing, Lucinda plays an important role in growing the relationship between McLaren and their business partners worldwide.
STEPHANIE TRAVERS
MERCEDES
Accepting the Constructors' trophy at the 2020 Styrian Grand Prix, Stephanie made history when she became the first black woman to stand on an F1 podium. A moment we loved to see!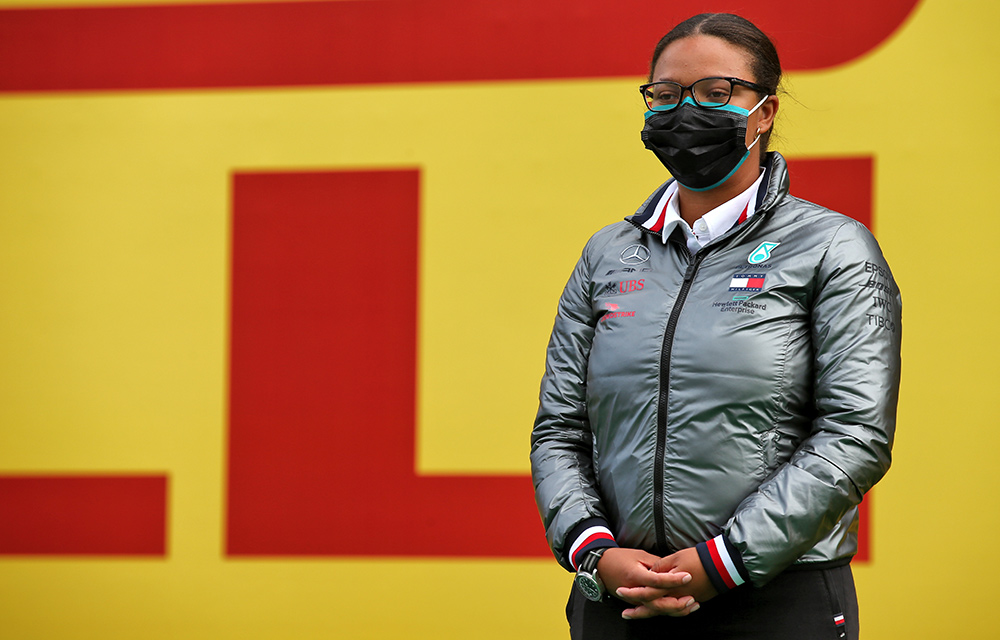 Originally from Zimbabwe, Stephanie joined Mercedes in 2019 and as Petronas' Trackside Fluid Engineer, she has played a key part analysing fuel and lubricant samples to ensure they are in tip-top shape, providing both performance and reliability to the eight-time Constructors' Champions.
HANNAH SCHMITZ
RED BULL
Fans may already recognise Hannah Schmitz from the 2019 Brazilian Grand Prix podium. Her decision to call Max Verstappen in for a third pit stop helped the team secure victory.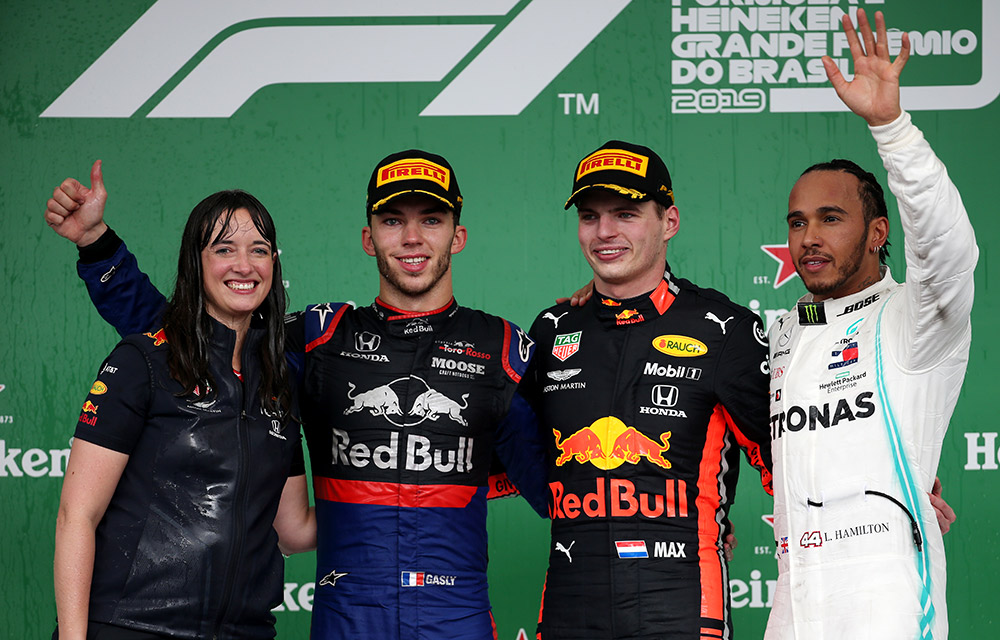 After graduating from the University of Cambridge with a Masters in Mechanical Engineering, she joined Red Bull as a modelling and simulation engineer. For the past 11 years, Hannah's been a core part of their strategy team, first as their Senior Strategy Engineer and now as their Principal Strategy Engineer.
CLARE SIBLEY
WILLIAMS
As their Head of Quality and Manufacturing Engineering, Clare is responsible for the production of parts, ensuring they are up to the standards the team expect and meet their specifications in an efficient way without wasting extra resources or their limited budget.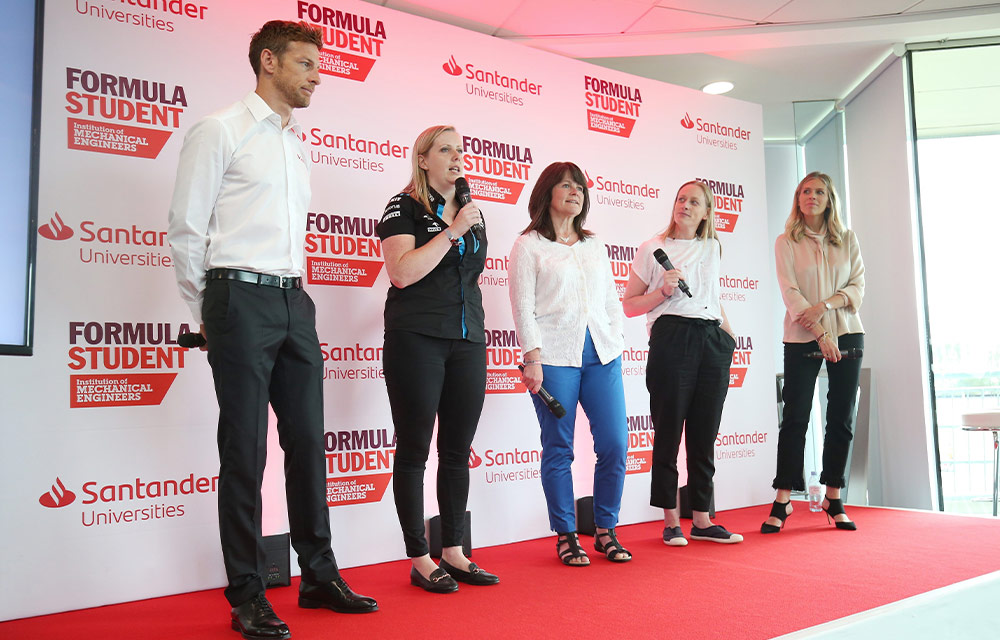 Clare studied a Masters in Material Science at the University of Cambridge before being offered a spot on Mercedes' graduate scheme, rotating between several departments as part of her role as Materials Engineer. 
Six years later she moved over to Williams in the same role, climbing up the ranks to Head of Materials Science to her current position working at the team's factory in Grove. 
Which women in motorsport inspire you? Let us know in the comments below.