If you thought things were going to quieten down after yesterday's drama, think again! There was plenty for fans to dive into throughout the day. 
Here's what got us all glued to our screens during the second day of testing.
LATIFI'S ON FIRE
Unfortunately, we don't mean he was quick. Almost two hours into the morning session, Nicholas Latifi's Williams quite literally caught on fire in dramatic fashion.
Thankfully, the Canadian wasn't hurt but managed to bring the FW44 to a halt on track and turned into his very own firefighter, helping put out his burning brakes. Unfortunately, that was the end of the team's running for the day after only 12 laps.
ALBONO'S COMMENTATOR'S CURSE
We've seen plenty of commentator's jinx drivers before, but nothing quite like this. With some free time on his hands until his scheduled running in the afternoon session, Alex Albon headed up to the commentary box to talk about all the action going on.
alex albon comedy king😭😭😭 pic.twitter.com/9jN5rZj6Sn

— leo🐋 (@LH44AA23) March 11, 2022
And what's the first thing that happens? His teammate's car catches fire 🤦‍♂️ Now that's what we call a commentator's curse. Pretty sure we've never seen it happen on their own car, though!
STANDING START SHENANIGANS
WTF was going on down at race control today? A planned FIA restart test somehow managed to be cocked up not once, but TWICE! Sebastian Vettel started on pole ahead of Valtteri Bottas and Charles Leclerc in the first test.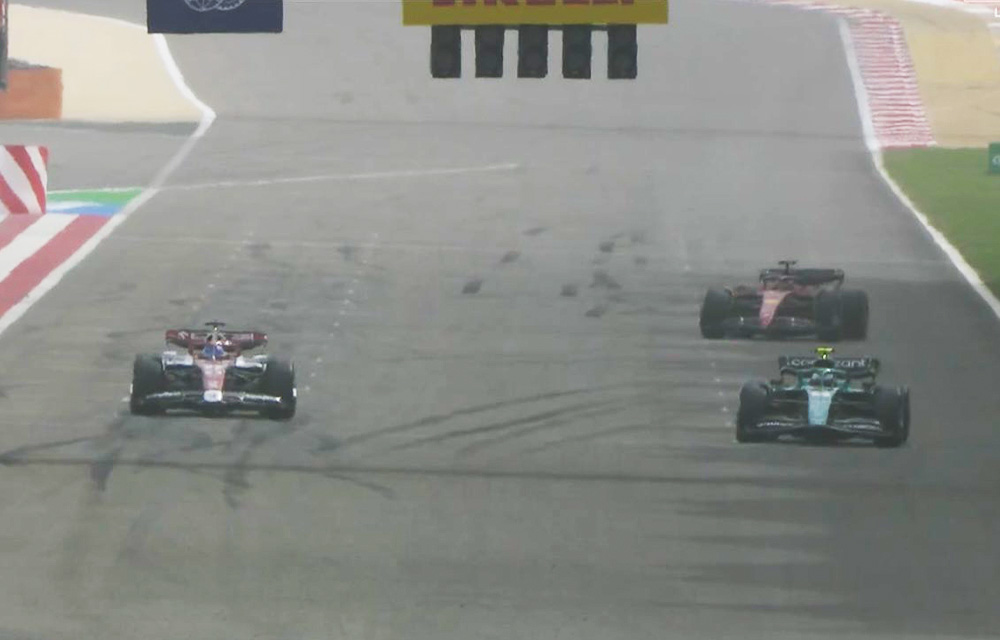 Yet Max Verstappen and George Russell messed it all up and had to wait at the pit lane exit. As a result, the FIA made the drivers do another formation lap to get a five-car grid, but then Valtteri Bottas came to a stop on the second formation lap and brought out an actual red flag.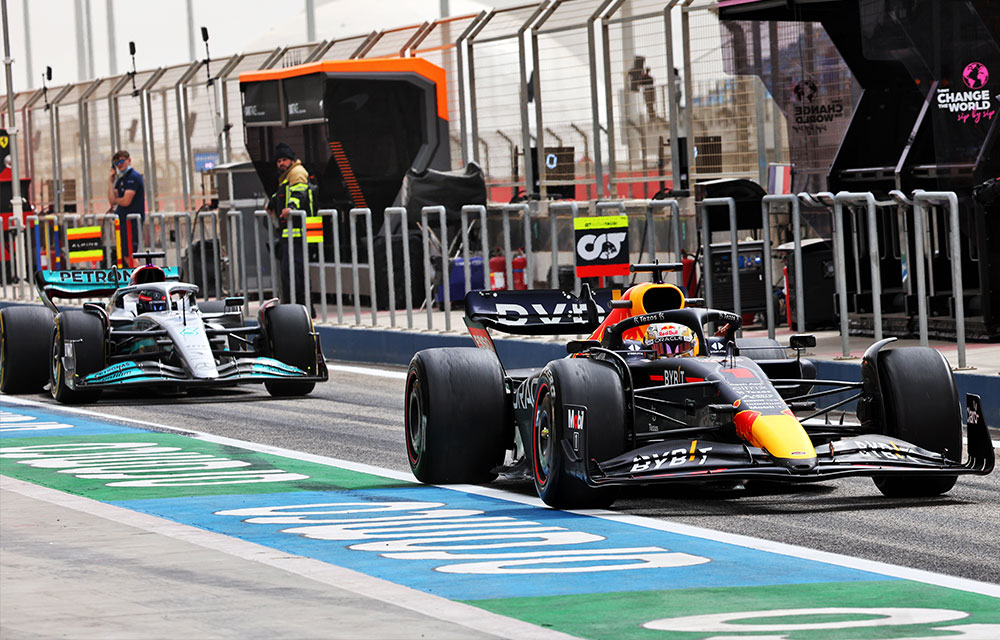 In the evening, plans for a rolling start were seemingly abandoned after only Max Verstappen and Carlos Sainz went out on track and Lance Stroll came to a halt at the end of the pitlane.
THINK PINK
Since Racing Point were the pink panthers, what should we call the Alpines? The French team's limited edition 'flipped' livery for Bahrain and Saudi Arabian has gone down very well with fans.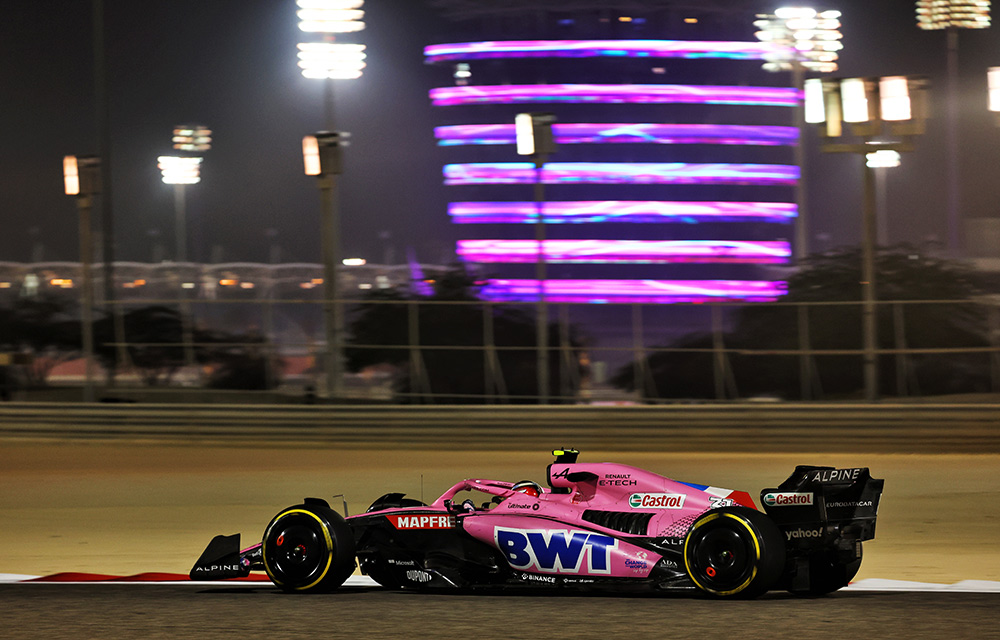 The livery is in honour of their new title partnership with BWT, and honestly, we think they should stick with it all season, even if it is giving us Penelope Pitstop vibes.
VETTEL'S OFF-TRACK STOP
How did you end up there, Seb? After having just left the garage for his latest stint, Sebastian Vettel managed to come to a halt on track with a problem.
Seb giving instructions pic.twitter.com/IXvFcaVRQe

— tami. (@Vetteleclerc) March 11, 2022
Bizarrely, he stopped on a piece of the Sakhir circuit that isn't actually used during testing, the outer loop.
K-MAG'S BACK BEHIND THE WHEEL
KEVIN!!! Following his shock return to Haas, Kevin Magnussen finally got back in the driving seat in the VF-22 this afternoon.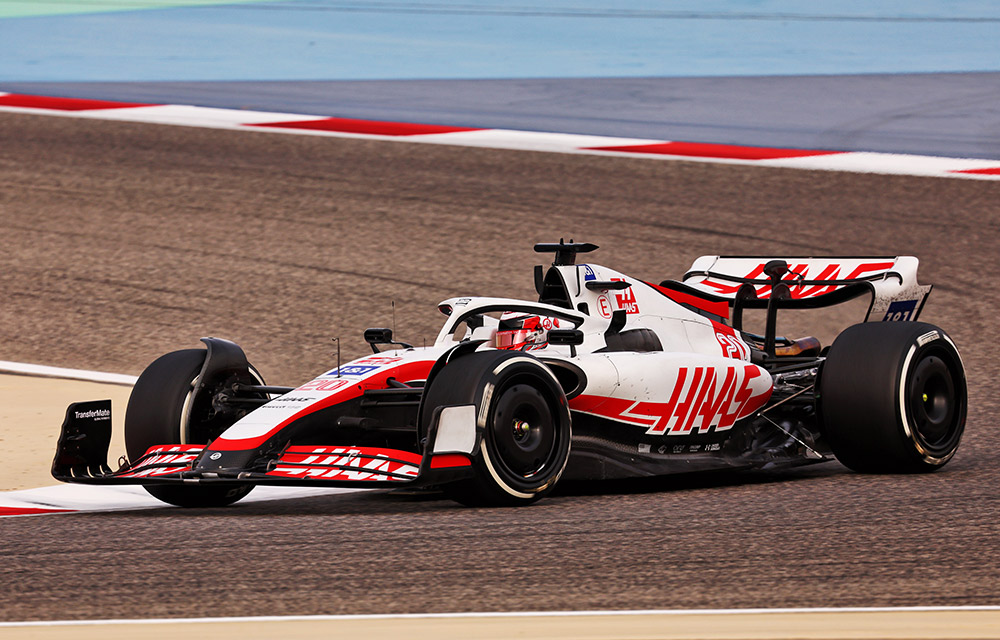 A decent afternoon's running saw complete 39 laps and end the 'regular' part of day with the ninth fastest time. However, the team were given an extra hour's running to make up for missing the morning session yesterday.
First day in an F1 car for 15 months and sets the fastest lap.

All in a day of the life of @KevinMagnussen 😎#HaasF1 #F1Testing pic.twitter.com/568LTfYBTB

— Haas F1 Team (@HaasF1Team) March 11, 2022
In true Haas fashion, as soon as the cameras are off, K-Mag manages to clock in the fastest time of the day. What now?!
VERSTAPPEN VS SAINZ
Calm down, guys. We've still got a week to go till the Grand Prix!
Max Verstappen and Carlos Sainz couldn't resist a bit of battling during testing as the Red Bull put his nose up the inside of the Ferrari into Turn 8 before going on the defence into Turn 1 without DRS.
More racing during testing 🤩

It's Carlos Sainz and Max Verstappen giving us flavour of what we can expect next weekend 🥳 pic.twitter.com/C0kxKwj0r8

— Sky Sports F1 (@SkySportsF1) March 11, 2022
The two stuck it out close together throughout the corners before eventually Verstappen stayed ahead. Odds on them two duelling for position during the season?
NORRIS ON A 'PUSH' LAP
When McLaren said he needed to push, don't think they quite meant this Lando. Already dealing with overheating brakes, Lando Norris found himself forced to stop just after the exit to the pit lane.
Fernando Alonso 🤝 Lando Norris

Pushing your McLaren
into the pits #F1Testing pic.twitter.com/PVnpfDrMPi

— WTF1 (@wtf1official) March 11, 2022
Not content to wait for the marshals, Lando decided to go full on Nigel Mansell and push his 790kg McLaren all the way down the pit exit in a moment that had us all wondering what on earth's going on.
What was your favourite moment of Bahrain Day 2? Let us know in the comments below.