That's it, the final day of F1's pre-season shakedown in Barcelona is over, and now we have to wait two weeks for the official test in Bahrain!  
But before that, here's all the on and off-track action we spotted during day three of testing 👀
A BLANK HAAS
The VF-22 looked very different around the Circuit de Barcelona-Catalunya for the nine laps it managed to complete today.
Last night, Haas quickly removed all the Uralkali branding from their car and paddock buildings which meant gone were the distinctive Russian vibes of red and blue. Instead, they ran a blank livery. To be honest, we're kind of digging the simple white livery.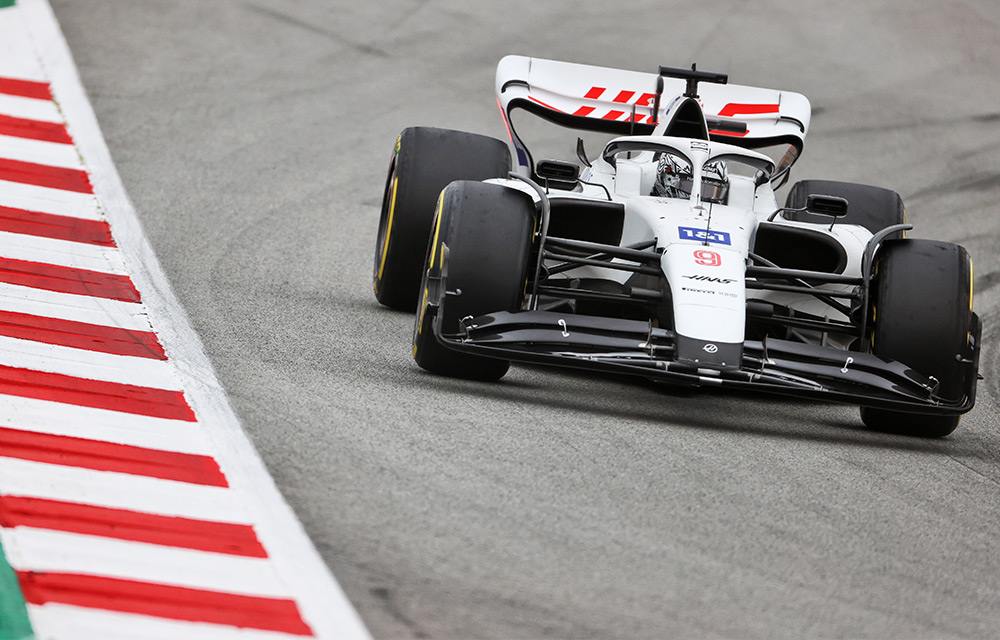 The situation concerning Russia's invasion of Ukraine has also meant Nikita Mazepin's seat isn't guaranteed.
ALONSO'S SMOKING HOT
We don't think this was in 'El Plan'. First, he went on a trip through the gravel. Next, he set the fastest time of the morning so far. Then, Alonso managed to bring out the first red flag of the day early in the morning session. Oh no!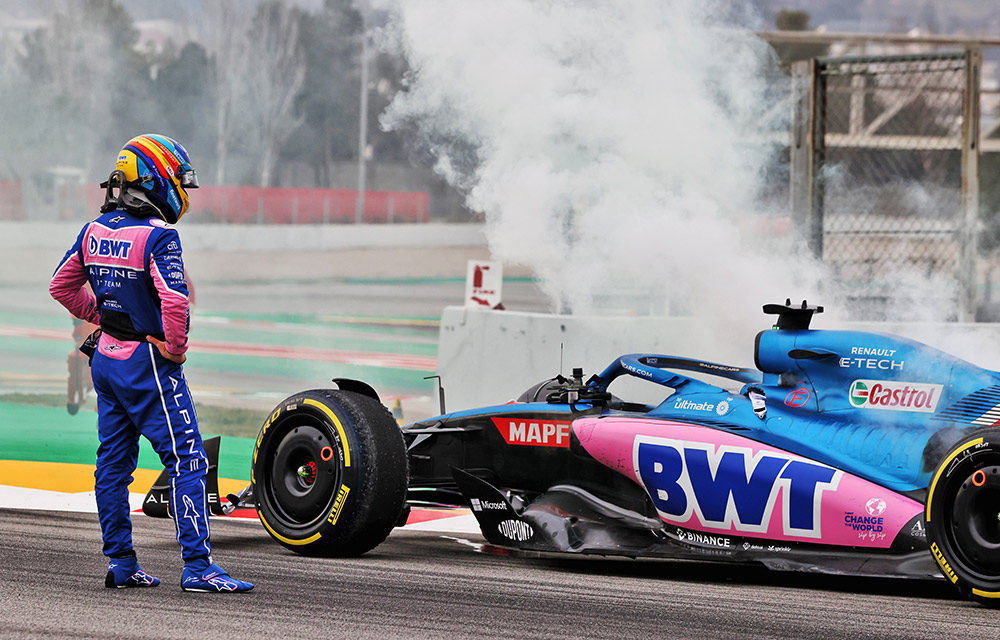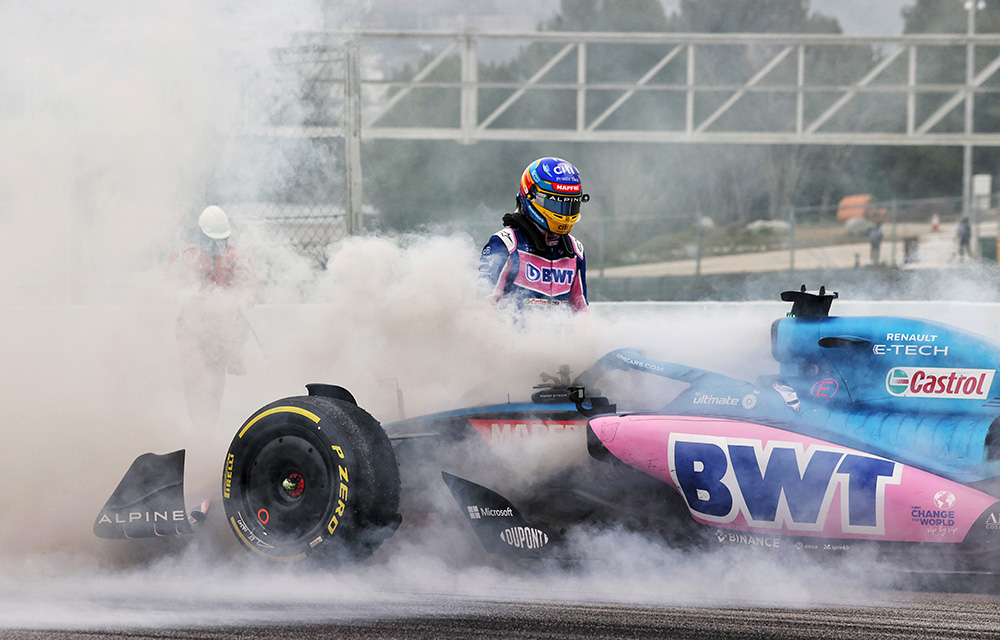 The Spaniard came to a halt in the final sector as smoke billowed out of the A522. Turns out, a "minor sealing issue" caused his hydraulics to catch fire. It wasn't exactly minor, though, as the repairs meant the French team were out of action for the rest of the day.
WILLIAMS' MUSICAL SEATS
It's common for teams to switch their drivers around between testing sessions to ensure they get equal running. Usually, the driver who takes part in the afternoon session will stay in the car for the following morning, saving the team from having to change the seats over.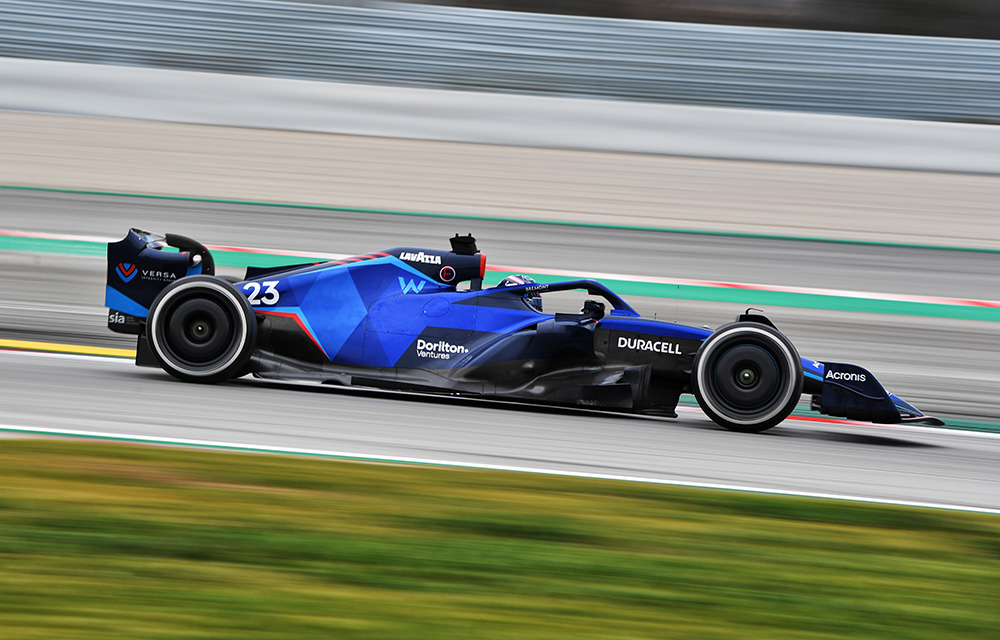 However, Williams decided to change their drivers multiple times over the day! Alex Albon managed 94 laps with his new teammate Nicholas Latifi securing 13 laps over both the morning and afternoon sessions.
RED FLAGS EVERYWHERE
After Alonso's drama early in the morning, Pierre Gasly was next to bring out red flags when he went off at Turn 5. Then Guanyu Zhou brought out the red flag TWICE, spinning into the gravel and beaching himself at Turn 10 on the first occasion.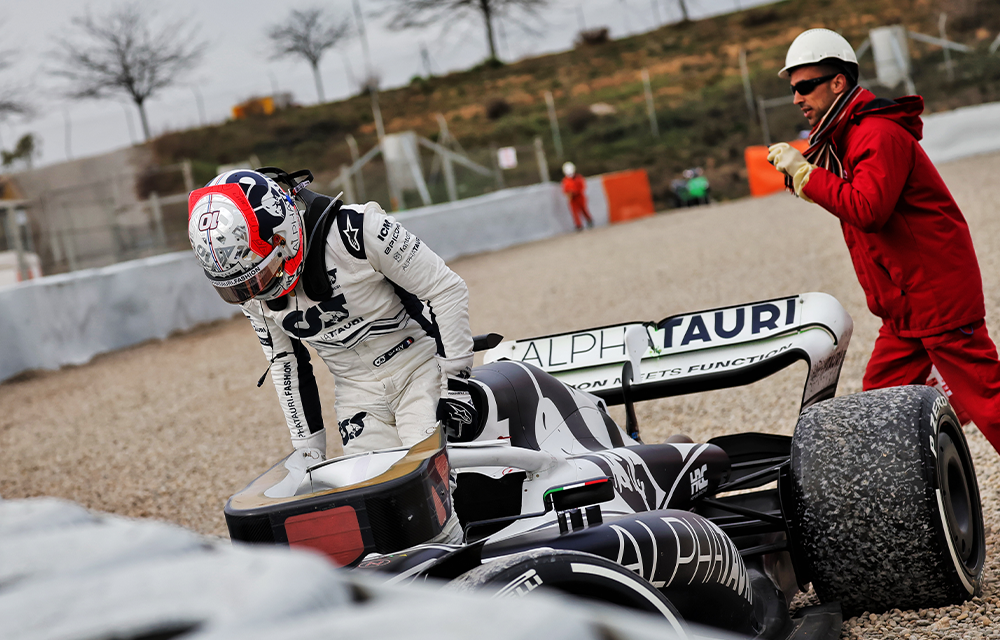 Lastly, Sebastian Vettel brought the morning session to an early finish after an oil leak caused a small fire forcing him to stop on track with five minutes remaining.
In total, there were FIVE different red flag periods! Crikey, the first day had no stoppages.
OUT OF ACTION
AlphaTauri, Alpine, Aston Martin and Haas were all MIA after lunch 😬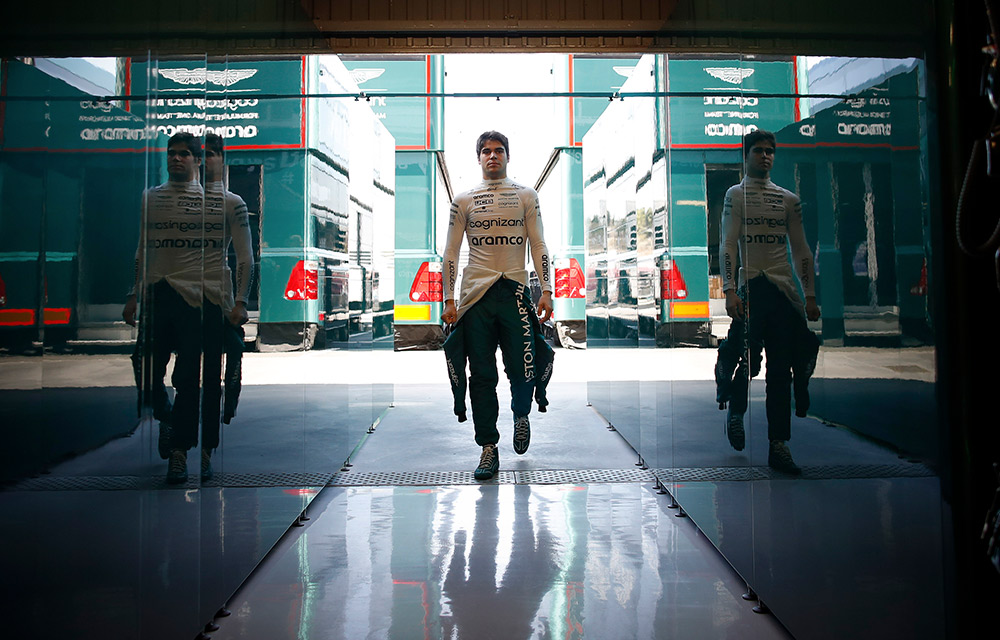 Gasly's crash left his AlphaTauri requiring a significant amount of repairs. Alpine and Aston Martin continued investigating their earlier incidents, and a suspected oil leak forced Haas' Mick Schumacher to sit on the sidelines.
A SPLASH OF TESTING
Testing on Friday afternoon looked a bit different from usual. It was finally time to test out the new 18-inch wet weather tyres 💦
With Mother Nature keeping things dry in Barcelona, it was up to the six watering trucks to go out at lunchtime and do three laps to soak the circuit ahead of the afternoon's running.
Intermediates are the popular choice on Friday afternoon #F1 pic.twitter.com/HkSUYVh5V4

— Formula 1 (@F1) February 25, 2022
In reality, the wet tyres didn't get much running, with only five teams attempting laps on them. After just an hour and a half, the drivers were already switching back to the slicks.
SNAPPING SOME SHOTS OF THEIR RIVALS
They're not even trying to be subtle anymore, are they? We've had both Mercedes drivers trying to sneak a peek at their rivals, and now Red Bull and Ferrari are in on the act too.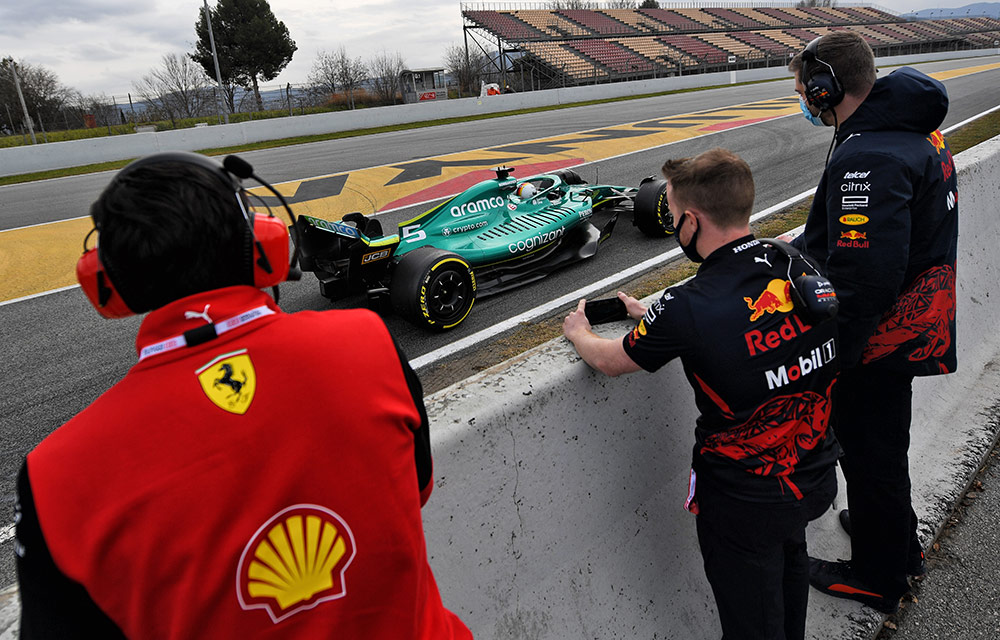 Two of their team members were spotted trackside at the pit exit watching the other cars in action, with one cheeky Red Bull member taking some photos of Vettel in the Aston Martin. Perhaps they're just a fan of that gorgeous new livery…
RUSSELL'S DAY ISN'T OVER YET
After three days of solid testing, you'd think George Russell had earned some well-deserved rest. However, the Mercedes driver revealed he'll be back in the sim tonight to continue developing the W13.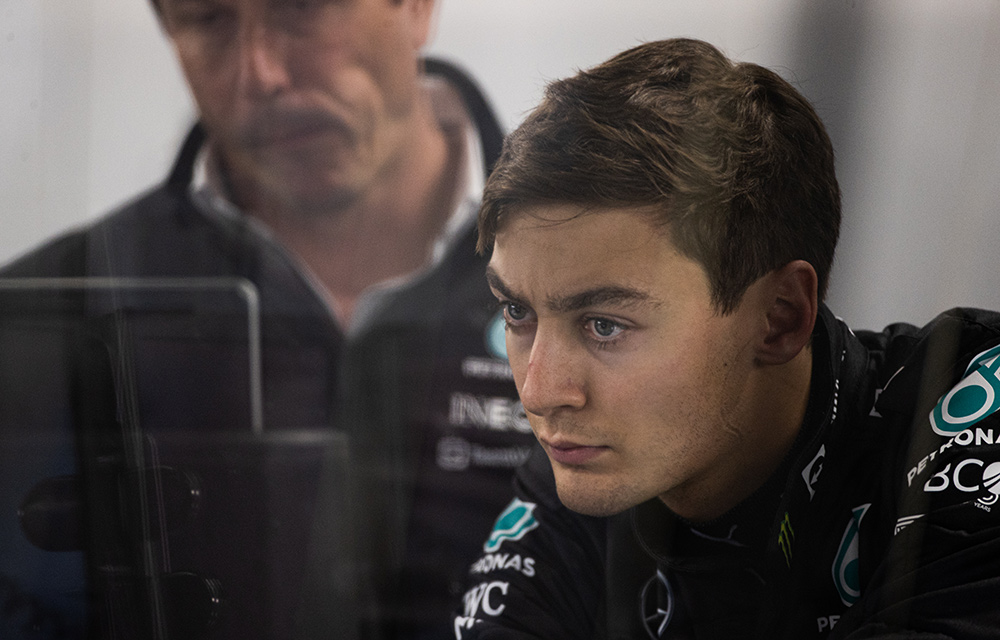 He's heading back to their Brackley base as soon as testing finishes, having completed 66 laps today. Now that's what we call commitment.
HAMILTON GOES FASTEST OVERALL
Lewis Hamilton made sure to sneak in some mega laps during the final session of the week's Barcelona testing. The Mercedes driver set a time of 1:19.138, which was not only Friday's best time but also the top time from the three day test so far.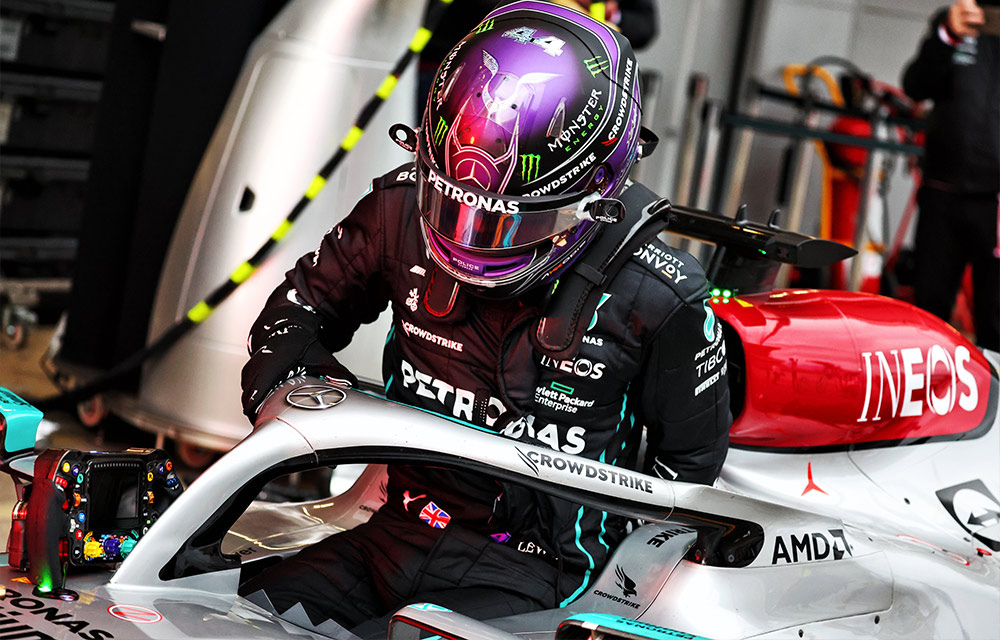 Russell, Sergio Perez, Lando Norris and Charles Leclerc made up the rest of the top five fastest times of the week.
Yes, we know it's only testing.
What was your favourite moment of Day 3? Let us know in the comments below