The Dakar Rally is currently underway in Saudi Arabia, and the annual event has already generated a few more unusual headlines than expected this year 🤨
First was F1 driver Carlos Sainz almost getting his dad a penalty for helping shut his car door during a stage when Sainz Sr stopped for repairs.
The FIA regulations state that "the presence of team personnel or any team conveyance (including helicopters) is prohibited within 1 kilometre of its competing vehicle", excluding some exceptions. However, Sainz Sr's team – Audi – successfully argued that the younger Carlos wasn't a team member and wasn't acting on their behalf, so no further action was taken.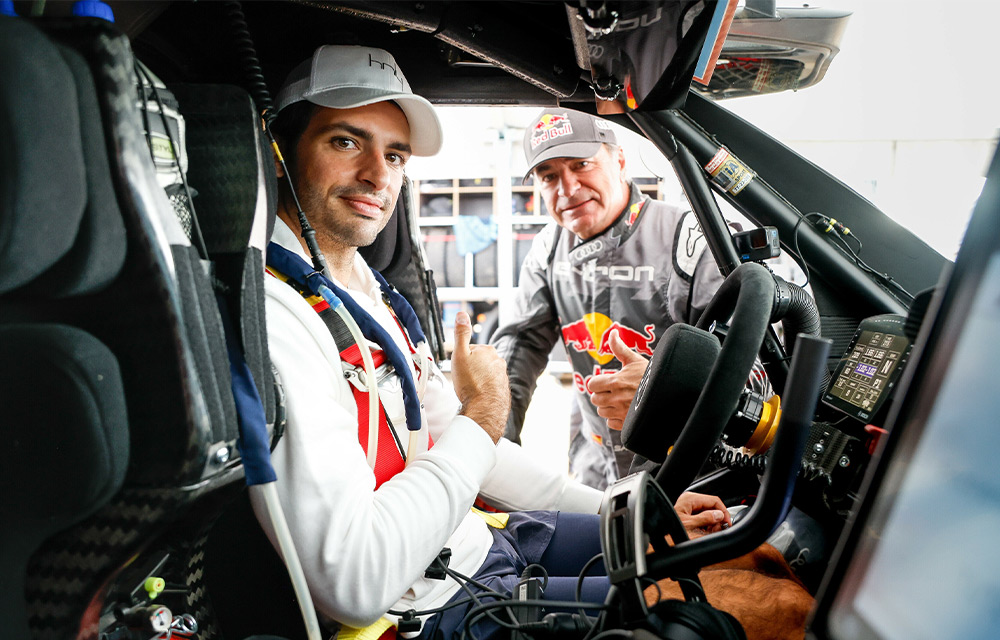 However, now a different breach of the rules has resulted in a sanction because one competitor wasn't wearing the correct watch! It's actually a pretty wild story…
Driver Yasir Seaidan has been slapped with a 30-minute time penalty, and could even face disqualification from the Dakar Rally entirely, because his co-driver was not wearing a 'Rebellion Timepiece' watch – one of the official partners of the competition.
Previously, people participating in the rally couldn't use "GPS, smart watches, or any instrument connected to the internet and all data storage devices", which makes sense. You don't want drivers getting an unfair advantage.
However, this year the rules state that "watches of any kind are not permitted in the competition vehicle, with the exception of the model provided by the Promoter."
Seaidan's crewmate Alexey Kuzmich, the offender in question, is no stranger to the Dakar Rally, having taken part in it seven times.
Explaining the issue on his Insta, the co-driver said that he was using an "ancient" Casio G-Shock GA-100 model and just missed the memo that the Rebellion watches were the only ones permitted during the marathon.
#Dakar2023 : Yasir Seaidan has received a 30-minute time penalty in Stage 4 and faces disqualification from the race entirely because co-driver Alexey Kuzmich wore a watch in the cockpit not made by Dakar Rally partner Rebellion Timepieces (the only approved model). pic.twitter.com/KJPXFjrzkz

— Justin Nguyen 🐀 (@ZappaOMatic) January 5, 2023
He liked the Casio watch because of the "countdown timer" feature, but will now refuse to wear a watch for the rest of the event!
The 30-minute penalty won't impact the crew's event too much, as they were already five hours late in the first proper-length stage with a 10-hour penalty, too, after having crashed in a ditch. But the half-hour sanction also comes with a suspended disqualification from the event.
It makes for an unusual penalty, that's for sure 😂
Featured image: © A.S.O_/F.Le Floc'h/DPPI via Dakar Rally