Pierre Gasly and Fernando Alonso were two drivers who had some very exciting grid positions for the Turkish GP. Pierre started fourth with Fernando in fifth, but both drivers impacted their races by early incidents. As a result, they've both been whacked with some penalty points.
For Pierre, starting in P4 was his joint-highest grid position ever. As for Fernando, it was his highest grid position since Japan in 2014 when he was racing with Ferarri! Naturally, we were pretty hopeful that they'd have exciting races. 
The added rain just made that seem even more likely based on their pace in the wet FP3 session on Saturday morning, where Gasly was the fastest!
However, that all fell apart at Turn 1 when Gasly found himself stuck between the fast-starting Sergio Perez on the inside and Alonso on the outside. A small touch from Gasly to Alonso's rear tyre sent him into a spin and nearly to the back of the field. 
⚫️⚫️⚫️⚫️⚫️
⚫️⚫️⚫️⚫️⚫️
LIGHTS OUT!!!

Alonso goes spinning off at Turn 1 and tumbles down the standings to P16 – but otherwise it's a clean start #TurkishGP 🇹🇷 #F1 pic.twitter.com/HRjlPC7nhx

— Formula 1 (@F1) October 10, 2021
Pierre got a five-second time penalty, which seemed very harsh for a Turn 1 incident on the first lap, but the Stewards obviously disagreed.
Their official penalty notice stated: "It should be pointed out that the Stewards do not consider this incident as an unavoidable Lap 1 Turn 1 contact between two cars, as Gasly was not sandwiched between two cars when he touched Alonso's car."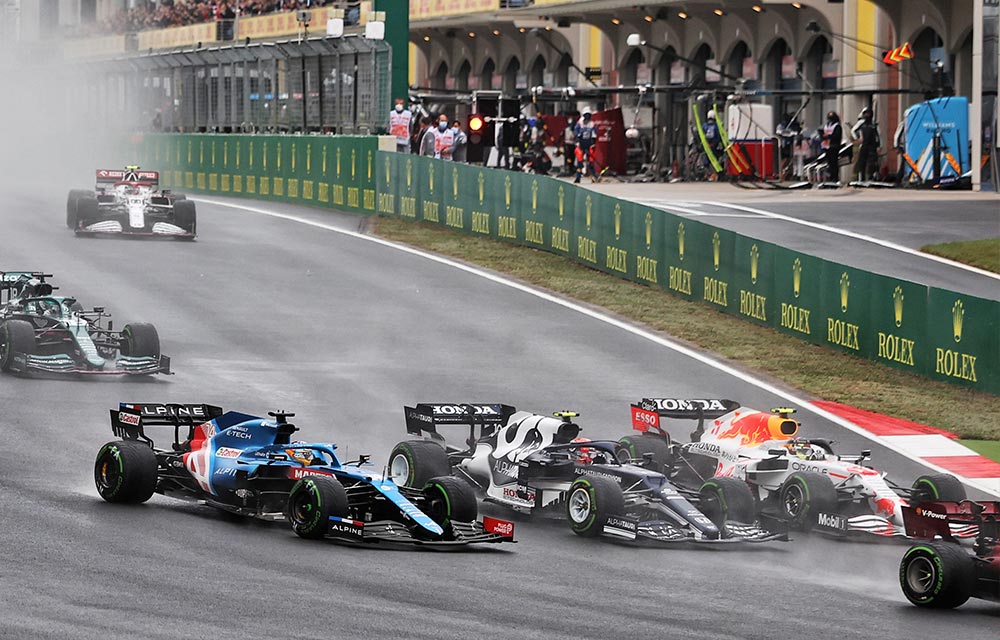 Each to their own, I guess. Gasly also got two penalty points as well for the incident, which brings his total for the year up to three points. But overall, he was happy he was in the mix for the whole race.
"We were 10 seconds off the podium, considering we had a five-second time penalty. That was a really good performance," Gasly told SkySports. "It's great to be back in the top six."
If you thought the five-second penalty was harsh, Gasly also got given two penalty points. The same as what Bottas and Stroll got for this… 🤔 #TurkishGP pic.twitter.com/WJ4HfbcNsM

— Tom Bellingham (@TommyWTF1) October 10, 2021
After being spun around, Fernando was way down the field, and he was trying to recover. He lunged Mick Schumacher from way back on the second lap and spun him around. He got the same time penalty as Gasly and also got two penalty points which are his first since his comeback.
"Yeah, unlucky race for us. We qualified so well," Alonso told F1 after the race. "P5 for the first time this year, and we were P5 for only 200 metres. After that, we were already facing backwards.
"It is a little bit of a shame, I think the luck is not with us this year, and after that, we were P17, and nothing else happened in the race. I guess we are accumulating a lot of luck for next year."
Fernando did apologise to Mick after the race for spinning him round.
What did you think about the penalties? Do you think they deserved the same one?