Fernando Alonso hasn't hidden his love for Max Verstappen and George Russell during his return to F1 in 2021.
From backing Max to win the Drivers' Championship to saying he felt terrible for denying Russell his first points at Williams during last year's Austrian Grand Prix, the two-time champ massively respects the two drivers.
"When I saw it was Russell in P10, I hoped it'd be anyone but him."

Fernando Alonso, George Russell fanboy#WTF1 #AustrianGP

— WTF1 (@wtf1official) July 4, 2021
However, the praise doesn't stop there.
After Fernando announced his departure from F1 at the end of the 2018 season, he continued to watch the races at home. The two drivers that impressed him most? Yep, you've guessed right. Verstappen and Russell.
"I said at the beginning of the championship as well, before it had even started, in Bahrain, that the driver that impressed me more when I was at home watching on TV was George on the performance in the Williams, and Max.
"Those were the two guys that I was switching on the TV."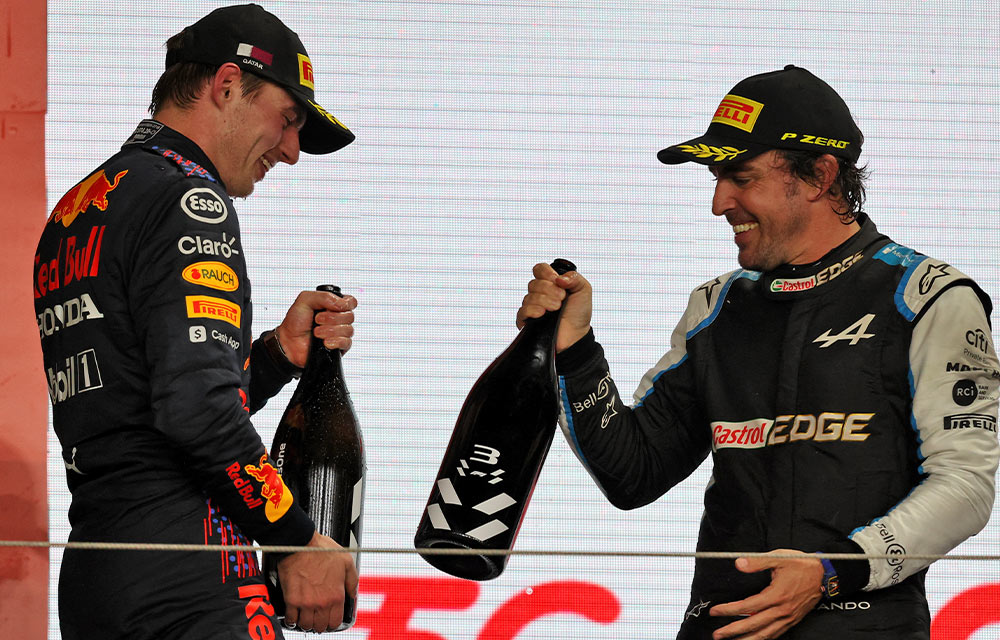 It's good to know that it's not just us fans at home that have our favourites 😂
Fernando has not been short of good things to say about the two drivers, especially Russell.
As well as Alonso gifting George a racing helmet signed with "you rock, future world champ," Fernando has also praised Russell for what he managed to achieve in the Williams.
This one means a lot. Gracias, legend. 🤝 @alo_oficial pic.twitter.com/vo6SiFCzhM

— George Russell (@GeorgeRussell63) May 25, 2021
"We know that [the Williams] is not a competitive package," Alonso said midway through the 2021 season. "It's better this year but not in the last two, and I think he was putting in something special every weekend. That is something you always get impressed by."
Seriously Nando, you're going to make the poor lad blush.
We're just hoping for more wholesome moments as the three drivers once again line up on the F1 grid for the 2022 season.
Who is your favourite F1 bromance on the grid? Let us know in the comments below.