The games never end in this championship! Mercedes have decided to give Valtteri Bottas another engine penalty so that he drops to the back of the grid and can cover off Max Verstappen. He goes from 7th to 17th. 
The Race reported this morning that Mercedes had used the opportunity given to them by their poor quali to provide Valtteri with another fresh engine. It's his fifth engine of the season after he took his fourth at the last race in Monza. 
Because he qualified ahead of Charles Leclerc and Nicholas Latifi, he starts ahead of them when the penalties are all applied.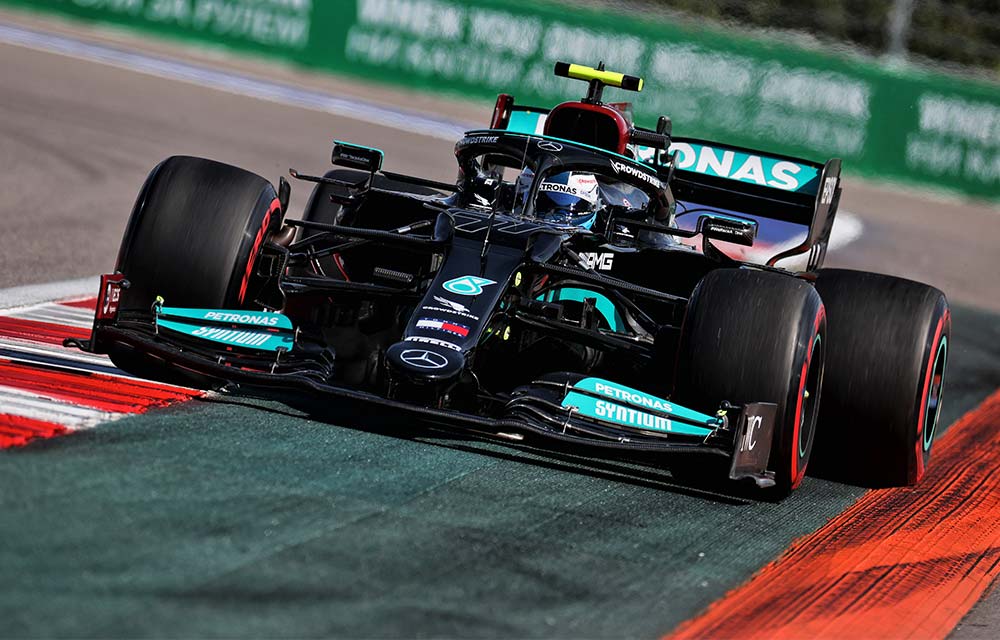 Max was given a three-place grid drop for the crash that took him and Lewis Hamilton out of the Italian GP two weeks ago, and from then on it became almost certain that he would take an engine penalty in Sochi to get it out of the way at a track where they can come through the field.
Verstappen sat out qualifying and is 20th on the grid. This gave Mercedes an opportunity to have a clean weekend, dominate out front and win some ground in both championships. 
However, a wet qualifying said 'no thanks'; instead, we had a crazy last few minutes of Q3 and saw Lando Norris get pole. George Russell is starting P3, and Carlos Sainz is on the front row for the first time in his career. It really is like another reality!
Hamilton only managed fourth and Bottas seventh after they were delayed putting on dry tyres when Lewis crashed at the pit entry.
Taking an engine penalty from seventh is obviously a much smaller hit than if they qualified right at the front and they've taken the opportunity. 
Race day 🏁#VB77 #F1 #RussianGP @MercedesAMGF1 @F1
📷 @SebastianKawka pic.twitter.com/4jhlAyTqi6

— Valtteri Bottas (@ValtteriBottas) September 26, 2021
It gives Merc the chance to mess with Red Bull's attempt to come through the field with Verstappen. They'll be hoping to use him to stop any fancy strategies by just covering him off at every point. Easier said than done, but it makes this bonkers grid even crazier. 
Now we just wait and see when and if Mercedes give Lewis Hamilton a fourth engine. He's the only Red Bull and Merc driver who hasn't taken an engine penalty and is still using parts from his original allocation. 
There are still seven races left in the season after Russia today, and Mercedes do think they'll definitely need to take one at some point. This championship has so many twists and turns!