As we get closer and closer to the start of the 2023 F1 season, a few drivers are letting their hair down with some exhibition runs. And Charles Leclerc certainly did not disappoint with an incredible show run of a Ferrari F2003 in Abu Dhabi!
The nearest we've probably come to seeing this was on the F1 video game series, like in F1 2013 where you could drive some of the old-school F1 cars of yesteryear on the more recent tracks! So to see Charles Leclerc blast one of the sport's legendary cars around a modern track is an incredible sight, especially as he actually pushed it pretty hard. Not bad on the ears too, because who doesn't love a good V10?
For those who don't know, the Ferrari F2003 was a great car. Driven by Michael Schumacher and Rubens Barrichello, it led Ferrari to seven wins in the 2003 season, and both championships, with Michael narrowly beating then McLaren driver Kimi Raikkonen to the drivers' crown by just two points.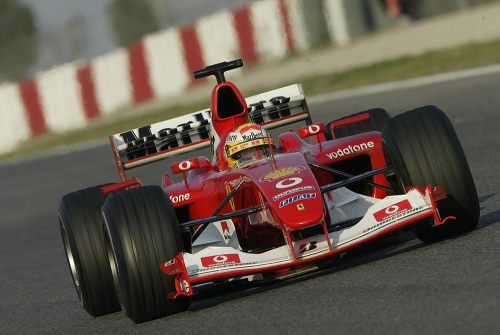 The eagle-eyed amongst you might even notice the car is now running on modern-day Pirellis, which means it could have been even faster than the grooved tyres the sport had 20 years ago! You can see Charles' hot lap down below:
What a day. ❤️ pic.twitter.com/zAqU3foNkl

— Charles Leclerc (@Charles_Leclerc) February 6, 2023
What classic F1 car would you like to see fired up again?