It was always going to be a mega emosh day for us F1 fans: Sebastian Vettel announcing his retirement. It was always going to be a tough pill to swallow, but we all knew that it would happen at some point.
Of course, with such an incredible career and being one of the most loved characters in the paddock, people had so many nice things to say about the four-time champ.
Here are some of our favourites.
PSA: get the tissues ready for those tears.
CURRENT F1 DRIVERS
Thank you for everything you've contributed to the sport we both love, I can't wait for our last races together. Thank you, Seb – you're an inspiration pic.twitter.com/oGEN4YLwHX

— Mick Schumacher (@SchumacherMick) July 28, 2022
Seb, it's been an honour to call you a competitor and an ever greater honour to call you my friend. Leaving this sport better than you found it is always the goal. I have no doubt that whatever comes next for you will be exciting, meaningful, and rewarding. Love you, man. pic.twitter.com/eHVmOpov2m

— Lewis Hamilton (@LewisHamilton) July 28, 2022
Enjoy your retirement Seb, you're a true F1 legend! You'll be missed mate. pic.twitter.com/TgWJA6i2vq

— George Russell (@GeorgeRussell63) July 28, 2022
Congrats Seb, on an amazing career. I'm very happy to have shared the track with you, let's make your last races great once more 🤝 pic.twitter.com/WnKCuotv0T

— Max Verstappen (@Max33Verstappen) July 28, 2022
It has been an absolute pleasure and a great honor to have shared all these years alongside a person like you.

You are definitely one of the reasons why I fell in love with this sport and you have always been one of my main references, both on and off the racing track.

— Carlos Sainz (@Carlossainz55) July 28, 2022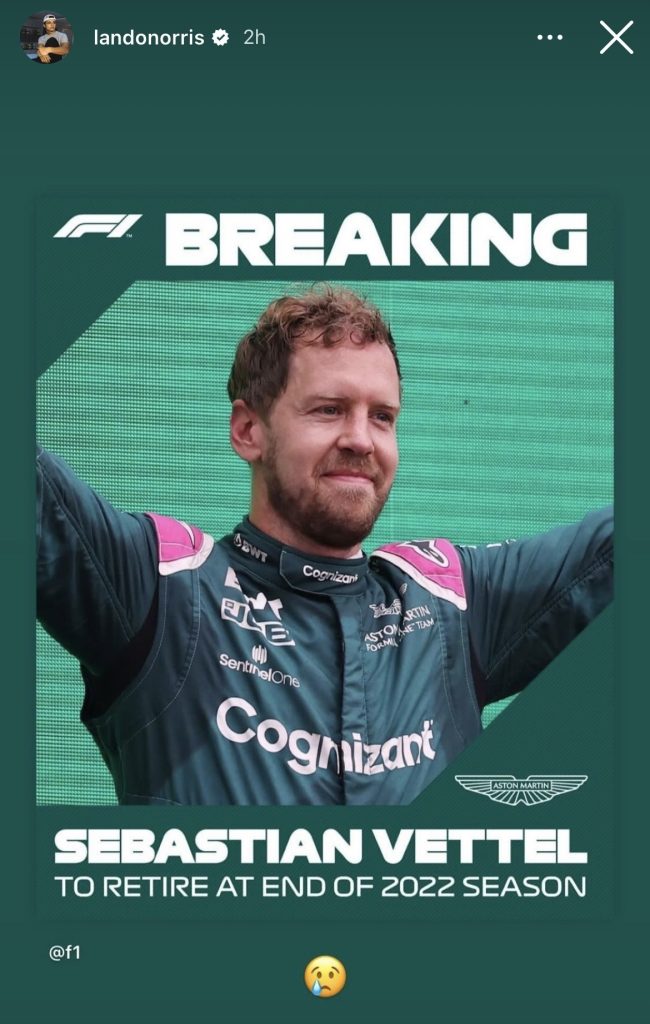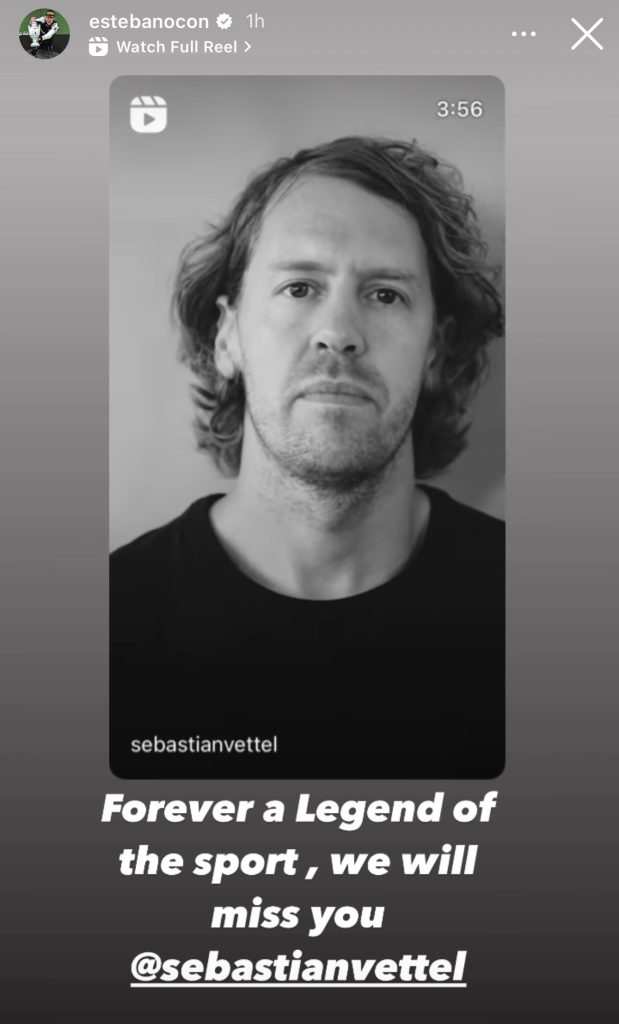 F1 TEAMS
Sebastian, you have inspired so many throughout your career, both in #F1 and beyond.

We're proud to call you a teammate, a friend and to have been part of your journey, just as you have been part of ours. 💚 pic.twitter.com/PMKkn3uoF4

— Aston Martin Aramco Cognizant F1 Team (@AstonMartinF1) July 28, 2022
We'll miss you, Seb ❤️

— Mercedes-AMG PETRONAS F1 Team (@MercedesAMGF1) July 28, 2022
Danke, Seb 👏 Cheers for the great times and the four World Championships 🏆🏆🏆🏆 pic.twitter.com/Z2D2igIJg1

— Oracle Red Bull Racing (@redbullracing) July 28, 2022
It's been an honour to share so many memories with you in Formula 1. Looking forward to enjoying the last few races together in the paddock.

Ti vogliamo bene, #Seb5 ❤️
Best of luck for your future challenges in life 👊 #essereFerrari🔴 @f1 pic.twitter.com/JiLO6WiowX

— Scuderia Ferrari (@ScuderiaFerrari) July 28, 2022
Legend status. 👑 Congratulations on a remarkable career, Sebastian Vettel.

A champion on and off the track. pic.twitter.com/KU6fZABpNA

— McLaren (@McLarenF1) July 28, 2022
Thank you for all of the memories! 💙 pic.twitter.com/Oy2UhUpBXX

— BWT Alpine F1 Team (@AlpineF1Team) July 28, 2022
Everyone: 🥹 https://t.co/p0lRuy4YRV

— Haas F1 Team (@HaasF1Team) July 28, 2022
A lover of F1 history who has enjoyed a remarkable career 👏

Congratulations on all your achievements, Seb. Enjoy your retirement! 🤝#WeAreWilliams pic.twitter.com/616DYYUSWf

— Williams Racing (@WilliamsRacing) July 28, 2022
OTHER F1 PERSONALITIES
As Sebastian Vettel has just announced his retirement at the end of 2022, I would like to pay tribute to his fantastic career with 4 @FIA @F1 World Driver's Championships & 53 wins. Thank you Sebastian for all that you brought to our sport! I wish you all the best for the future. pic.twitter.com/mQIU795ngV

— Mohammed Ben Sulayem (@Ben_Sulayem) July 28, 2022
The thing about Sebastian Vettel's retirement is that you really could see him doing almost anything next. Team management, commentary/punditry, politics. All would fit. What a great F1 career he's had.

— Alex Jacques (@AlexJacquesF1) July 28, 2022
…And don't brake too early… 😉 pic.twitter.com/Ajvx5YB1Js

— Daniil Kvyat (@kvyatofficial) July 28, 2022
This article will be updated.
Thank you for everything, Seb 💚