Whilst an F1 Grand Prix is supposed to be a happy and fun occasion for those in attendance, some fans at the Austrian Grand Prix have been subjected to some truly horrible comments. 
A Twitter thread that recently went viral has displayed the full extent of the problem, with lots of fans, particularly women, being the target of sexist and homophobic remarks.
Who is in charge of security at the Red Bull Ring?

Hey @F1 @fia @Ben_Sulayem @fiawim @Silbellot @redbull @redbullracing, below are a bunch of tweets about people, particularly women, being harassed at the #AustrianGP this weekend. What can they do to protect themselves? https://t.co/GJiZDT5dgV

— Melanie 🏁 (@MotoMel89) July 9, 2022
One woman reported "fighting off a panic attack" as she walked to the exit after Saturday's Sprint Race due to some of the comments being shouted at her.
I fully and totally understand you. I'm at the circuit too, and I've seen horrible things. The girl that sells ice creams (that is WORKING) gets harassed by older drunk men without pause. It's orrendous.

— Mariachiara |Austrian Gp (@vettelsunshine) July 9, 2022
The issue even extends past fans, with women working at the circuit also reporting being subjected to harassment.
F1 has released the following statement: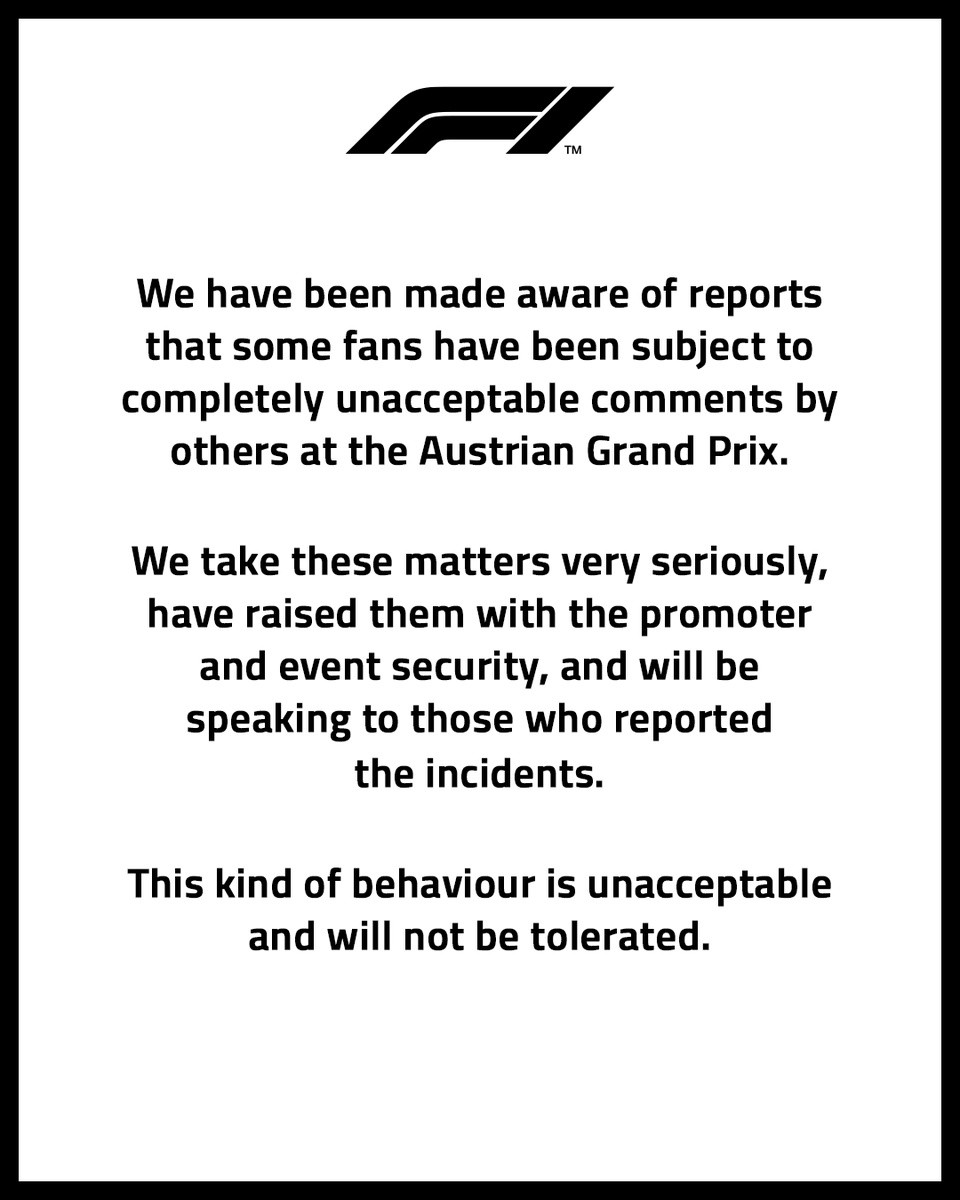 And the FIA has come out in support of the above statement, saying: "We fully support Formula 1's message and believe that Formula 1 events should be a safe and accepting environment for everyone."
Security at the Austrian Grand Prix has been notified of these incidences, with the FIA pledging to support in any way they can.
Lewis Hamilton has been one of the first drivers to speak out on Instagram, encouraging fans to report any harassment to the circuit security.
🗣️ | Lewis Hamilton on Instagram, with regards to the reports of harassment suffered by fans at the #AustrianGP: pic.twitter.com/4WLC5RZaqb

— The Race (@wearetherace) July 10, 2022
For anyone who is feeling alone or has been subjected to this kind of behaviour, there has been a group chat created on the @gridclique Instagram account to help people stick together.
The WTF1 community stands by F1 in condemning any type of discriminatory behaviour.