Like most sports, Formula 1 can get heated – no, we're not talking about Pierre Gasly's Alpine. We mean between the drivers. We've seen our fair share of spats over the years, and I think Max Verstappen calling George Russell a 'd**khead' on live TV straight after the race has got to be up there with one of our favourites. 
George certainly got his elbows out during the Azerbaijan Sprint race, diving down the inside of Max for third into the first corner, as the battle continued right down into turn 2, and contact between the pair left a gaping hole in the Red Bull's sidepod. Max slowed, and George got ahead after a final battle into turn 3.
Verstappen vented his frustrations over the radio, but he still saved a bit for after the race to say to George's face. We didn't see the start of the spat, but George was heard saying: "It's not purposeful, mate, I've got no grip. I'm just locking up!"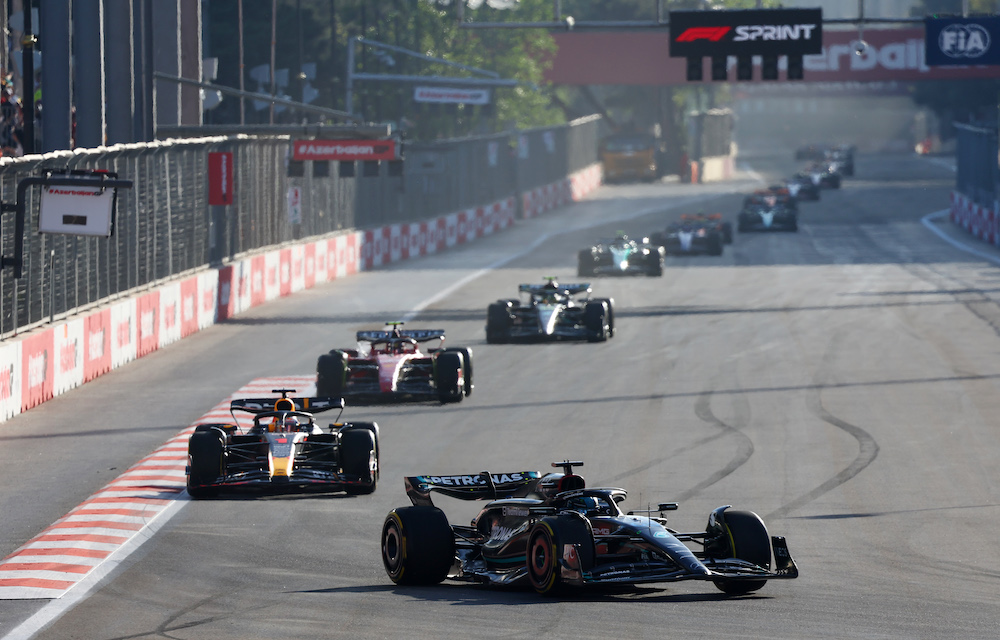 Verstappen responded, "Mate, we all have no grip, we all need to leave a little bit of space." George began to walk away, saying, "I know, I know. Well, watch the onboard." Verstappen went to follow George and shouted, "But expect next time the same, you know?!" before muttering under his breath: "D**khead."
Of course, Twitter went into a meltdown over this – with memes, reaction videos, pictures and general opinions on the spat being tweeted all over the place. Here are just a few of our favourites!
Max and George in Parc fermé: pic.twitter.com/NFfoxdwJU2

— F1 Reaction Pictures (@FormulaReaction) April 29, 2023
george russell and max verstappen after the sprint race pic.twitter.com/Ef6A8EKKg6

— Lili / f1 designs (@lilisdsigns) April 29, 2023
checo's reaction to max and george arguing 😭 pic.twitter.com/dVL2evp3vC

— sin ⁴⁴ RACE WEEK 🇦🇿 (@44britcedes) April 29, 2023
George and Max in the parc fermé pic.twitter.com/gsinYIGvgK

— emi 🏒 (@maraneIlo) April 29, 2023
Do you think the incidents were fair racing? Let us know in the comments.