Why do we even bother doing administration in this place sometimes, I swear to Go-
…Oh, hi! WTF1 editorial team here with some 🚨 BREAKING NEWS 🚨  for you – Fernando Alonso has had his third place reinstated after Aston Martin successfully used its right to review against the 10-second penalty he had originally been dealt for not serving his original 5-second penalty correctly.
With us so far? If not, here's a reminder – Fernando Alonso got a 5-second penalty for sitting his car in his grid box incorrectly. When serving said penalty, the rear jackman of Alonso's crew tapped the back of the car.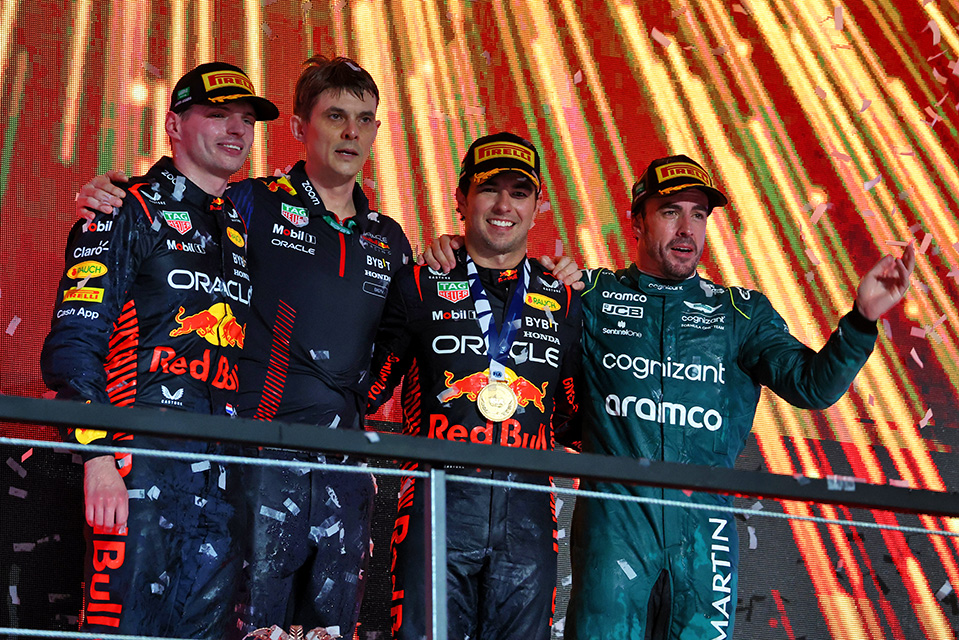 Alonso was initially cleared of wrongdoing by the FIA, but on the final lap of the race, race control and the FIA's now Race Operations Centre (think football's Video Assistant Referee) decided that the incident needed another look and that the penalty may not have been served correctly. That's why Alonso's 10-second further penalty was applied after the podium celebration you probably saw on TV and he was dropped to fourth. 
IT'S OURS! FERNANDO RE-TAKES P3!

— Aston Martin Aramco Cognizant F1 Team (@AstonMartinF1) March 19, 2023
Aston Martin requested a review of the incident and argued to the stewards that a jack touching a car wasn't deemed as "work" as defined by the FIA rulebook. This argument was deemed successful and as a result, the penalty was overturned! Alonso keeps third, and George Russell has to hand a trophy back. Bummer. 
We as the editorial team suspects some clarification into the rules about serving time penalties in the pits might be looked at between now and Australia…
Do you think the FIA ultimately got this right?