Forza Ferrari! Every season we were hyped up that Ferrari were going to return to form, but nobody can doubt the Prancing Horse is back in business after their 1-2 finish in Bahrain ended their 45-race winless streak. 
With Charles Leclerc storming his way to pole and getting the better of Max Verstappen in an intense wheel-to-wheel fight, while Carlos Sainz capitalised on the Red Bull's late retirement to snatch second, many believe Ferrari are real title contenders this season.
However, their boss Mattia Binotto isn't getting ahead of himself and still believes they need "four or five races" to be confident that they're in the hunt for the championship.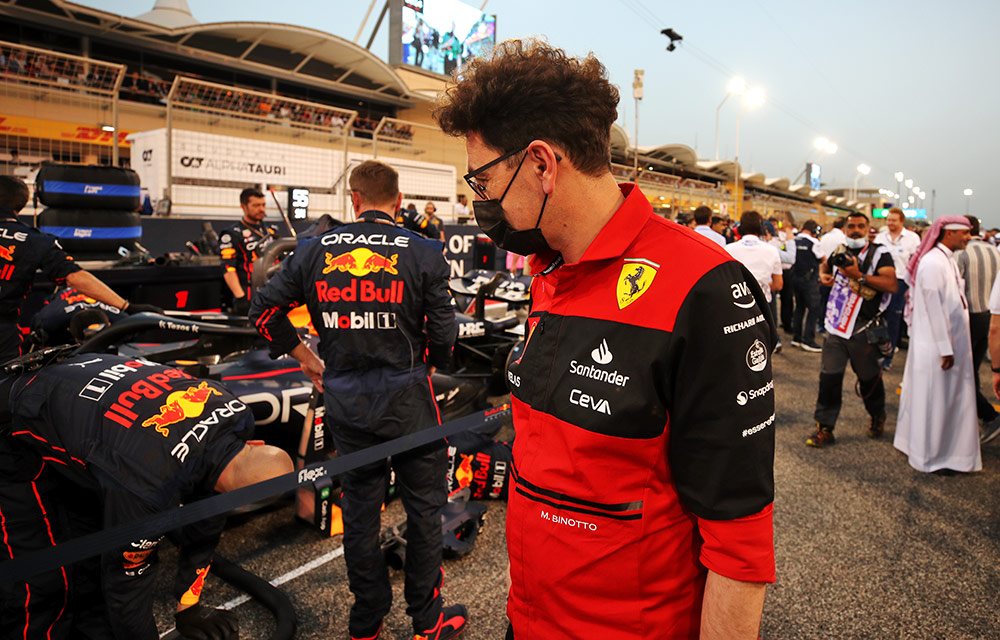 "I think that the others are very, very strong," he told The Race. "If I look at the first stint of Max, on used tyres, he was keeping the pace of Charles. So I think we should not forget this was one of the world champions. They are still the favourites.
"Jeddah in a week's time can be a completely different picture and I think we need to wait at least four or five races before to assess."
Cheers to many more days like this 👊❤️#essereFerrari 🔴 @EG00 pic.twitter.com/XMSHhlCsF2

— Scuderia Ferrari (@ScuderiaFerrari) March 20, 2022
Things are certainly on the up for the Italian team, as they're leading both championships for the first time since the 2018 British Grand Prix and hold a 17-point advantage over their nearest rivals Mercedes.
Additionally, Leclerc now finds himself at the top of the drivers' standings for the first time in his F1 career as he aims to become Ferrari's first World Champion since Kimi Raikkonen in 2007.
Are Ferrari now the favourites for the 2022 title? Let us know your thoughts in the comments below.