George Russell says he has "so many emotions" after jumping out of his Mercedes when trying to see if he could help Guanyu Zhou, who was trapped in his Alfa Romeo between the tyre barrier and the debris fence at Turn 1. 
In the incident, which caused the race to be red-flagged, Zhou's Alfa Romeo was sent into the air after being caught between Pierre Gasly and the slow-starting Mercedes of Russell.
Zhou's car skimmed across the Abbey gravel trap upside down, vaulted the tyre barrier and struck the debris fence before bouncing back to land on its top between the fence and barrier – and Russell was seen abandoning his Mercedes, running towards the trapped Alfa Romeo.
"Glad to see Zhou is doing ok… It's horrible to see an incident like that," he told F1TV.
"I couldn't get any temperature in the tires on the formation lap and I just got swamped by all the cars and next thing I know I got touched from behind, in the side of Zhou and we saw the rest."
Mercedes wanted George to be able to restart the race after the red flag, as he had only got out of the car to see if he could help and not because he wanted to retire from the race – this is why he waited until the red flags were waived to jump out of the cockpit, he claims. But,  he wasn't able to restart the car.
"I saw the race was a red flag, so I knew it was safe to jump out and I wanted to go and see if he was ok and if I could have helped in any way. When I came back I couldn't get the car turned on but there was no reason why I shouldn't have been able to, because the car was fine.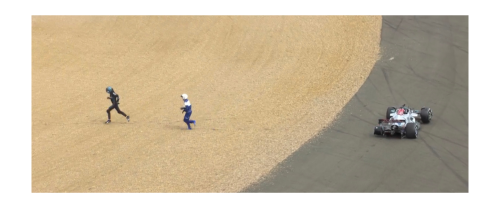 "I ran back to the team to check and when I came back the car was on the flatbed already.
"As it turns out there's nothing wrong with the car apart from a puncture so it's really frustrating because we had the pace to come back, we would have definitely come back to P6 as a minimum. So many emotions."
Glad to see Zhou is doing well after the incident, thanks to the halo and the heroics of those helping at the track.