Okay, we found it hard to follow that crazy Russian GP on TV. Despite the access to timing data, team radio and commentators telling us everything that was going on, it was still one of the craziest races we've seen in a LONG time. Now imagine competing in that race with no team radio. It seems like hell, right? Well, that was Antonio Giovinazzi's nightmare scenario today. 
For a 53 lap race with bonkers conditions and so much going on at any one time, not know what the hell is going on is impossible to imagine.
He summed up his afternoon afterwards speaking to F1.
"I had contact, I don't know with, in Turn 2. I lost a little bit of position there and no radio from lap one, so no communication with the team. That didn't help with these conditions—nothing to say.
Radio Silence: Antonio raced in difficult mode today – he had no radio after lap 1! 📻

Despite the issue and a contact in turn one, he had a solid race with some good battles and brave overtakes!#RussianGP pic.twitter.com/T9O6458EZb

— Alfa Romeo Racing ORLEN (@alfaromeoracing) September 26, 2021
"[I had] no communication with the team, and in this case, you need communication, so just a difficult race from lap one to the end."
"It has been a difficult afternoon, especially when the rain started at the end of the race, and I couldn't talk to the pits about the tyre change," Gio added in an Alfa Romeo press release after the race. "I'm pleased for the team's result, but I'm already looking forward to Turkey."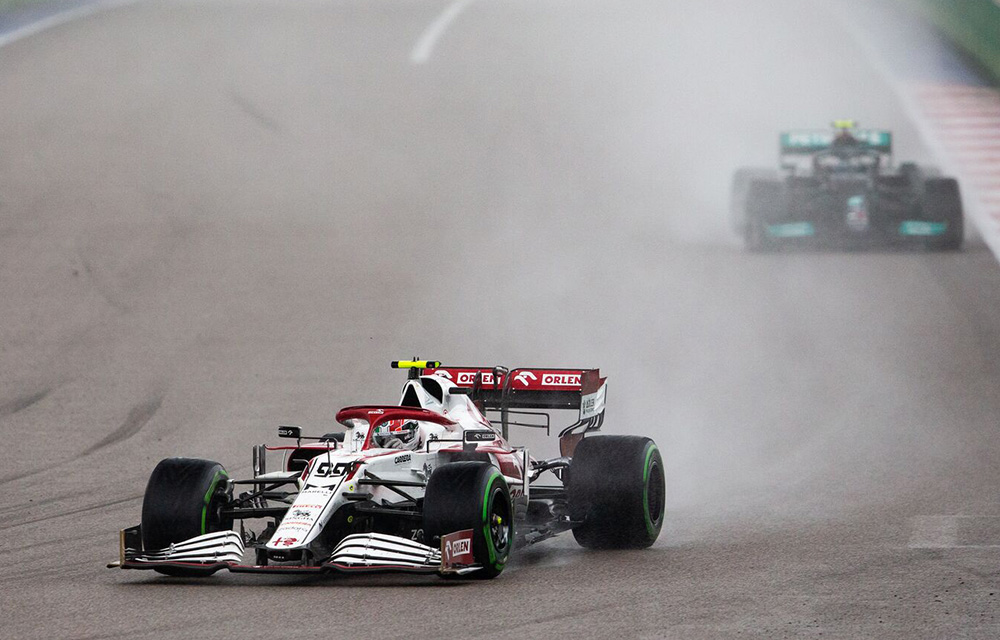 Antonio's teammate Kimi Raikkonen finished in the points in eighth after missing two races. Antonio hadn't been running far behind him for a lot of the race, but when the downpour came late on, he dropped back and ended up a lap down at the end in 16th, only ahead of Yuki Tsunoda and Nikita Mazepin.
Despite still doing a brilliant job to actually make it to the end of the race, Gio's seat is the last one left on the grid that is yet to be decided. After some impressive qualifying sessions in recent weeks, technology issues like these are going to hinder what he can achieve on the track.
Do you think Alfa will keep on Antonio for 2022? Let us know in the comments.