What an end to qualifying! It looked set to be one of the best laps of the season, with Max Verstappen setting purple sector times during the final moments of Q3 to knock Lewis Hamilton off pole. However, moments later, disaster struck as the Red Bull driver slid into the wall at Turn 27 and ruined his opportunity at pole position around this new Jeddah track. 
Visibly relieved by the dramatic turn of events, the Mercedes driver was no match for his championship rival's pace. Verstappen was more than two-tenths up after the first two sectors, setting the timing screens purple, but it was Hamilton's clean second run that saved the day and secured a Merc 1-2 alongside Valtteri Bottas.
A MASSIVE POLE POSITION FOR LEWIS HAMILTON IN JEDDAH!!! 👊

AND VALTTERI MAKES IT AN-ALL BLACK ARROWS FRONT ROW! 💪 #SaudiArabianGP pic.twitter.com/D9ItiikDsb

— Mercedes-AMG PETRONAS F1 Team (@MercedesAMGF1) December 4, 2021
"Ultimately, out of pure pace, we weren't as fast as them today. I couldn't match what he was doing at the end but lucky we didn't have to do that. We stayed out of the wall and did the job," he said after the session.
It might be advantage Hamilton, but his qualifying session was less than straightforward. It was a run of rare mistakes from the seven-time champion. Two scrappy runs saw him make a mistake at Turn 1 on his first lap and slide at Turn 6 on another lap before he finally set a time quick enough to jump Verstappen's earlier time by 0.142 seconds.
Despite this, Hamilton said he was left bewildered trying to prepare his tyres and put a lap together without finding himself in the barriers. It didn't help that the previous day's headwind turned into a tailwind into Turn 1.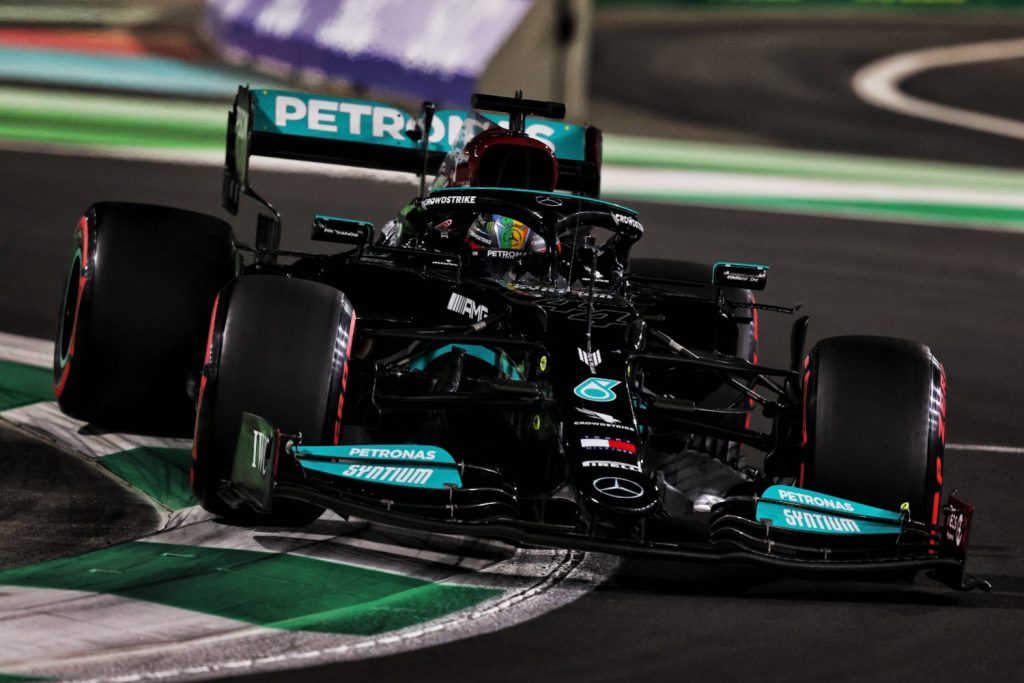 "Things really shifted the balance a little bit, and I don't understand what's going on. Like if you look at the last race, super slow crawling around lap, then the tyres are ready for Lap 1.
"Here, we're doing fast out laps, weaving, trying to get the tyres ready for Lap 1. You're just skating, trying to catch it every time. The balance was all over the place, so to put a lap together was tough."
As the championship fight hangs in the balance, it's Lewis that has the advantage going into Sunday's race with his 103rd F1 career pole position. However, judging by Max's pace in third, he's going to have a hard time keeping him behind in the race.
Can Lewis take home the victory in Jeddah? Let us know in the comments below.