Okay, let's be honest. I think most of us knew in the back of our minds that this race was Lewis Hamilton's to lose. He started fourth, and despite having some mega talent ahead of him, this is known as a Mercedes track. However, Lando Norris did a phenomenal job to keep him behind for almost all of the race. Then the rain came down, and it all fell apart for Norris, who decided not to pit for intermediate tyres.
Honestly, this one feels worse than heartbreak.
Watching the win slip from his grasp, Lando faced several struggles in the last few laps as conditions worsened, and those around him made the switch to the wet weather tyres. In the end, Lando finished seventh; however, he could face a further grid drop after messing up his entry into the pits during the final few laps.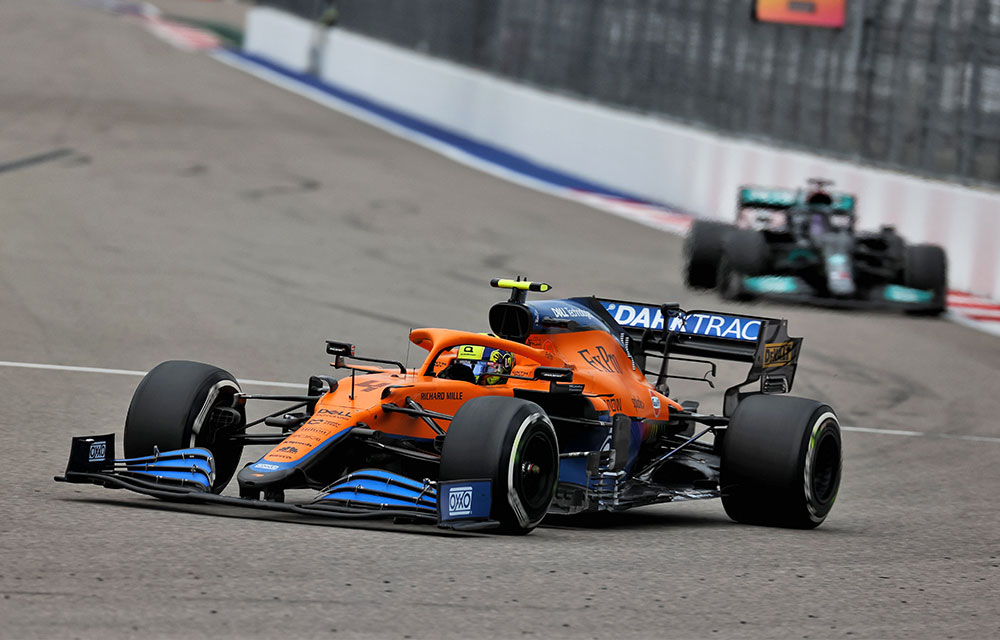 The misjudgement from Norris and McLaren allowed Lewis Hamilton to take full advantage of the situation and secure his 100th F1 career win – an incredible achievement.
"It's taken a long time to obviously get to 100 and I wasn't even sure whether or not it would come," he told F1 after the race.
During Hamilton's post-race interview, Lando even came up to him and shared a hug. Lewis has always been very complimentary of Lando and was sure to praise the "amazing job" that Norris had managed today.
Classy 👏 #RussianGP #WTF1 pic.twitter.com/bEDr4q50MC

— WTF1 (@wtf1official) September 26, 2021
"He had incredible pace. He's doing such a great job for McLaren, and it's very bittersweet to see my old team ahead. They're doing so well. Obviously, they won the last race, so they are doing fantastic, obviously powered by Mercedes.
"It's good to see them united again, and obviously, the team made a great all right at the end. I didn't want to let Lando go, and of course, I didn't know what the weather was doing, but I'm incredibly grateful to all these men and women that are here and back at the factory because wow, 100."
For Hamilton, this is his first win since Silverstone this year. The championship battle between him and Max Verstappen is still close, with Max finishing an astonishing P2 despite starting at the back of the grid. Hamilton has also retaken the championship lead.
Incredible drama in Sochi #RussianGP #F1 pic.twitter.com/iRRDiD1DbX

— Formula 1 (@F1) September 26, 2021
Honestly, who knew a Russian Grand Prix could be so eventful!