Another Sprint and another bad start for Lewis Hamilton. Hamilton lost the lead to Max Verstappen in the first Sprint at Silverstone and dropped from second to fifth in today's race Sprint. With Bottas' penalty, he's going to start in fourth tomorrow. 
Lewis was passed by Verstappen, the two McLarens and Pierre Gasly in the run to Turn 1. He returned to fifth when Gasly's front wing broke off and threw him into the barriers, but it was still three places down on his original position.
"It wasn't that great. It is what it is," Lewis said when reflecting on his race Sprint start with Sky Sports afterwards. "That's where it all started, so we lost a lot of points."
Rewind to the start…

Onboard with Lewis Hamilton at Turn 1, who got a poor start and has dropped from P2 to P5 #ItalianGP 🇮🇹 #F1Sprint pic.twitter.com/bfHZOhFEpk

— Formula 1 (@F1) September 11, 2021
It looked like the plan could have been to get a good start for both Mercs and then switch them so that Lewis would get the points advantage over Max and pole for the race tomorrow.
But instead, Hamilton was stuck behind Lando Norris in fifth for the rest of the race Sprint. Norris was on soft tyres, and Mercedes clearly thought that the race Sprint would come to them on the medium tyres. But Norris was able to hold on.
"I think we underestimated how well [the softs] would behave," Lewis continued. "Anyways, got to try and figure out how I can get by the McLarens tomorrow and limit the damage."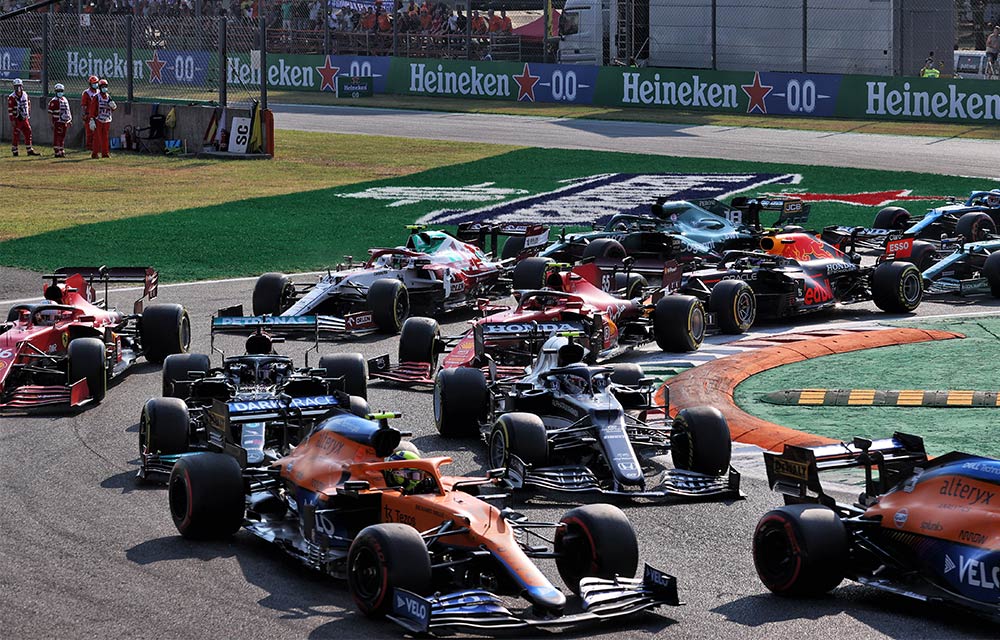 The engine penalty for Bottas does promote Lewis up a place, but it also puts Max on pole and favourite for an eighth win of the year. Lewis doesn't think he's got any chance of the win tomorrow.
"You saw the pace of the Red Bull," he said. "I don't know if he was quicker than Valtteri, they were so fast, and now he's on pole, so it should be an easy win for him. Me, I've got to try and get past these two guys ahead.
"I think they've got more pace than you think they've had all year. They bring upgrades every week, from what I'm told. There's only one race they haven't brought upgrades, they're constantly adding performance to the car, and they did a great job."
Full results from our second #F1Sprint #ItalianGP 🇮🇹 #F1 pic.twitter.com/ufbCP7JSvO

— Formula 1 (@F1) September 11, 2021
It'll be fightback mode tomorrow. Mercedes definitely have the fastest car but overtaking is hard. We saw that in the Sprint, so who knows! 
Anything can happen here!