It's the Monaco Grand Prix this weekend, which always raises the hopes of seeing a special one-off livery. McLaren's teasing *something* for this weekend over on Twitter but, whether or not that ends up being a retro livery, whenever Monaco rolls around it gets us thinking about the times teams have pushed the boat out with their designs at F1's most prestigious and historic race. 
We've had some spectacular, weird and wonderful liveries in Monaco in recent(ish) times. SPOILER: half of them are Red Bulls. 😁
THE BEAUTIFUL MCLAREN GULF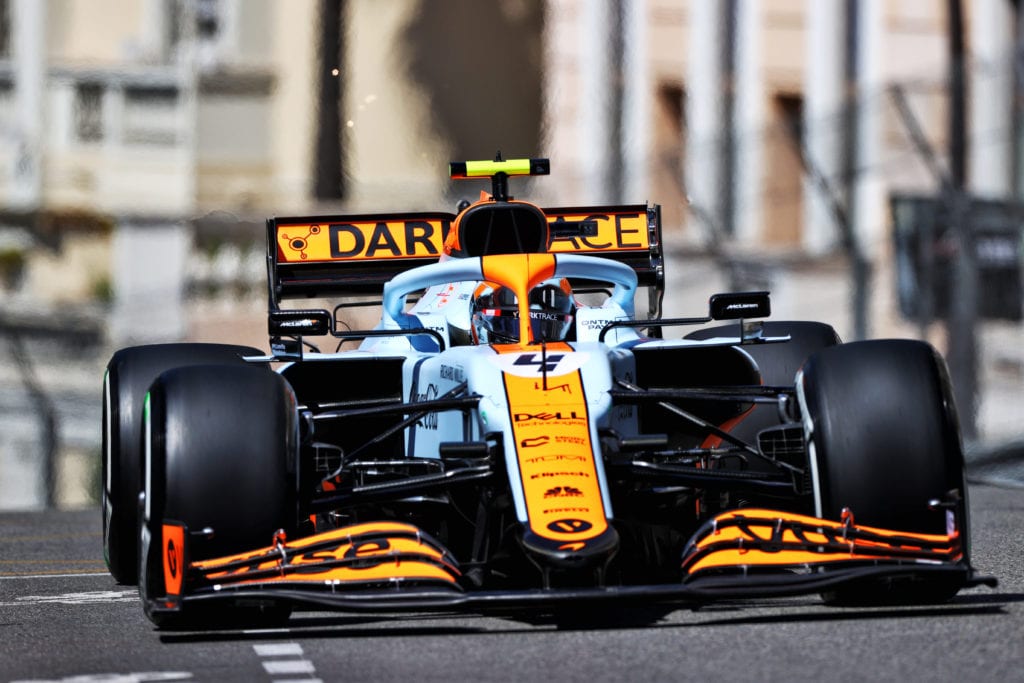 B E A UTIFUL! 
In 2021, McLaren unveiled the retro Gulf livery as a tribute that CEO Zak Brown called McLaren's "homage to Gulf's celebrated race car design" and to celebrate their latest partnership – the two companies having first worked together in the 1960s. The Gulf livery itself is one of the most recognisable and iconic liveries in motorsport, so to see it on an F1 car was just *chef's kiss.*
It was made even better by the fact Lando Norris ended up on the podium that year, too!
RED BULL GIVES YOU… THE FORCE!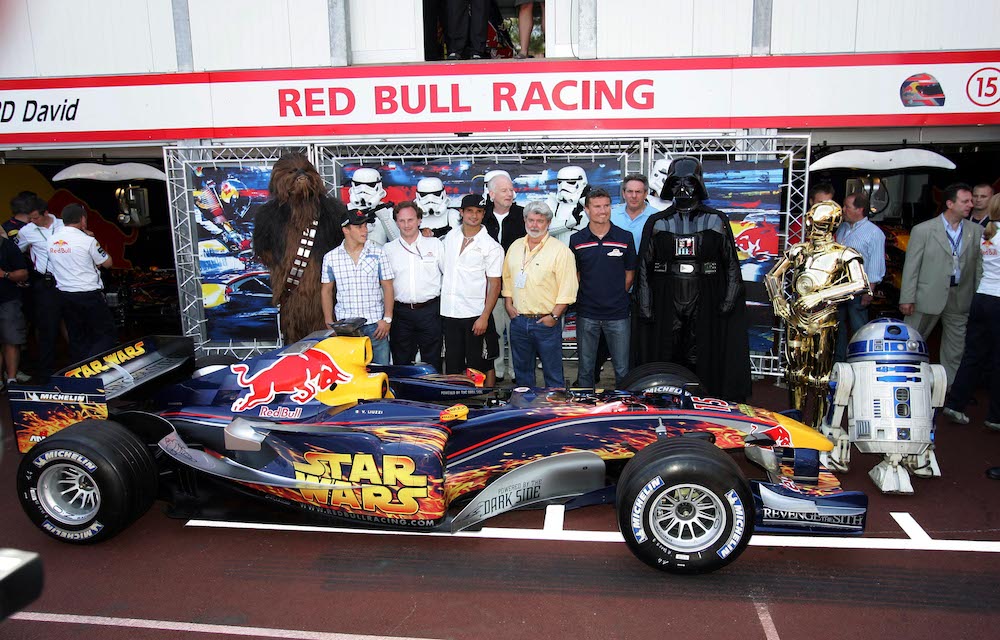 Any excuse to whack this photo into a story, we'll take it. No, your eyes do not deceive you – that is indeed David Coulthard, Vitantonio Luizzi, Christian Klien and Christian Horner stood with Chewbacca, Darth Vader, RT-D2, C-3PO and a bunch of Stormtroopers (and someone by the name of George Lucas).
Red Bull donned this special Star Wars livery at the 2005 Monaco Grand Prix to promote Star Wars: Episode III – Revenge Of The Sith. Unfortunately, the force was just too strong with this one, and both drivers retired from the race. Oops.
SUPER-BULLS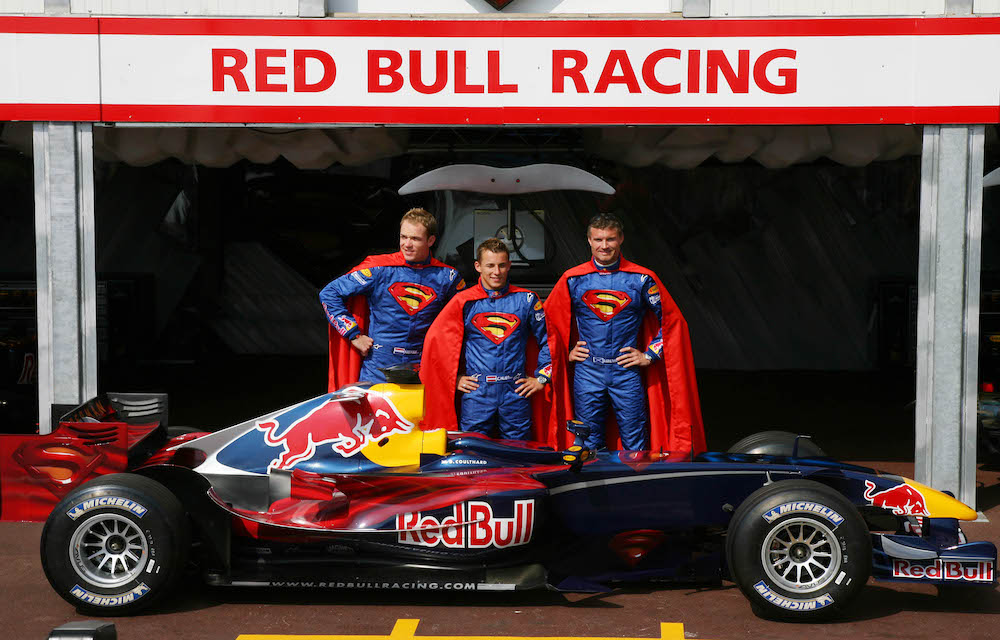 OK, we promise this is the last movie-themed livery. Red Bull was at it again the following season, and in 2006 they unveiled this Superman-inspired livery in Monaco to promote the Superman Returns film. We can't forget the racing suits either – complete with a functional (and thankfully detachable) cape.
This time it went much smoother, and Coulthard finished third to give the team their first-ever F1 podium, which led to Christian Horner famously jumping into the wearing nothing but a cape. We'll spare you the images 😅
DIAMONDS AREN'T FOREVER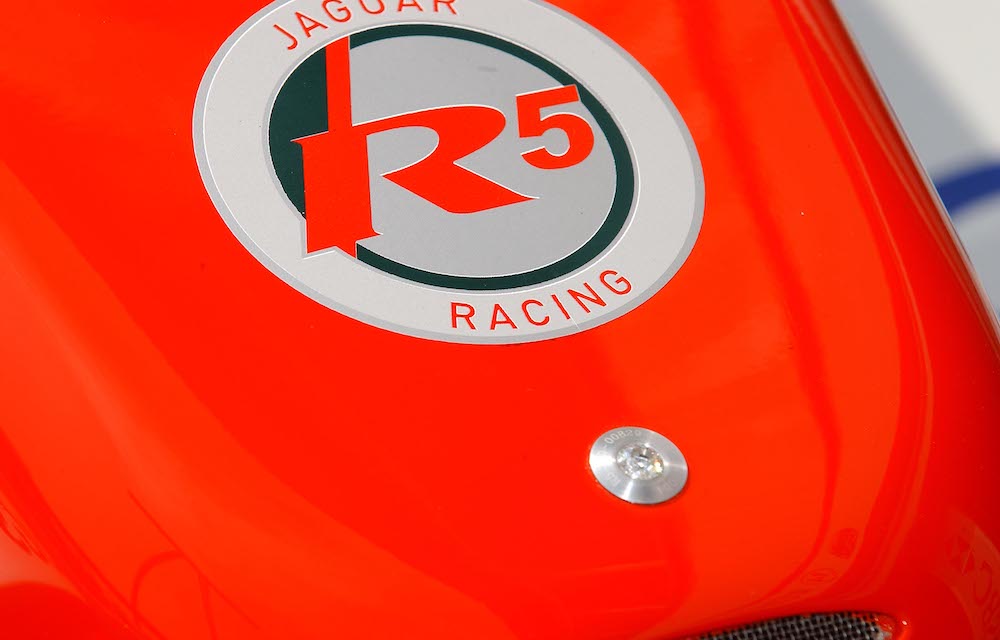 Sorry, we lied. This is the last movie-themed livery. We have to admit, the livery itself isn't anything special. But the story that comes with it makes it 100% worthy of being on this list.
In 2004, Jaguar unveiled a special livery to promote the new Ocean's Twelve film, which featured an absolutely huge (and real!) diamond on the nose of both cars. But this is where it gets interesting…
After a Lap 1 crash ended Klien's race, the team went to recover the car – but the diamond was nowhere to be found. It remains still a mystery to this day.
Do you think we'll get any special one-off liveries this year?