F1 is back in the USA baaaaby, and drivers up and down the grid are keen to show their love for all things stars and stripes. We can't blame them though, and some of these racing helmet designs are a work of art 👏
LANDO NORRIS 
Lando has well and truly embraced all things US with his helmet this weekend. The old school style is giving us big Evel Knievel vibes and certainly embraces all things red, white and blue. The design also features the new 'M' McLaren logo the team are using this weekend.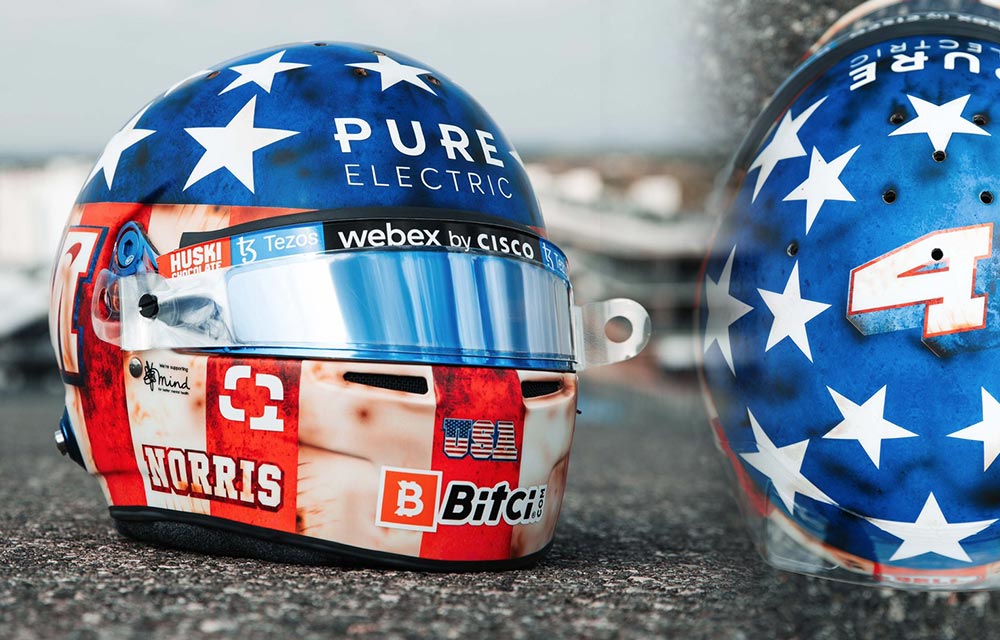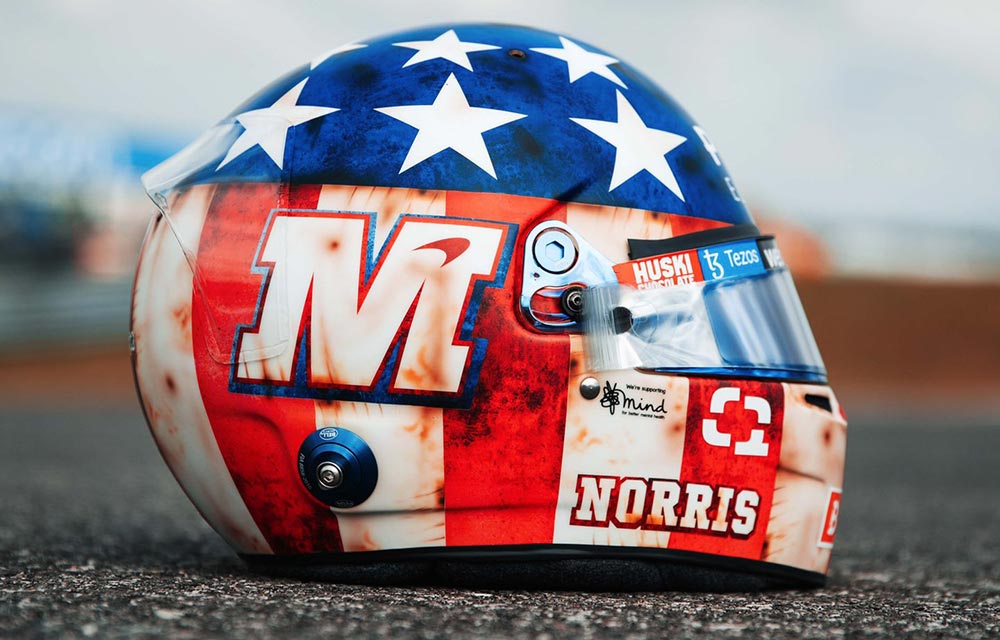 Easy Rider#USGP pic.twitter.com/P7AcjqN6hl

— Jens Munser Designs (@JMD_helmets) October 21, 2021
You can always rely on Norris to provide us with a unique racing helmet design!
GEORGE RUSSELL
Howdy partner! George Russell has gone for a Sheriff themed racing helmet this weekend. The wood-look features a traditional badge and is quite the change from his usual blue and red design. Very creative!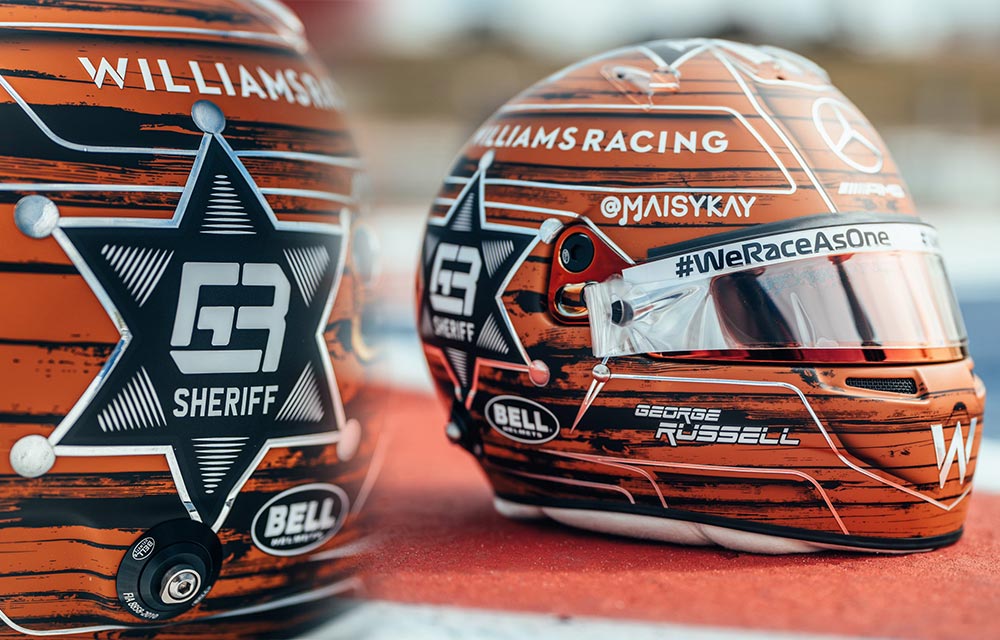 Sheriff GR, reporting for duty. 🇺🇸🤠 pic.twitter.com/9Dt6ktkMff

— George Russell (@GeorgeRussell63) October 21, 2021
VALTTERI BOTTAS
Bottas has gone for something a little bit different this weekend, with his girlfriend once again designing a one-off helmet for him. The design is inspired by the local street art and looks seriously cool!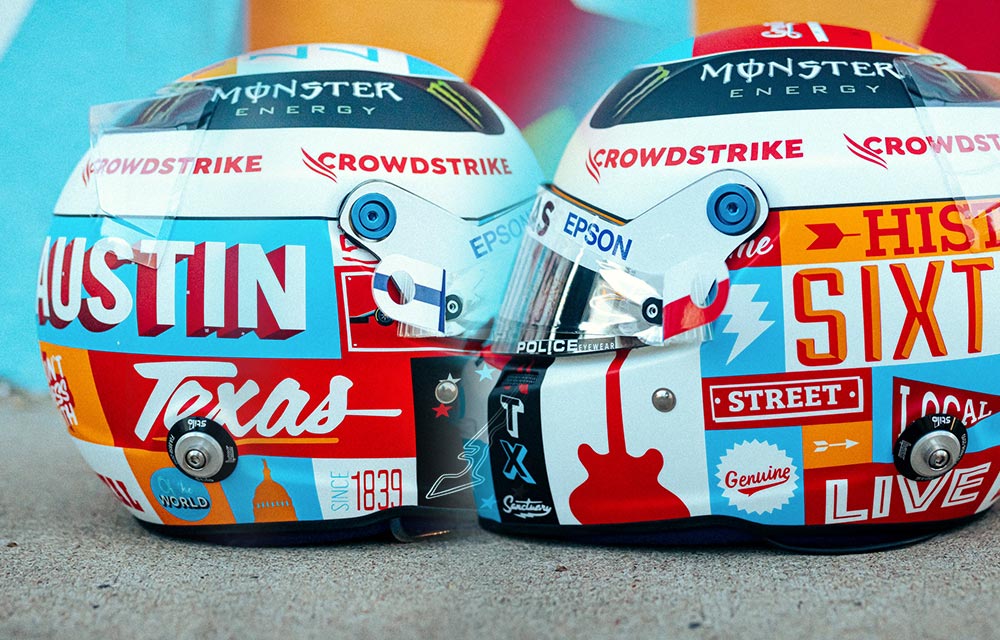 Special helmet for Austin 🇺🇸🏁

A tribute to the awesome city. The live music capital of the world and known by it's cool street art. Design by @tiffanycromwell 🎨#VB77 #F1 #USGP @StiloOfficial @MercedesAMGF1 @F1
📷 @sebkawka pic.twitter.com/whORr2HbdW

— Valtteri Bottas (@ValtteriBottas) October 22, 2021
DANIEL RICCIARDO
We all knew coming into Austin, that this is Danny Ric's territory. This year he's delivered the goods again and will be running a special tribute racing helmet to NASCAR legend Dale Earnhardt Sr. Seriously, what a beauty!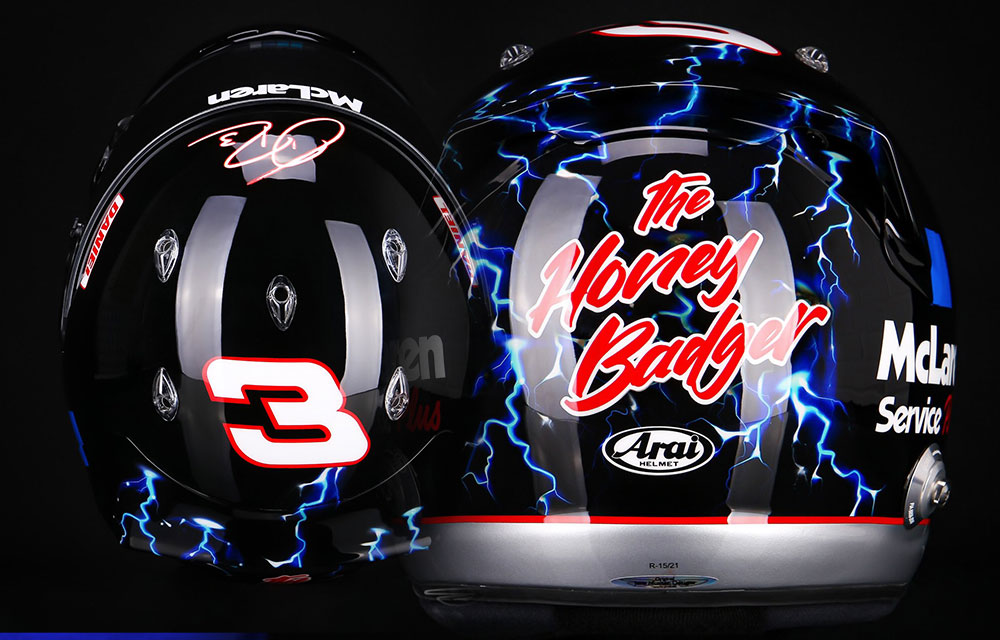 Daniel Ricciardo's USGP helmet is a tribute to his hero Dale Earnhardt Sr.#USGP #NASCAR #TheIntimidator @danielricciardo pic.twitter.com/8IHR2ZrNvx

— Jens Munser Designs (@JMD_helmets) October 22, 2021
LANCE STROLL
Now, we have yet to see the full design for this one but from the sneak peak, WE ARE OBSESSED. This space-themed design was chosen by fans and looks to be a stunning design that showcases the universe and various planets.
Work in progress. 🎨
@lance_stroll's #USGP helmet is almost ready to hit the track, complete with a special design chosen by you, the fans, via the @SociosMS app.

Coming to @COTA, Friday 22.10.21. pic.twitter.com/al8M8dOFGK

— Aston Martin Cognizant F1 Team (@AstonMartinF1) October 20, 2021
YUKI TSUNODA
The AlphaTauri driver has been fully embracing all things fall. Tsunoda has gone for a very autumnal theme with a lovely range of leaves covering the navy blue background of the helmet. It's a little different to others out there, but the colours look awesome on the matte design.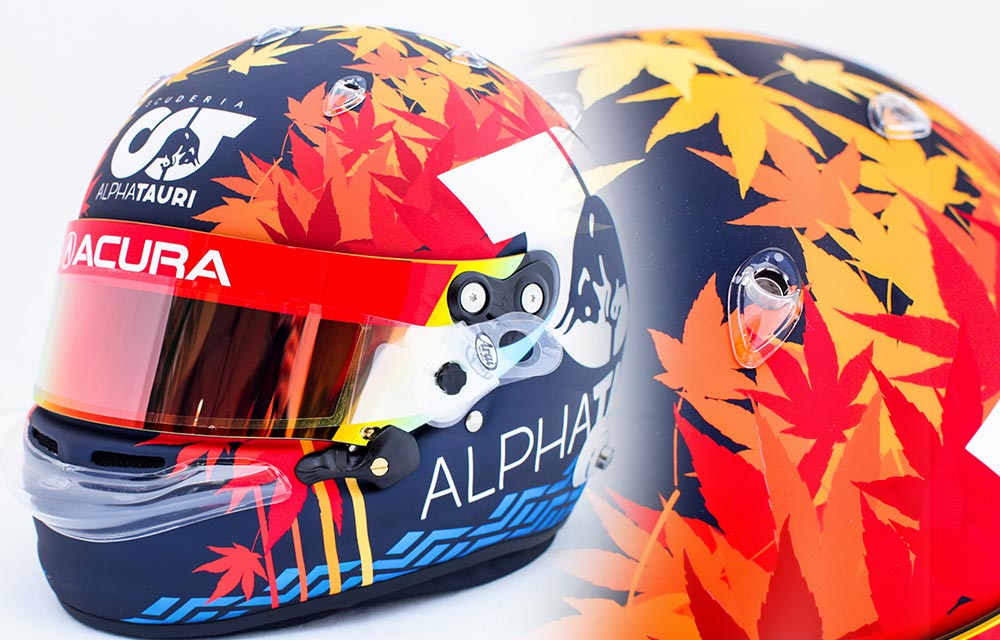 New helmet!!
Was meant to use this new design for the #JapaneseGP, but the #USGP is as cool as any place to use it! #AutumnInJapan #AutumnInAustin

— 角田裕毅/Yuki Tsunoda (@yukitsunoda07) October 21, 2021
FERNANDO ALONSO
Alpine's Fernando Alonso has used this weekend as an opportunity to raise awareness of the La Palma volcanic eruption that has forced 7,000 out of their homes. The eruption on the Canary Island has been impacting local residents for over a month now, so Alonso has had a helmet designed to support those affected.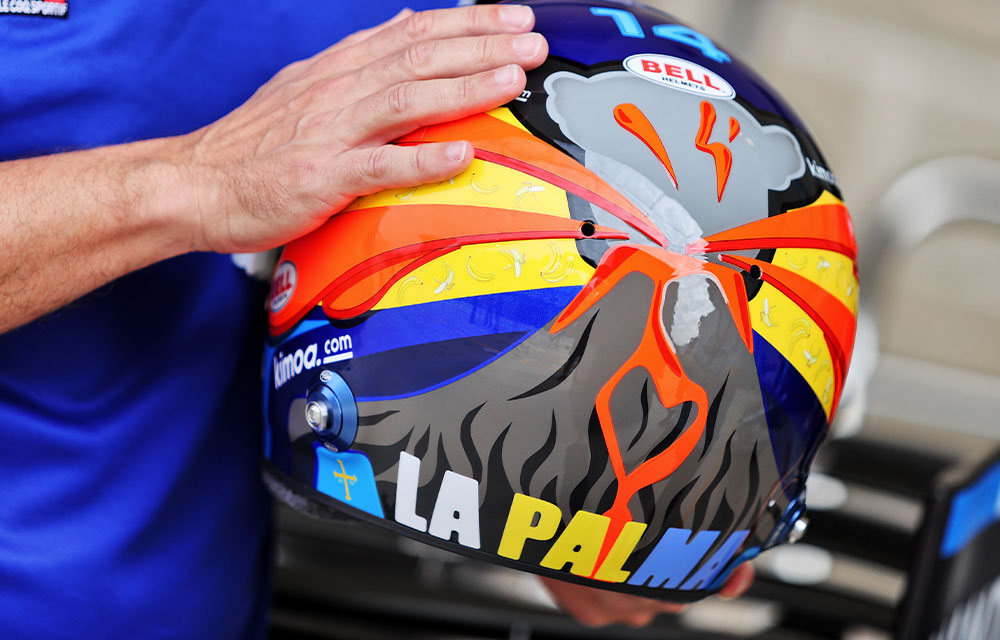 🤍💙💛 pic.twitter.com/IMnGEOCbLw

— Fernando Alonso (@alo_oficial) October 21, 2021
Which helmet design has been your favourite from this weekend?