No F1 during the winter break is a tough time for all of us motorsport fans, but it does allow for some rest and relaxation 😅 For the drivers, it's also a chance to visit home, check in on friends and family, or continue to find other sports to fuel their adrenaline addiction!
Here's what the 2023 grid has been up to since last year's finale in Abu Dhabi…
NICO HULKENBERG
Nico Hulkenberg has seemingly been spending his winter cycling, submerging himself with water in something that could double up as a bin, and driving a tractor around. He'll be hoping for less of the latter in the 2023 season…
LANCE STROLL
Snow, snow and more snow. If what we see on social media is to be believed, Lance has spent the winter break permanently attached to his snowboard and fully embracing the festive spirit with a premium Santa suit
 (Whilst snowboarding, of course).
SERGIO PEREZ
As soon as the F1 season was over, Sergio Perez entered full football-fan mode enjoying Mexico in the World Cup (but maybe not for quite as long as he'd have hoped). He also did a social media giveaway for a signed mini helmet from his Monaco win. We wonder if Max entered?
PIERRE GASLY
Pierre Gasly suffered heartbreak, watching France lose to Argentina in the World Cup Final on penalties. But it wasn't all bad, as he spent Christmas and NYE with his family and friends, and his fantastic facial hair was the talk of Twitter. For like half a day. We don't really know why
VALTTERI BOTTAS
Valtteri Bottas has been incredibly active on social media during the break, so here's an in-depth summary of his activities. Got Mullet 
 Became Australian 
 Drank beer 
 Hiked and cycled around Australasia 
 Fed goats 
 Never change, Valtteri.
GEORGE RUSSELL
George Russell was all over the place during his break, appearing in London, Italy and Monaco, where he celebrated New Year's Eve with Fernando Alonso! Of course, he also made time for a little date with his bestie Albon too 🥰
ESTEBAN OCON
Estie Bestie spent his holidays back home in France. From posing in a tuxedo to visiting Disneyland Paris for what feels like the eighth time in 2022, Ocon celebrated NYE in Monaco with his pals 🥳
YUKI TSUNODA
Although Yuki kept pretty quiet on socials over the winter (perhaps it's the heartbreak of losing Pierre Gasly as a teammate), he's kept busy! He was recently certified as the first Sagamihara City Hometown Athlete back home in Japan 👏
FERNANDO ALONSO
In between visiting his own karting track and partying with George Russell on New Year's Eve, Fernando has been getting ready for his season with Aston Martin. They've already kept him busy with the El 'Content' Plan.
LOGAN SARGEANT
2023 rookie Logan Sargeant spent his holidays back home in the US. He made sure to cram in as many sports as possible as he paid a visit to the Florida Panthers hockey team and the Miami Dolphins NFL squad!
MAX VERSTAPPEN
Max Verstappen's winter break started off in Japan, where he participated in Honda racing day alongside other drivers and riders. From Japan to Milton Keynes, Red Bull Racing took to the streets while crowds gathered to hear the sound of the V8s driven by Max and his teammate Sergio Perez.
LANDO NORRIS
Lando Norris used his winter break to do anything BUT racing. Testing his cooking skills at a restaurant in Amsterdam, he posted a rather amusing picture wearing a chef's uniform and holding a flame torch… 🔥 He also provided fans with some more Carlando content, as he attended the same wedding as his old teammate Carlos Sainz.
ZHOU GUANYU
Over the winter break, Zhou Guanyu spent his December in China. As well as visiting Alfa Romeo China, he posed in front of the Shanghai skyline, holding his racing helmet, which also includes the art of the same skyline! "Look! It matches," he captioned.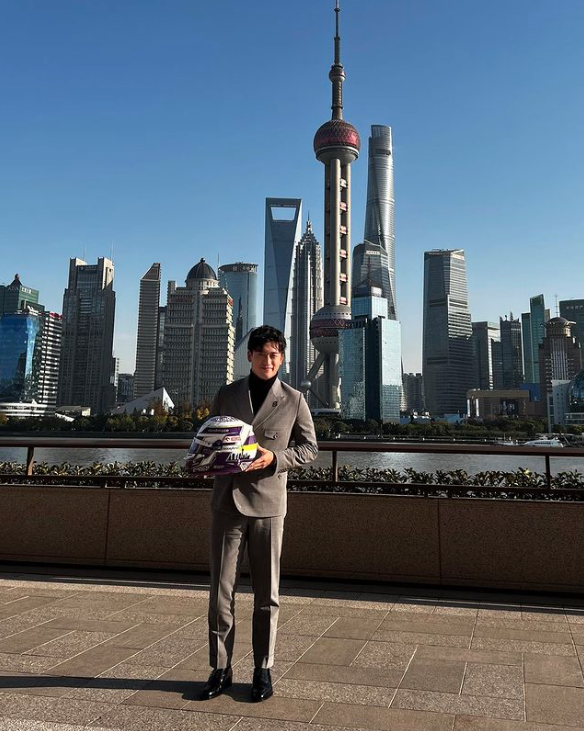 OSCAR PIASTRI
Oscar Piastri has kept quiet on social media about what he has got up to over the winter break, but we can only imagine that's due to putting in a lot of hard work preparing for his first season in Formula 1… Right, Oscar?
CARLOS SAINZ
Carlos Sainz began his winter break playing golf against LIV golf Bankkok champion Eugenio Chacarra. From golf to cars, Sainz spent family time a little differently over the holidays, supporting his dad who is competing in the Dakar Rally.
KEVIN MAGNUSSEN
Kevin has been pretty inactive on social media over the winter but to be fair, he's probably still holding onto the Pirelli tyre from his pole position in Brazil. And who could blame him? He did however advertise his official merchandise and reveal he'll be competing in the Daytona 24 Hours sportscar race with his father Jan at the end of this month.
LEWIS HAMILTON
Lewis has been a bit more socially active than usual during his off-seasons. Including surfing in Cairo and spending Christmas in New York, where he even made a comparison of his puffer jacket to the Marshmallow Man in Ghostbusters 😂 Glad to see he can take the mickey out of himself a bit!
CHARLES LECLERC
Charles had a pretty quiet off-season outside of the usual car testing at Ferrari's test track in Fiorano. But the family vibes were immaculate. Our personal favourite was his Christmas post with his family, all in adorable jumpers!
ALEX ALBON
Alex spent a lot of time back in his home country of Thailand over the off-season, but we have to mention his adorable date with George Russell. Even his girlfriend, Lily Muni He said: "I should get paid to third wheel at this point!"
NYCK DE VRIES
Nyck's been pretty quiet on social media (even his Twitter still has his old Formula E branding!), but he has certainly been keeping fit. Here's him deadlifting twice his body weight, as you do!
What have you been up to during the winter break? Let us know below!