With the arrival of 'Schumacher' on Netflix next week, our editor Katy Fairman got an early look at the motorsport documentary that Michael Schumacher's family has fully supported. Featuring very rare interviews with those closest to the seven-time world champion, as well as a load of archive footage, the documentary looks at all aspects of Michael's life: the good, the bad and the tragic turn of events that led to Schumacher's departure from the public eye.
When the trailer for Schumacher dropped, I'll be honest with you; I shed a tear or two. I'm a pretty emotional person anyway, the kind that cries at the John Lewis Christmas advert every year. Still, there's something so heartbreaking about watching the incredible racing career of a man who is now just a shadow of his former self.
The name 'Michael Schumacher' is known worldwide, whether you're into motorsport or not. Often thought of in a set of bright red overalls on the top of a podium grinning ear to ear, there's no denying that what he achieved in his career puts him as one of the all-time greats. His seven world championships, at the time, seemed an unbeatable feat.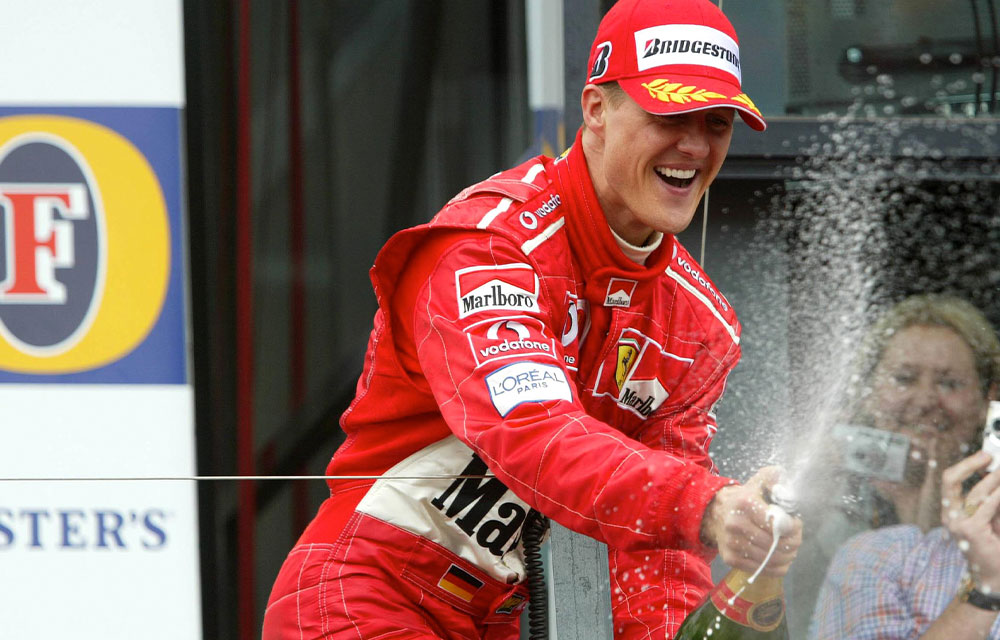 Although many described him as 'shy' and 'friendly' off the track, Schumacher wasn't afraid to cause controversies when racing. Although there was no denying his incredible talents behind the wheel, he could sometimes be hot-headed, and this spilled out over the cockpit from time to time.
Both sides to Michael are shown in this documentary.
We start the journey with the 1991 Belgian Grand Prix, Schumacher's F1 debut. We hear how his debut came about and how other drivers on the grid knew instantly that this 'new kid on the block' could be a serious threat to them. Fast forward to a year later, and Schumacher takes his maiden win at the same circuit he made his first appearance just 12 months before.
Speaking to various family members, we learn about how Michael was as a child and his passion for competing in karts. During this evaluation of his younger days, we're also introduced to Corinna Schumacher – Michael's wife and an essential storyteller in this documentary.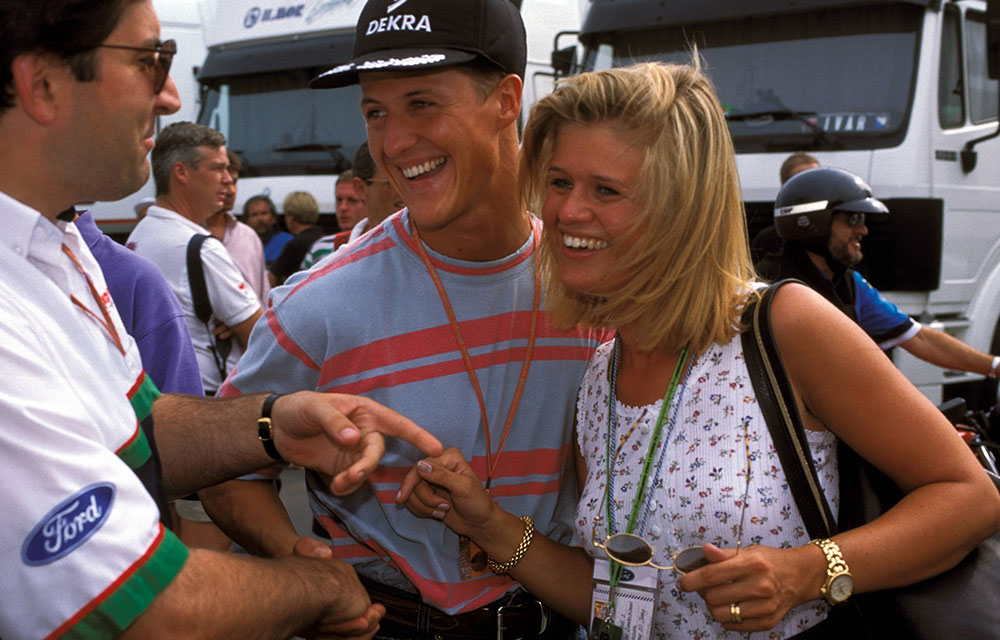 "I think I am incredibly fortunate to have met Michael," Corinna says at one point. "He's the most loveable person I've ever met. I never once thought, 'he's a terrific racing driver at the start of a dazzling career'. No one could have guessed that would happen."
The documentary moves focus to the 1994 F1 season, emphasising the San Marino Grand Prix and the death of Ayrton Senna. Speaking in an old interview about that dreaded day, Michael explained how he had heard Senna was in a coma when he arrived at the podium after winning the race.
What follows is a fascinating conversation about Schumacher's denial that Senna would die. Although there was an apparent lack of information at the time, he explained how he didn't believe that Senna could be dead and instead just thought he would be champion that year and only miss a race or two.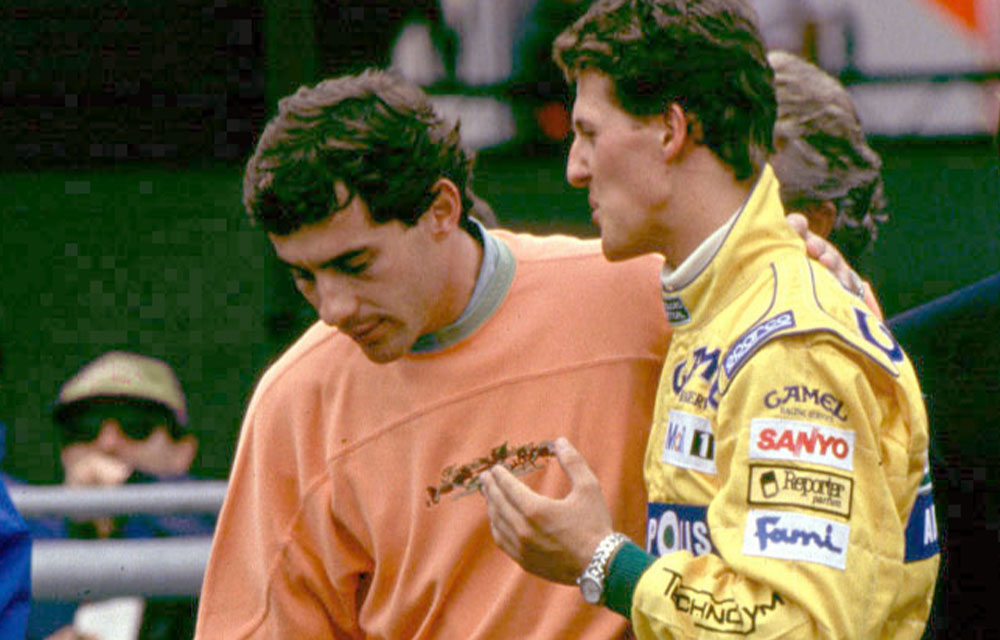 He then talks openly about how he saw "many things with different eyes" and is incredibly vulnerable when discussing how Senna's death affected him when racing. "I went around with a road car in Silverstone through the circuit, and I just thought 'this is a point you could be dead'," he states. "That's the only thing I was thinking of."
As expected, the documentary then details the decision to leave Benetton in favour of Ferrari and how Schumacher helped shape the team that would dominate the sport in the early 2000s. Throughout this storytelling, we hear from names like Jean Todt, Sebastian Vettel, Mika Häkkinen, Damon Hill, Flavio Briatore, David Coulthard, and many more.
However, the true heartbreak comes during the final ten minutes. After covering Schumi's return to F1 with the Mercedes team in 2010 until 2012, it's evident that he realised it was time to hang up the racing gloves and spend more time with his family; for good this time.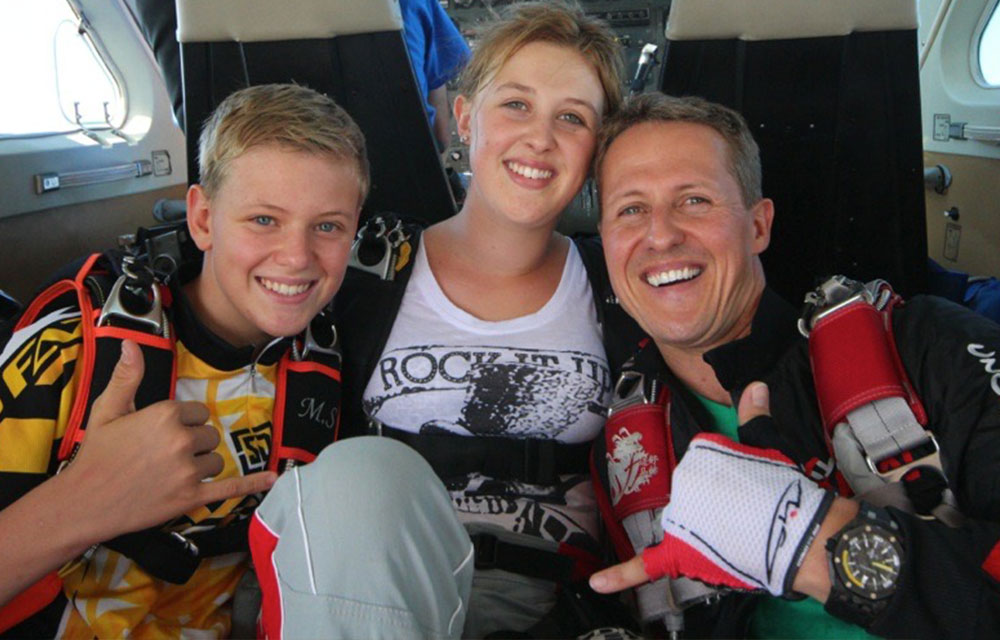 An adorable piece of home movie footage shows the family – Michael, Corinna, Gina, Mick and their dogs – all laughing together, with the following clip being of the French ski resort of Méribel. News clips play in the background, highlighting the skiing accident that unfolded on 29th December 2013. The day that changed Michael's life, and all those close to him, forever.
Schumacher suffered a severe brain injury, and although there is no update given on his current condition, family and friends share a small insight into what life is now like and how "everybody misses Michael." It's upsetting viewing, especially when Mick speaks about his father and how they would relate to each other differently now, having followed in his dad's footsteps and joining the F1 grid in 2021.
"I think Dad and me, we would understand each other in a different way now. Simply because we speak a similar language, the language of motorsport."
Overall, it's an intimate story of an extraordinary man, told by those who knew him best.
SCHUMACHER is available on Netflix from 15th September.