Tyres were certainly a big talking point from the Turkish Grand Prix. With a damp track and all the grid choosing to start on the intermediate tyre, we knew we'd be in for a big strategy race before it had even begun.
We've seen in the past that drivers can run an intermediate for so long that it almost turns into a slick tyre. Last year in Turkey is the perfect example of that. Esteban Ocon of Alpine took that same approach yesterday and managed to last the entire race distance on the same set of inters!
It's not as easy as it sounds, though. In fact, it's so rare, Ocon became the first driver in over 24 years to complete a race at full distance without needing to enter the pit lane once.
Now, the conditions in Turkey were extraordinary for an F1 race. The whole race was run in a misty drizzle. Normally, F1 cars would hoover away any water on the track and create a dry line, but in Turkey, they could only partially manage that. It was so humid that the water couldn't completely dry up, and it meant that there was a half dry, half wet track surface.
When the intermediate tyre is on a track where the conditions aren't optimal, like in Turkey, it wears pretty aggressively. This track was proving tough on tyres in the dry practice running on Friday, so it was very tricky with a tyre like the intermediate on Sunday.
When the intermediate wears, the grooves become shallower, and the tyre essentially becomes a special slick. The slicktermediate, if you will. What develops is basically a very soft grippy tyre that works at a low temperature. That was why it worked so well in the nearly dry but not quite dry at Istanbul Park. It operates like an ordinary slick tyre, just with a lower working temperature.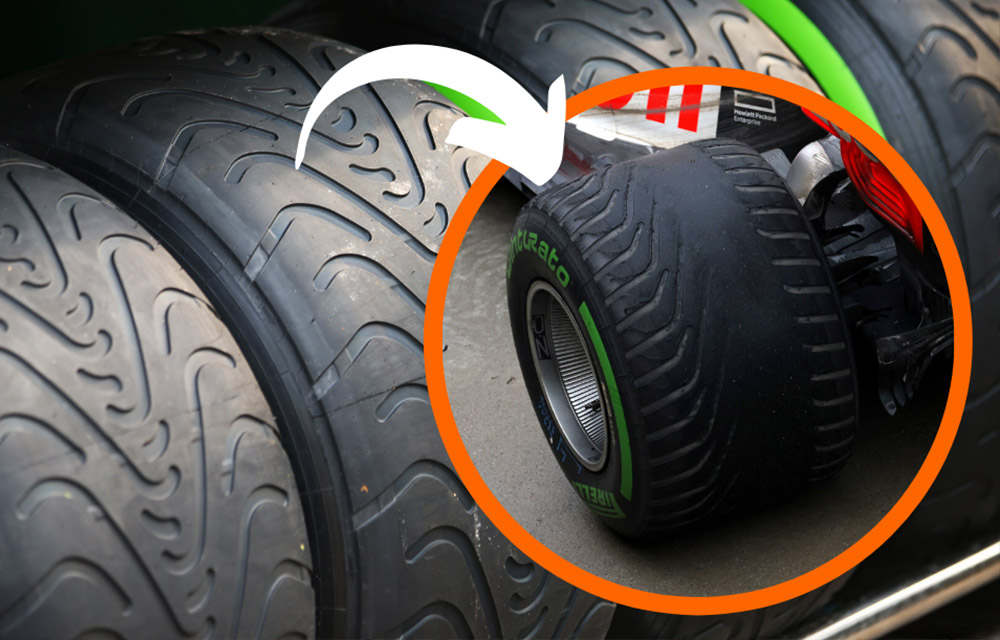 Sebastian Vettel wasn't able to make his medium tyre gamble work because they needed a much higher working temperature to activate the grip. When they're freezing, they just skate over the surface because the rubber doesn't heat up enough and can't become sticky. That's why Seb's tyres didn't "stick" to the track.
The inter can wear down to the slicktermediate (we're sticking with this) relatively quickly, and when the grooves have worn away, it wears much more gently. The fact that the intermediate can develop into a fairly workable if unusual tyre made strategy so confusing for the teams in Turkey.
In a normal dry race, drivers must use more than one compound of tyre. For instance, if they start on the soft, they must use either the hard or medium by the end of the race, or they get disqualified. But in wet conditions, this rule gets waived, and teams have no tyre restrictions.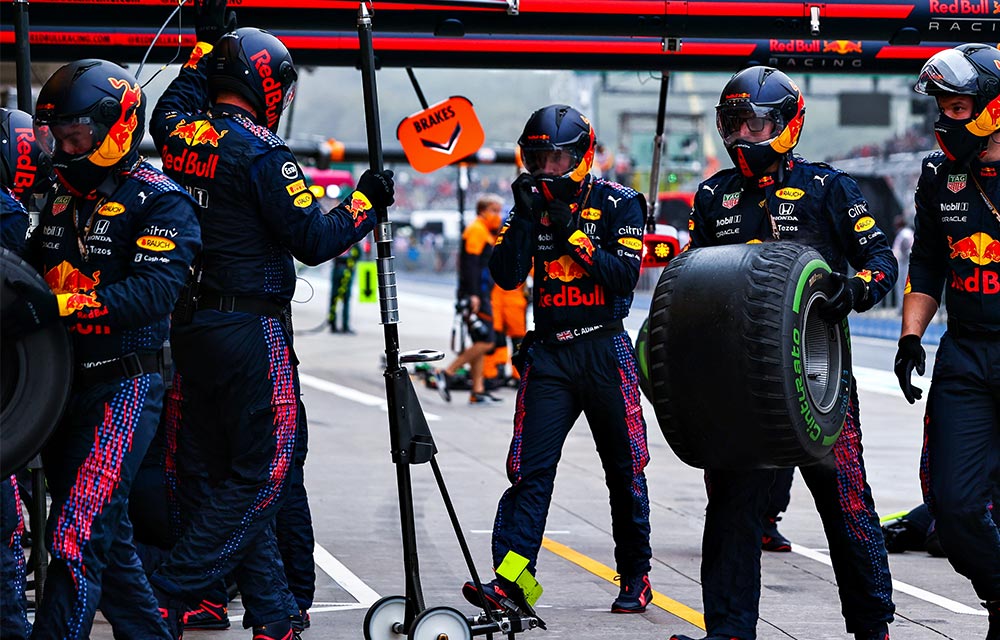 On top of this, a fresh intermediate tyre didn't seem to give that much of a performance benefit during yesterday's race. Drivers found that a fresh inter would provide them with a couple of laps of decent performance, then it would enter a graining stage as it struggled on the weird track.
Tyre graining is when strips of rubber peel off the tyre but then stick back to the hot surface and create an uneven and bumpy tyre. This obviously would make the tyre pretty awful, and the pace plummets. After a few laps, though, the rubber that was torn off gets worn down.
So with decent performance lasting ages on the intermediate, and not much of a gain from a fresh tyre, teams considered gambling on using the inter all the way to the end of the race. It had a relatively consistent performance and allowed them to keep track position—both big benefits.
LAP 43/58

Mercedes ask Hamilton to pit for new inters but he stays out – he reckons his current inter tyres will be quicker in the long run#TurkishGP 🇹🇷 #F1 pic.twitter.com/bwEaDLMFQA

— Formula 1 (@F1) October 10, 2021
The negatives are that wearing down a tyre so far can risk a puncture, plus tyre performance falling off a cliff. With intermediate tyres being a huge unknown for long stints, it's hard to tell when any of this will happen.
Charles Leclerc and Lewis Hamilton considered it but were both told to pit by their teams who thought it was too much of a risk. Only Ocon lasted all 58 laps. He even suggested there was only one lap left in the tyres before a puncture!
Essentially, in these abnormal conditions, the intermediate tyres could be manipulated into a unique and grippy slick tyre that could run in the less abrasive, cooler conditions. Once the tyre got to that stage, drivers were able to manage it for much longer than any usual stint, but it was stretching the technology right to its limit.