Here we go again! Lewis Hamilton and Max Verstappen battle it out on track and they'll fight it out in the stewards' office as well. After the stewards ruled that no investigation was necessary for their Turn 4 incident at the Brazilian Grand Prix, Mercedes' frustrations boiled over and they've now requested a Right of Review. 
The Silver Arrows' statement on Twitter said: "The Mercedes-AMG Petronas F1 Team confirms that we have today requested a Right of Review under Article 14. 1. 1 of the International Sporting Code, in relation to the Turn 4 incident between Car 44 and Car 33 on lap 48 of the 2021 Brazilian Grand Prix, on the basis of new evidence unavailable to the Stewards at the time of their decision."
— Mercedes-AMG PETRONAS F1 Team (@MercedesAMGF1) November 16, 2021
So what does this mean?
Firstly, a Right of Review and an appeal aren't the same thing. To put it simply, Mercedes are asking the stewards to take another look at the incident. To do this, there must be new evidence available that wasn't there when the decision was originally made and an investigation doesn't need to have happened at the time. Article 14.1.1 of the FIA's International Sporting Code says:
"If, in […] a significant and relevant new element is discovered which was unavailable to the parties seeking the review at the time of the decision concerned, the stewards who have given a ruling or, failing this, those designated by the FIA, may decide to re-examine their decision following a petition for review."
Should the stewards think it's worth checking over again, they can grant them an appeal, where both sides can argue their case for or against a penalty. Think of the Right of Review as stage one.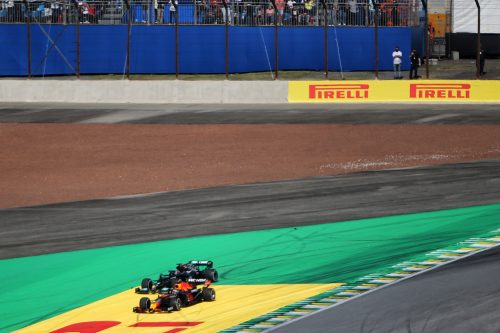 This means the stewards now have the opportunity to decide if this "significant and relevant new element" exists. Interestingly, their decision on this cannot be appealed.
Shockingly, FIA Race Director Michael Masi revealed that the stewards didn't have Verstappen's onboard camera at the time, which could show whether the Red Bull pushed the Mercedes off the track when going side-by-side at Turn 4 in Interlagos. The new footage seems to show Verstappen late on the brakes and slow to turn in and this is what the reigning Constructors' Champions want answered.
A Right to Review does not reverse any earlier decisions and if a time penalty or penalty points had been given, they would still apply until the decision was reversed on appeal.
Thoughts on the incident between the two title contenders are heavily split and it looks as thought the final few races of 2021 are going to be drama-filled to the end.
Should the stewards investigate the Max/Lewis incident? Let us know in the comments below.