Hi. Is this real life? Is Lando Norris on pole position for the 2021 Russian Grand Prix? Yes. Yes, he is. We're still pinching ourselves after those totally crazy last few minutes and the fact that Norris has managed to pick up his first pole position in F1. Unbelievable scenes.
He lines up alongside his old teammate Carlos Sainz *carlando intensifies* and George fricken Russell in P3. Is there nothing this season can't bring us? We're never going to stop talking about this, FYI.
Chatting with F1 after the race, Lando understandably was on cloud nine.
"Oh boy, that feels amazing. I don't know what to say," he stated.
Hahahhaa! YES!!

— Lando Norris (@LandoNorris) September 25, 2021
"Quite a manic session, but also going well, and obviously we made the decision, in the end, to go on slicks, but you never think you're gonna get a pole until you get it, and now I've managed to do it.
"So extremely happy and a big thanks to the team. They've done an amazing job."
POLE!!! 🤩@LandoNorris sticks it on Pole for McLaren in Russia. What. A. Lap. 👏

See you at the front of the grid tomorrow, team. 🧡#RussianGP pic.twitter.com/MHsipyUM6r

— McLaren (@McLarenF1) September 25, 2021
This pole position comes just the following race after McLaren scored a stunning 1-2 in Monza, with Daniel Ricciardo taking his eighth career victory. Despite being quick in Italy, there was no guarantee that the team would be mega competitive here in Sochi.
"I wasn't very confident we were going to improve on the previous lap, but I kept the tyres warm and prepared for the final lap. I risked quite a bit, I'm gonna admit, and it paid off. I'm a happy boy."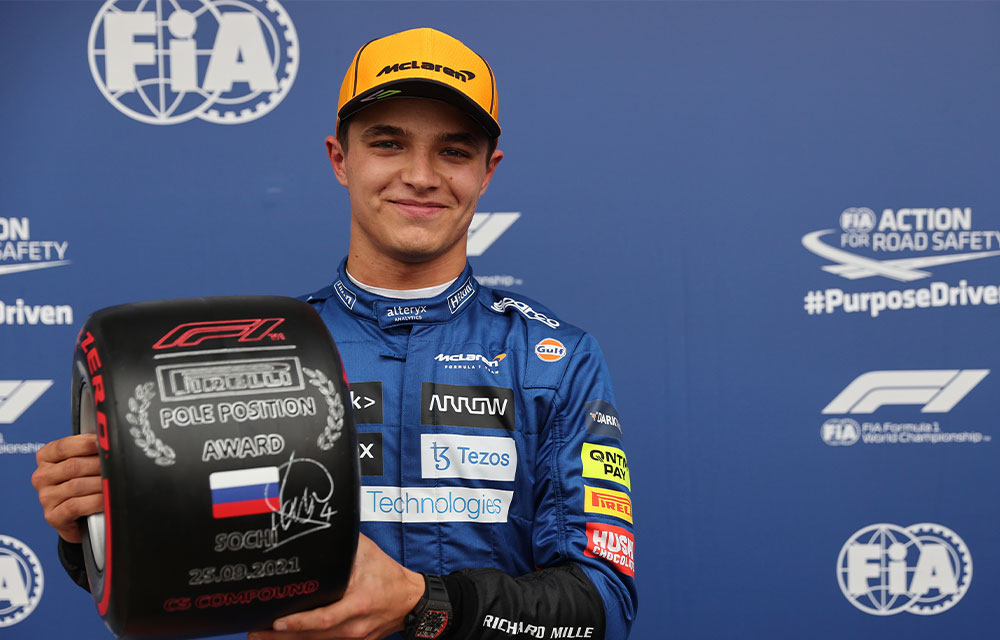 Will Lando be able to hold off the grid in the race tomorrow? He's not too sure.
"I'm not really looking forward to being first down to Turn 1 tomorrow," he continued. "But you never know, it's gonna set us up well. We're in the best position we can be. I'm happy it's my first pole position, hopefully, the first of many. I don't really know what to say."
Where do you think Lando will finish the race tomorrow?