It was an underwhelming day for Haas at the Canadian Grand Prix, and along with a bit of bad luck, Kevin Magnussen has blamed it on the FIA. 
After a brush with Lewis Hamilton on lap one, Magnussen's Haas was a bit banged up, with a small piece of his front wing left sticking out. According to Magnussen, the contact "was nothing serious" and left just a "scratch" on his Haas.
Magnussen is carrying damage to his front wing after an opening lap skirmish with Hamilton#CanadianGP #F1 pic.twitter.com/NiY6FutxcB

— Formula 1 (@F1) June 19, 2022
Despite the damage, Magnussen was able to maintain his good pace and thought the car was fine, but Esteban Ocon had other ideas…
The Alpine driver complained over team radio that if the broken piece of Magnussen's front wing were to come loose it could be very dangerous to the cars behind.
Soon after, Magnussen was shown a black-and-orange flag, forcing him to pit and change his front wing. The forced stop dropped the Haas from 6th all the way down to 20th.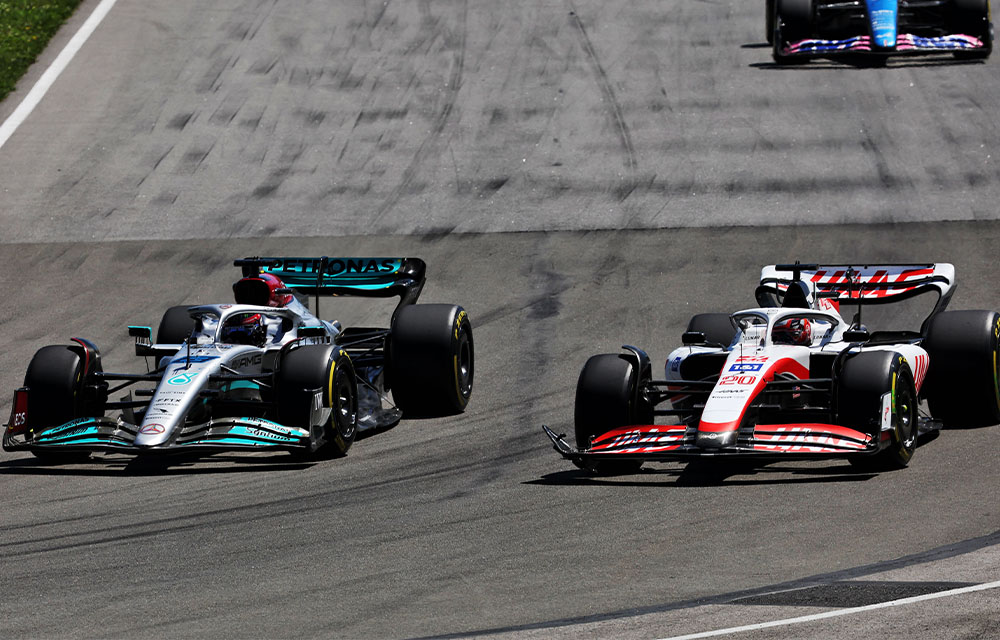 Speaking to ESPN print journalists after the race, Magnussen said: "I was talking to Ocon now and he was just joking how he told the FIA that it was really bad. If you know you can influence the FIA like that, you're going to do it, aren't you? Which is what he did, fair play."
The Dane also compared his incident to Lewis Hamilton's controversial contact with Max Verstappen in Jeddah last year, saying: "Lewis Hamilton won the race without half a front wing…which I think is correct, you know. Let us race if we can."
Should the FIA have let Magnussen keep racing, or were they right to make him stop?