While the Mercedes versus Red Bull fight for the constructors' title rages on, they weren't the only championship rivals to lock horns around the bumpy Austin circuit. The opening lap saw a full blown McLaren versus Ferrari battle play out as Carlos Sainz, Daniel Ricciardo and Lando Norris went wheel-to-wheel fighting for P5.
Sainz soon found himself in a papaya sandwich with Norris putting in a daring move to dive down the inside whilst Ricciardo tried to go around the outside of the Ferrari. As Sainz went off into the run-off area, he believed it was Ricciardo that had made the move into the apex and gave up the position to him, when in reality it was Norris.
Speaking about the pincer move to F1 after the race, the Brit explained: "It was a risky move because I knew Daniel was on the outside. Charles [Leclerc] was like a few meters ahead so if I went in any harder then I would have t-boned Charles and things could have gone very badly but it was worth a try, just a shame I didn't pull it off."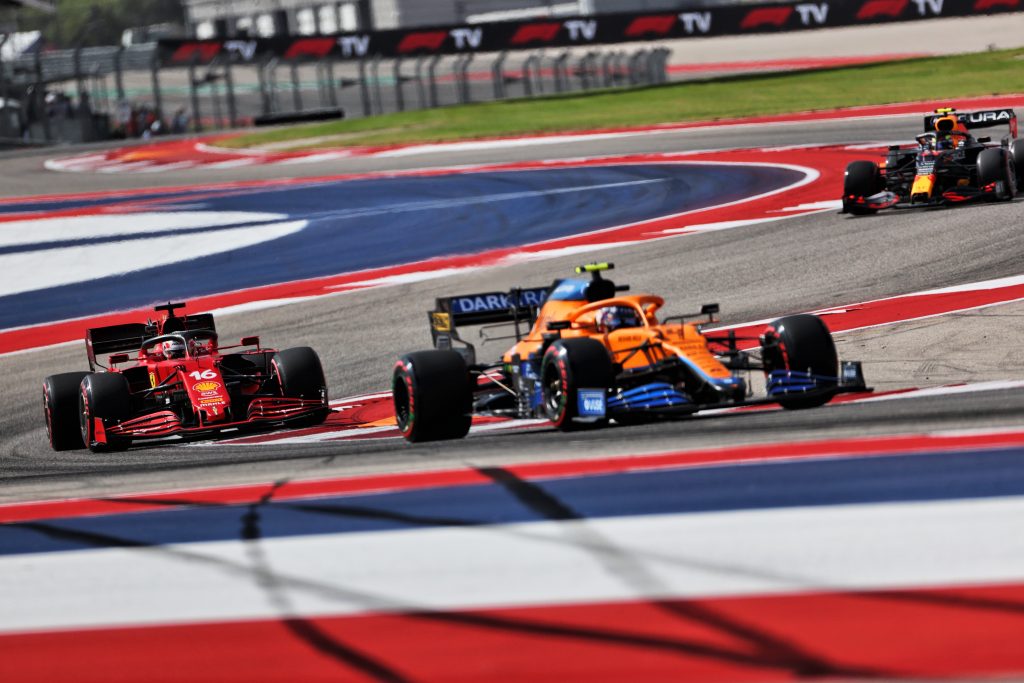 Eventually, Norris was let through just before the DRS zone. Sainz then easily passed him into the braking zone, with the McLaren driver stating that the Ferrari had "played it very well".
"I could have done a better job defending him and I didn't so. Disappointed with myself for that especially because it's against Ferrari so let the team down a bit."
A challenging race then followed for Norris as he struggled to close in on Sainz ahead. A double-stacked pit stop then saw him lose 2 seconds and drop down to finish eighth behind both Ferraris, his teammate and Valtteri Bottas.
8th. I have to be hard on myself after today, made too many mistakes and just didn't drive well. Tough race. We'll do better in Mexico. pic.twitter.com/OMq80FbEVu

— Lando Norris (@LandoNorris) October 25, 2021
Reflecting on his performance at COTA, he said: "I didn't drive well to be honest; I just didn't do a very good job. The Ferraris were definitely ahead so when you're pushing to try and keep up with a quicker car it's always very easy to over-push that little bit and make the mistake.
"I should have kept Carlos behind; I was just an idiot for doing what I did so not happy with what I did today."
Who do you think will come out on top in the fight for third in the Constructors' Championship?