Qualifying in P8 is not the way Lando Norris would have wanted to start his weekend in Austin. As the battle for third in the constructors rages on, he was left frustrated after falling behind the two Ferraris of Charles Leclerc and Carlos Sainz in the session's final minutes.
To add insult to injury, his teammate Daniel Ricciardo managed to outqualify him for the first time since the Dutch Grand Prix.
"I made a couple of mistakes on my last lap like Sector 1," Lando said when asked about his Q3 lap by Sky Sports. "Sector 2, I think, was good, but the last two corners I just over-pushed a little bit and overcooked them".
The shootout is over in the Wild West. 🇺🇸 @DanielRicciardo qualifies in P7 with @LandoNorris in P8. Bring on the race! 👊 pic.twitter.com/a94nkzvLyA

— McLaren (@McLarenF1) October 23, 2021
Undoubtedly Lando looked to be the more comfortable McLaren throughout Qualifying, keeping himself well out of trouble and sailing through Q2 on the medium tyres.
Despite his initial pace, it was Q3 where his pace became unstuck. He was actually 0.007 seconds slower on the softs in Q3 than on the mediums in Q2. Qualifying in the same position as he did in his first United States Grand Prix back in 2019, Lando has some lessons to learn.
"As the tyres are dropping away a bit, then I kind of did the opposite of what I should have done. I pushed more instead of under-driving, which would have suited it a little bit more."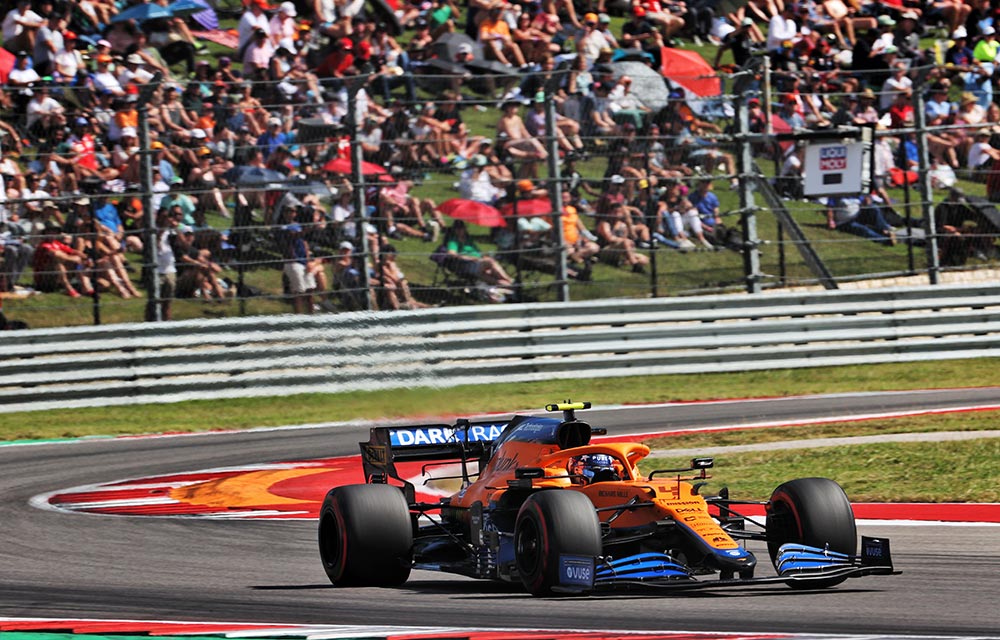 "I probably lost a couple of tenths which sucks because I could have been those two positions higher and maybe ahead of the Ferrari. I'm not sure what times they actually did, but I think it was close enough that if I didn't make the mistakes, I could have been ahead."
Fortunately for him, Carlos' decision to qualify on the soft tyres rather than the mediums could work in his favour, as the softs are expected to fade quickly, and Valtteri Bottas' penalty moves him up to seventh.
Best get ready for a lightning start Lando!