Lando Norris helped McLaren bring home a brilliant result today, their first 1-2 finish in 11 years! This is Lando's best-ever result in F1, having finished second and is the first win for the team in nine years! Yup, NINE YEARS. 
Lando didn't just follow his teammate Daniel Ricciardo around Monza and settle for second place. He raced for it. He held off Lewis Hamilton all the way through the Sprint yesterday and for most of the first stint of the race today. 
Lando finishes P2! A sensational one-two for the team! 🤩#ItalianGP 🇮🇹 pic.twitter.com/L0Q339Ild2

— McLaren (@McLarenF1) September 12, 2021
"First of all big thank you to everyone," Lando said after the race. "All the fans, all of the team, pretty awesome weekend. Four years ago I joined the team. We've been working towards this, and we got a one-two. So a good step for us. I'm happy for Daniel getting the win, and me in P2."
Lando was then asked if he would've liked to have gone for the win and had a go at overtaking Daniel.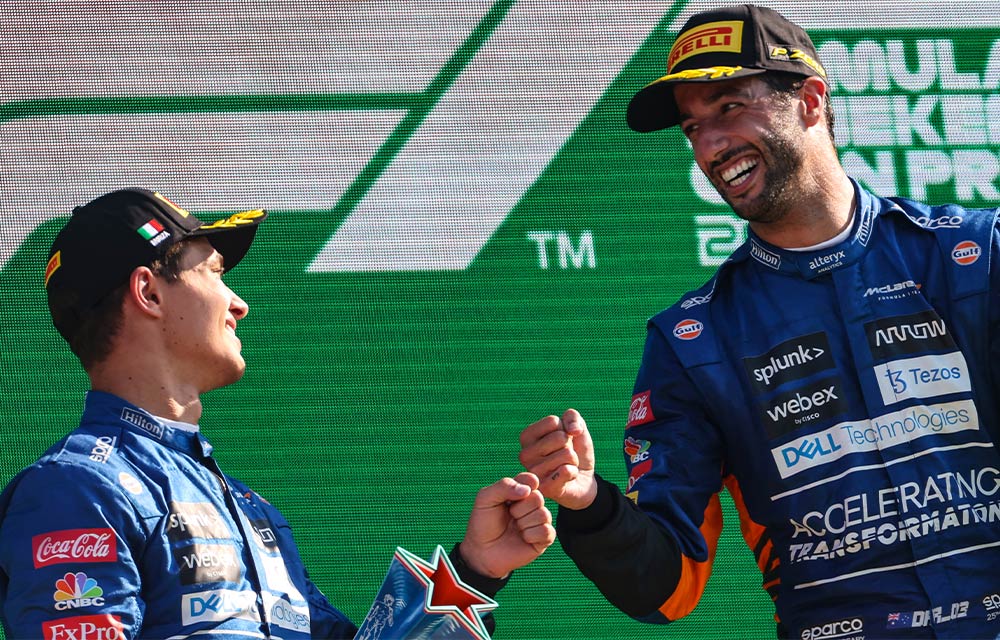 "I mean, not going to lie," Lando told Sky after the race. "My priority is the team. I am here for the team and here for the long term. There is always that desire inside to want to go for it, and I think I had the pace to at least try. I cant say if I would have got past or not, but I could have tried at least. But I asked the team, can I go through? Can I not?
"As much as inside I wanted to go for it, I was just as happy to stay in second. I am a team guy. I love them. I have grown up with them in a way."
Lando celebrated with Daniel on the podium. He even did a shoey which he clarified was "disgusting".
McLaren Shoey! 👞🍾 #ItalianGP #WTF1 pic.twitter.com/WZXzM5Qb3O

— WTF1 (@wtf1official) September 12, 2021
"I don't like sparkling wine or anything but it's even worse in Daniel's shoe. I will tell you that. Hopefully, I will never have to do that again."
This has been McLaren's first win since 2012 and the first 1-2 by a team all year which seems crazy!
Bravo McLaren 👏