We get reminded of this a lot – especially for a news outlet that reports mostly on F1 – that there are other motorsport series out there, we know, just as shocked as you are! Jokes aside, the members of the WTF1 team are into all types of motorsport and what better time to share those with you than this weekend? 
We're all collectively trying to get through this spring break period until Baku, but whilst we should've been in Shanghai for the Chinese Grand Prix this weekend, you may feel more of a race-shaped hole in your life than the last two weeks. Good news – there is plenty of other racing action on this weekend to get you by.
MOTO GP
SPRINT RACE START: Saturday, April 15th, 20:00 BST
RACE START: Sunday, April 16th, 19:00 BST
Dre says: "MotoGP at COTA has the potential to be incredibly intriguing. The track is more likely to have passing compared to F1, and six-time winner Marc Marquez is missing the race this weekend via injury, throwing the formbook out of the window. Reigning World Champion Francesco Bagnaia is also looking to bounce back after crashing in Argentina.
"Marco Bezzecchi will want to keep the momentum going after becoming a first-time winner a fortnight ago, and Marc's brother Alex will be looking to carry on his big brother's legacy. Give it a go, the Sprint races on Saturday have been great so far. Like F1's, but actually good!"
Track walkin' pic.twitter.com/zKP8OVvI1Y

— Repsol Honda Team (@HRC_MotoGP) April 13, 2023
INDYCAR
RACE START: Sunday, April 16th, 20:00 BST
Charley says: "Ahhh, Long Beach. An IndyCar spectacle in its own right. Fried chicken, sand, palm trees, and race cars, who needs anything else in life? In F1 terms, it's the Monaco of the Indy world, not just because of its winding city streets but of its lavish nature too. This is the 48th year of the Long Beach Grand Prix, making it the most successful street course in North America.
"The racing never disappoints, and fresh off his thrilling win at Texas, Josef Newgarden will want to take yet another win. Coincidently, he won both Texas and Long Beach last season – so maybe it's fate? But we can't count other drivers out either, Romain Grosjean is yet to taste victory this season despite coming so close in the season-opener, and after finishing second at Long Beach last year, he'll be fighting for more. And those Arrow McLarens are absolute rocketships, I'm still not quite over what Pato O'Ward achieved in Texas. AHH."
RETWEET if you'll be watching the @INDYCAR @GPLongBeach!

Sunday | 3P ET | @NBC and @Peacock pic.twitter.com/QHmACzHoL2

— INDYCAR on NBC (@IndyCaronNBC) April 11, 2023
NASCAR
RACE START: Sunday, April 16th, 20:00 BST
Dre says: "NASCAR returns to Martinsville this weekend, home of the famous Ross Chastain "Hail Melon" pass around the outside wall that got him into the final round of the Playoffs last season. And while we sadly won't see that move again, the racing at the short oval should still be physical and intense. Also, look out for the return of 2021 Champion Chase Elliott, making his return after a Snowboarding accident in February!"
UNBELIEVABLE!@RossChastain floors it along the wall to go from 10th to 5th and advance to the CHAMPIONSHIP! #NASCARPlayoffs pic.twitter.com/9qX3eq7T6h

— NASCAR on NBC (@NASCARonNBC) October 30, 2022
WEC 
RACE START: Sunday, April 16th, 12:00pm BST
Charley says: "Round two of the World Endurance Championship will take place this weekend, with the six hours of Portimao. F1 fans, if you're going to tune in for the first time – prepare yourself for the number of names you'll most likely recognise—a great field of drivers. The first race in Sebring gave Toyota a two-lap winning margin, which Sebastian Buemi thinks isn't actually representative of how competitive the hypercar class will be this season.
"Portimao could bring a much closer fight, with Ferrari being Toyota's biggest threat."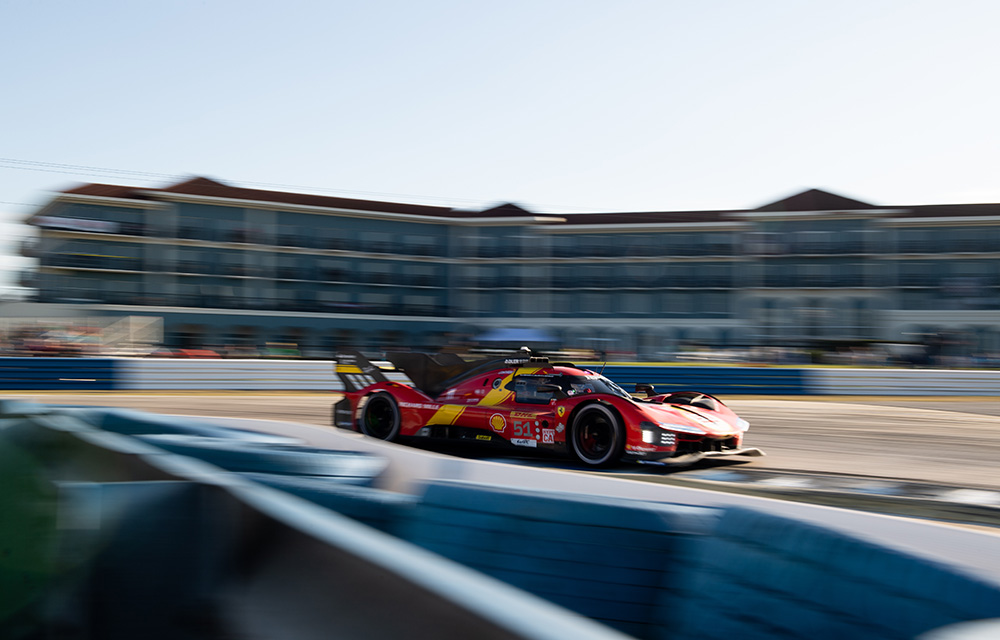 Still not convinced? IMSA is also racing at Long Beach this weekend, with its shortest race on their calendar, battling with the hot conditions of the California sun, and with a street circuit like this, it takes no prisoners. Super GT is kicking off its season in Okayama this weekend too!
See? Plenty of motorsport action. Will you be watching any of the above? Let us know in the comments!