Crying party at ours today, 4 pm sharp. Ice cream, blankets and cups of tea are available. Why? Oh, it's only Sebastian Vettel's last race in F1.

We've heard that an excellent coping mechanism is to reminisce on the good times, so today, we're looking back at Seb's best moments off the track.
CAN YOU REPEAT THE QUESTION?

F1 fans, a short view back to the past; Abu Dhabi 2014, to be exact. Remember the longest press conference question ever?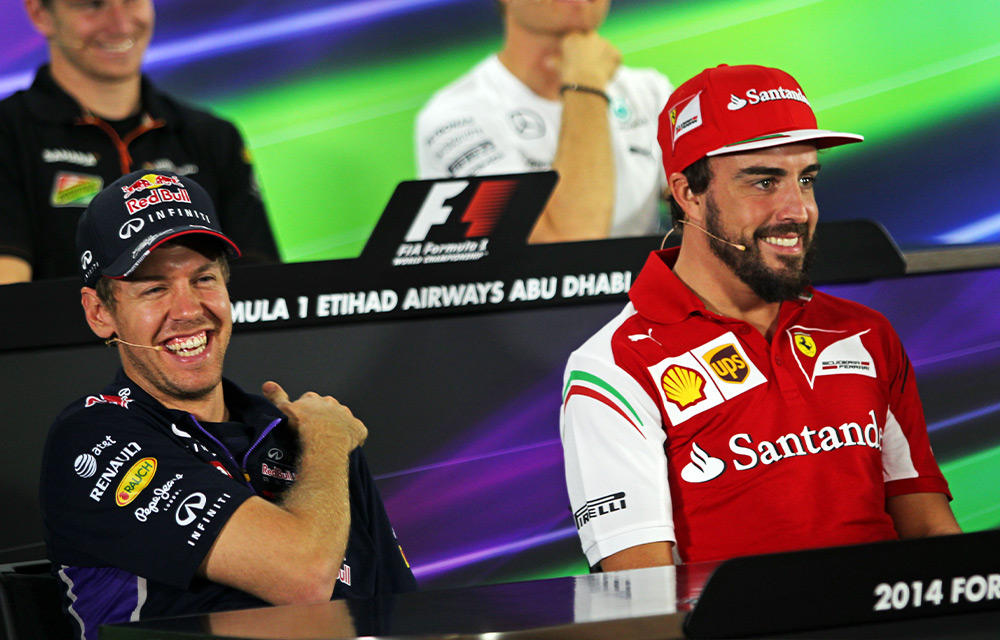 Of course, you do! Unsurprisingly, the six drivers who were asked the over one minute question were already struggling to hold back their schoolboy giggles. 
But the whole room soon burst into laughter when Seb asked the journalist if he could repeat the question. 
MAKING SILVERSTONE SHINE AGAIN
It's no secret that Seb is all aboard the quest for a cleaner environment and a greener planet, and he made that very clear at the British Grand Prix in 2021.
Sunday evening at Silverstone. The #BritishGP weekend is over.

But for Seb, the race for the planet never ends. 💚 pic.twitter.com/XLHfDQYqL2

— Aston Martin Aramco Cognizant F1 Team (@AstonMartinF1) July 19, 2021
With a small group of fans and his mechanics, he took to the grandstands to clear up the litter after the race. We should all be a little bit more like Seb. 

WHO LET THE DOGS OUT? 
WHO? WHO? WHO? WHO? WHO? It certainly wasn't Vettel, that's for sure.
Vettel: "What should we say? Who let the dogs out? 🎶" pic.twitter.com/EP1Z438oVD

— tami. (@Vetteleclerc) November 27, 2020
A stray dog on track is probably one of the strangest reasons for a red flag in F1, and it's probably not going to happen too often. Seb was not going to miss his chance to show us his rendition of 'Who Let The Dogs Out?' by Baha Men.
What an angelic voice 😇
SEB – KEEP IT PG!
The medal for one of the best F1 radio messages EVER goes to… SEBASTIAN VETTEL.
Seb isn't one to shy away from his radio and has gifted us with some truly iconic moments throughout his career, but his message to his team at the 2018 Brazilian Grand Prix is definitely one of the best.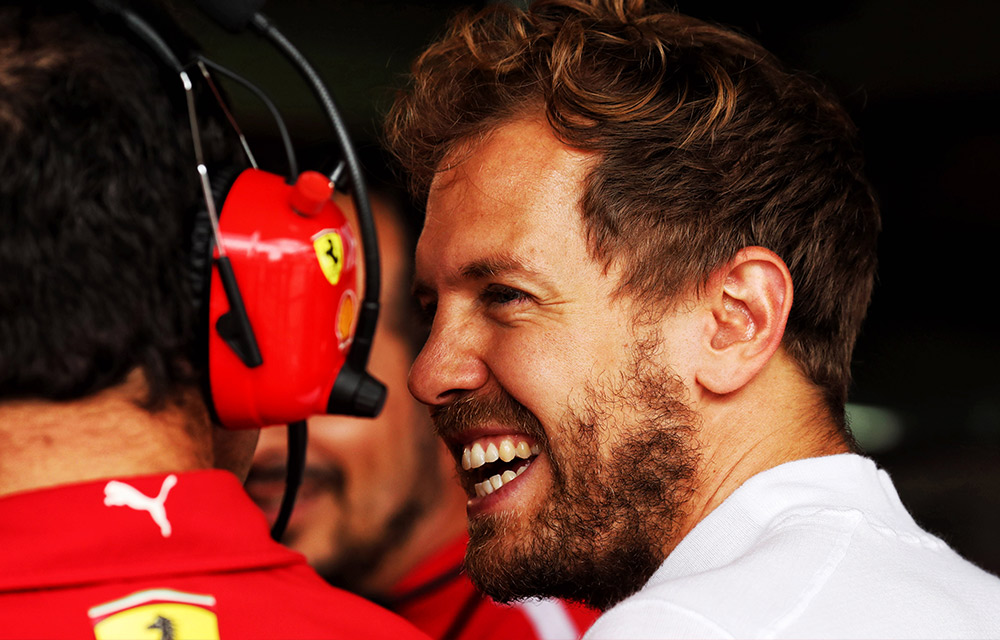 During FP2, he says, "There's something loose between my legs, apart from the obvious. Something flying around my feet. Around my feet… I mean, I'd be proud if it was you think it is, but it's not." Legend.
HE WAS A SCOOTER BOY, SHE SAID SEE YOU LATER BOY 
The FIA didn't find this funny, but we sure did.
The first practice session in Australia this year didn't quite go how Seb would've hoped, and Fireman Seb returned to extinguish his car on the side of the track. But that isn't even the best part.
Sebastian Vettel lapping Albert Park on a scooter and waving to the crowd at the end of FP1 😂👏 #AusGP #WTF1 pic.twitter.com/c6t39VQXp3

— WTF1 (@wtf1official) April 8, 2022
Rather than getting a normal ride back to the paddock, he borrowed one of the trackside marshal's mopeds and made his way back to the garage. With his helmet resting on the top of his head, and a little wave to the fans, he was undoubtedly the star of the show!
When Seb crosses the finish line for the final time, a massive hole will be left in the sport. His greatness on track and impact off track will be missed dearly by every F1 fan. Danke, Seb.
What is your favourite Sebastian Vettel moment?