It's no secret that Austin is one of the most physically challenging tracks on the F1 calendar. So when we heard that Red Bull's Sergio Perez was having an issue with his drinking system during the race, it was seriously concerning.
Before the race, there was some worry that Checo was having issues with the water system in his car. Perez was then forced to change his racing balaclava on his way to the grid as he radioed to the team that his system was leaking all over him.
During the race, it became apparent that there was an issue. Checo charged on and managed to finish the race in third, taking his first podium at COTA in his F1 career.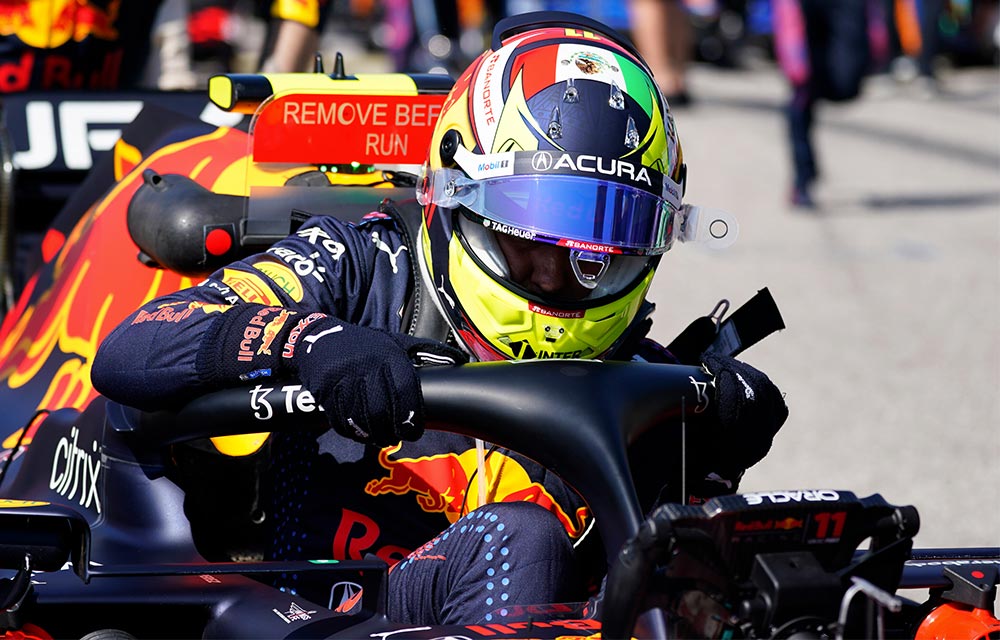 Speaking to F1 after the race, he explained that he'd had no water since the very first lap.
"You know, since lap one, I ran out of water. I couldn't drink at all.
"I think by the middle of my second stint it was starting to get pretty difficult, you know, losing strength. I think my toughest race ever, physically."
Perez's boss, Christian Horner, also told Sky Sports that as well as having no water during the race, his driver had also been under the weather and suffering a bit of a cold over the weekend.
SERGIO: "I ran out of water! I couldn't drink at all, it got pretty difficult! I was losing strength towards the end"#USGP 🇺🇸 #F1 pic.twitter.com/dJA9onfmkv

— Formula 1 (@F1) October 24, 2021
There's no doubt that Sergio will hope this strong run of form continues as we head to Mexico in a fortnight, his home race. Red Bull are usually the dominant team when we race at the Autódromo Hermanos Rodríguez, but this weekend in Austin has proved that us F1 fans should expect the unexpected!
Max Verstappen brought an end to the Mercedes dominance around COTA, taking the first pole position and victory for Red Bull at the American venue since the start of the turbo-hybrid era.