Just two races ago, Daniel Ricciardo started from the front row. This weekend he didn't make it out of Q1. He was definitely one of, if not the biggest, victims of that crazy Q1 session we had in Turkey today!
The session started with a 100% chance of rain, but it wasn't quite the rain we were expecting! It was a light drizzle, enough to make it tricky but not enough for wet tyres. With freezing conditions, too, the slicks had pace, but it was incredibly tricky to extract. For McLaren especially, the tyres really weren't helping them at all!
Lando makes it through to Q2 but Daniel just misses out today, finishing P16. #TurkishGP 🇹🇷 pic.twitter.com/Bg5hO8QGCP

— McLaren (@McLarenF1) October 9, 2021
"I think it was that we struggled with the soft," said Daniel to F1 after the session. "So the first run, the track was improving because it was still a bit damp, and I think at the time, relatively, we were doing alright.
"As it kept improving, we came in for that second set of softs and made some adjustments, but they still didn't give me the grip or feeling I desired. I struggled a bit with the soft yesterday, so I guess we still probably aren't on top of that. So not really any excuses, just weren't quick enough."
It looked like Daniel and McLaren also went a lap too early for with their final push lap. The rain had stopped, and drivers who went about a minute later were able to capitalise, and Daniel dropped out of the top ten and into the way to the drop zone.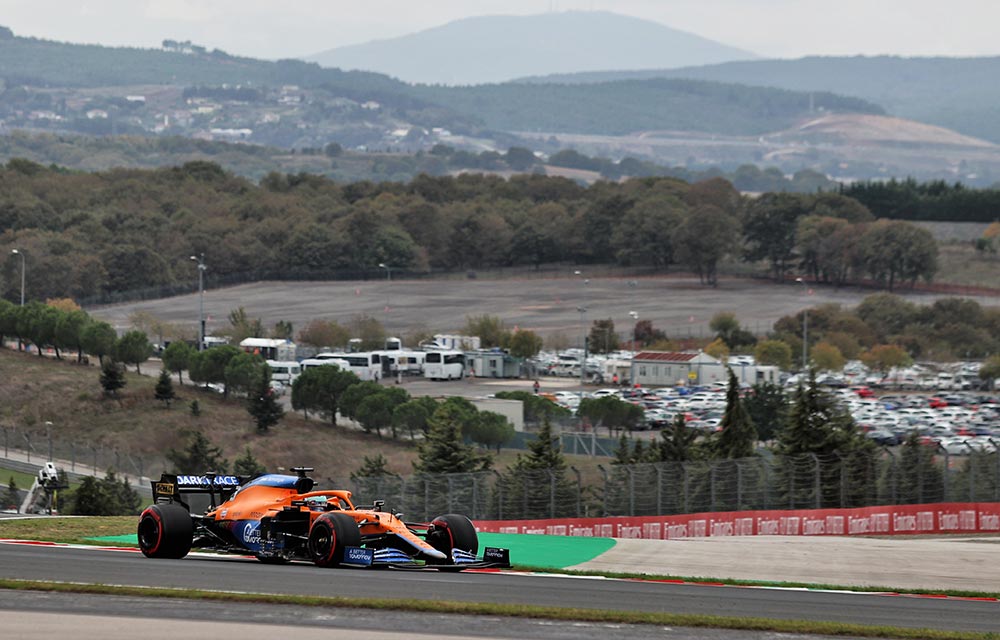 "Everyone was always improving, so if you have a magic wand, you want to be the last one to cross the line, and there's probably going to be some free time there, but we couldn't plan or judge any of that. 
"There were yellow flags pretty often in Turn 1, so your lap would get aborted, and then you're out of sync, so just the nature of these changing conditions, and we didn't get on top of it today. Yeah, no big sad story here."
With a penalty for Carlos Sainz, Daniel will start in 15th place, his worst start since Portugal. But in that race, he came from 16th, so ninth, so he'll be hoping for a similar performance tomorrow.
F1 fans seeing Mick through to Q2 but Ricciardo out in Q1 #TurkishGP #WTF1 pic.twitter.com/UtUlLqdvDy

— WTF1 (@wtf1official) October 9, 2021
"We have every option available now, so that will take some excitement talking about that tonight, trying to find a comeback tomorrow. 
"I don't really know if it's going to be easy to overtake or not. No tracks are easy, but I think it's still possible. Try to put on an attack tomorrow, put on a charge. There are a few companions with me towards the back, so hopefully, we can put on a show and charge through." 
Do you think Ricciardo can make it to the points tomorrow?