F1 is entering into the unknown at Zandvoort. The relentless and revamped circuit looks set to favour the brave, and based on what he's seen so far, Daniel Ricciardo is well up to the challenge!
Speaking to F1.com, Danny Ric was clearly a bit hyper for tomorrow!
"It's cool," he started. "I don't normally track walk because they're tracks that we've been going to for ten years, but I certainly walked this one this morning because it's new and exciting. It's for real! It looks fun, it's gonna be commitment 101, and I'm looking forward to that."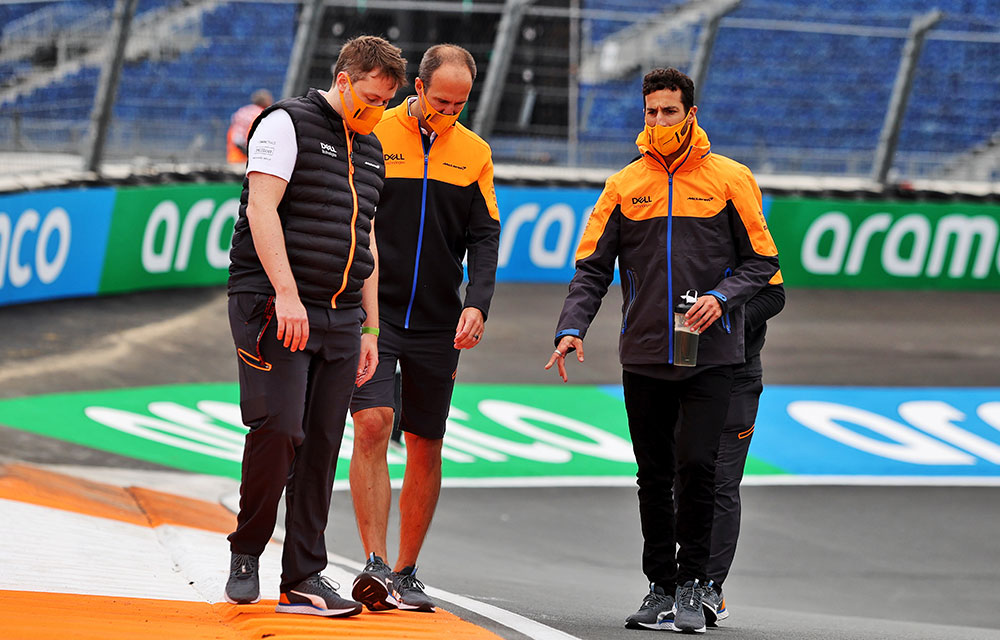 The original track has the same designer as Suzuka, which is always high on the list of driver favourites. Daniel also thinks all the drivers are going to be feeling a bit sore in the evenings!
"Yeah, it'll be tough on the body. I predict it to be maybe the toughest race for the neck, or I put it up to a Silverstone or a Brazil or something.
"Just looking at the nature of it, we've got 72 laps around here, such a short lap, that's relentless. [The] straights [are] not that long, so we get maybe two seconds of rest and back in it again for another minute or whatever it's gonna be, so yeah, we'll see. 
"May the strongest, fittest, courageous man win!"
Checking out the Circuit Zandvoort for the first time. 👊#DutchGP 🇳🇱 pic.twitter.com/MTAc1Ua6s9

— McLaren (@McLarenF1) September 2, 2021
We could well be in for a mega qualifying then with the drivers making the difference. That being said, the track will favour high-speed cars. Another reason for Danny Ric to smile!
"I think it suits our package," he said. "I do believe we've got a strong car in high speed. I kind of hope Turn 7 is not easy flat because if it's a bit of a high-speed corner with a bit of a lift, it means we'll hopefully be doing a smaller lift than others.
"So it's just up to us to hold our breath and hold on, hope she sticks!"
Who do you think will do well at Zandvoort?