He might have become Red Bull's unwitting saviour at the Mexican Grand Prix, but Daniel Ricciardo believes his days with the Austrian team were numbered before his exit to Renault.
With his former teammate Max Verstappen in the hunt for his first World Championship title, Daniel insists he had no regrets about leaving the frontrunners in 2018 and is backing them to bring home glory.
"I have no 'what could have been if it was me, instead' because I don't think I would have been there in '21. I know many more people in Red Bull than I do at Mercedes, so of course I'm rooting for them this year," he told RaceFans.
"Even if I didn't go to Renault and I did two more years of Red Bull, I'm not convinced I would still be there in 2021. So I don't think the move to Renault altered my Red Bull future too much."
We got by with a little help from our friends 😘😉pic.twitter.com/r1RJgpe4Xd

— Red Bull Racing Honda (@redbullracing) November 8, 2021
Having outshone four-time champion Sebastian Vettel in his first season at Red Bull, it was the arrival of Verstappen at the 2016 Spanish Grand Prix that heralded a change in the Aussie's fortunes. Although for him, the motivation to move from Red Bull to Renault, a team who looked to be on the up, was growth.
"Already in 2018, I had some things – am I getting complacent, am I this, am I that? So to stay in that same environment, I'm not sure I would have improved as a driver," the eight-time race winner added.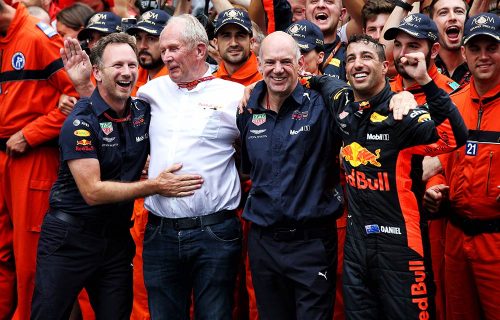 Enduring a rather mixed time in his final season with the team, including the infamous crash with Verstappen in Baku and redemption in Monaco, it wasn't always plain sailing for the Honey Badger. However, Daniel remains grateful to Red Bull owner Dietrich Mateschitz and advisor Helmut Marko for supporting his junior career through to F1.
The pair even messaged to congratulate him on his victory in Monza earlier this year, his first with new team McLaren.
"No matter where I finish this career of mine, I'll always owe the biggest part of it to Red Bull. And that's fact. So it would give me a lot of pleasure to see them happy again."
Did Daniel make a mistake leaving Red Bull? Let us know your thoughts in the comments below.