Talk about ending things on a high… 🙄 Daniel Ricciardo will now have to serve a three-place grid drop for this weekend's Abu Dhabi Grand Prix for his collision with Kevin Magnussen.
The two came together on the first lap of the Brazilian Grand Prix, with Ricciardo to blame. After tapping K-Mag's car, Kevin's Haas spun around before returning into the path of Danny Ric and wiping him out too. Instant karma, as some have said.
[Everyone disliked that] pic.twitter.com/JBk1BRUXfC

— WTF1 (@wtf1official) November 13, 2022
Fortunately, both drivers were fine, but we were disappointed to see Kevin's weekend end like that, especially after getting his shock pole position on Friday!
"McLaren explained that in their view, Magnussen was slower at the exit of Turn 8 than the other cars ahead, which made it difficult to judge the closing rate, as the two cars interacted," the FIA decision document stated.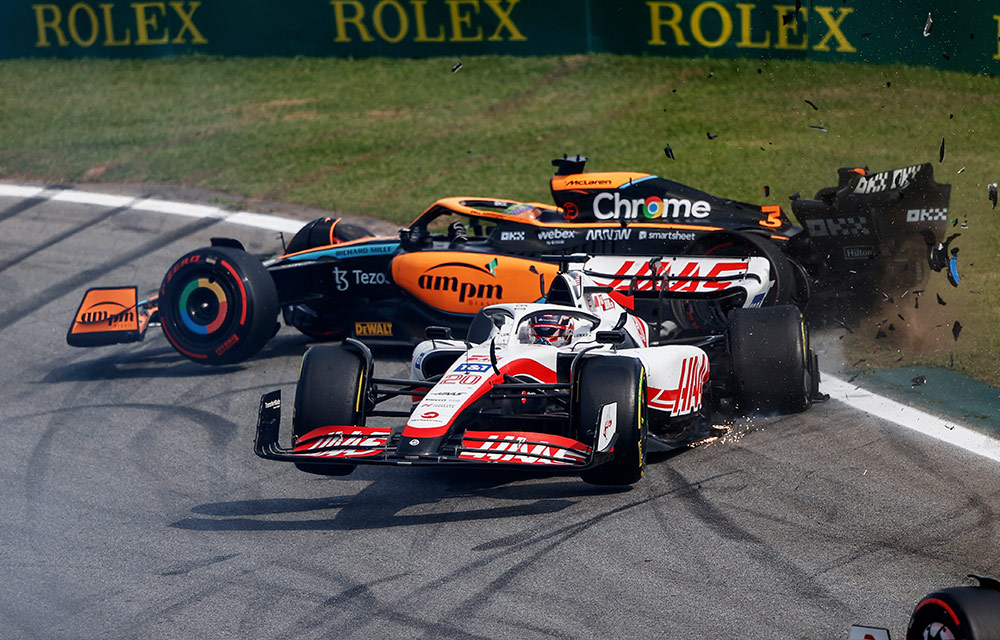 "Ricciardo explained that in his view, he had slowed sufficiently that he was not going to collide with Magnussen and that he slightly misjudged it."
The document also confirmed that the Stewards didn't deem it a reckless incident but that Ricciardo was wholly to blame.
The three-place grid drop isn't exactly the best way to start your final race weekend with McLaren and potentially your last race in F1. No, we don't want to talk about it 😭
What penalty would you have issued? Let us know in the comments.