Lando Norris's heartbreak in Sochi was absolutely gut-wrenching for all of us. However, no one is going to be more upset than Lando himself. After the race, the McLaren driver had plenty of support and kind messages from other drivers like Lewis Hamilton and one of Lando's closest pals – George Russell. 
For Lando, a potential maiden F1 win slipped from his grasp just laps before the end of the race today when a change of weather conditions left him struggling around the Sochi track. His biggest competition that race, Lewis Hamilton, had pitted for intermediate tyres as heavier rain came down, but Norris stayed out. 
From there, everything went wrong. From trying to keep the car on track to a messy entry into the pit lane, it was a final few laps that Norris will want to forget. 
Keep your head up mate. That W is coming. 👊

— George Russell (@GeorgeRussell63) September 26, 2021
For close friend Russell, he knows all too well what it's like to watch a race fall apart in front of your very eyes when he raced for Mercedes in Sakhir. Yes, sorry, we know we all tried to block out those Russell Sakhir moments from our memories.
"I mean, it's every driver's worst nightmare leading a race, and the rain starts coming down," Russell said to Sky Sports after the race. 
"I feel really bad for [Lando]. I've been there last year. I know how it feels. He'll have plenty more victories to come."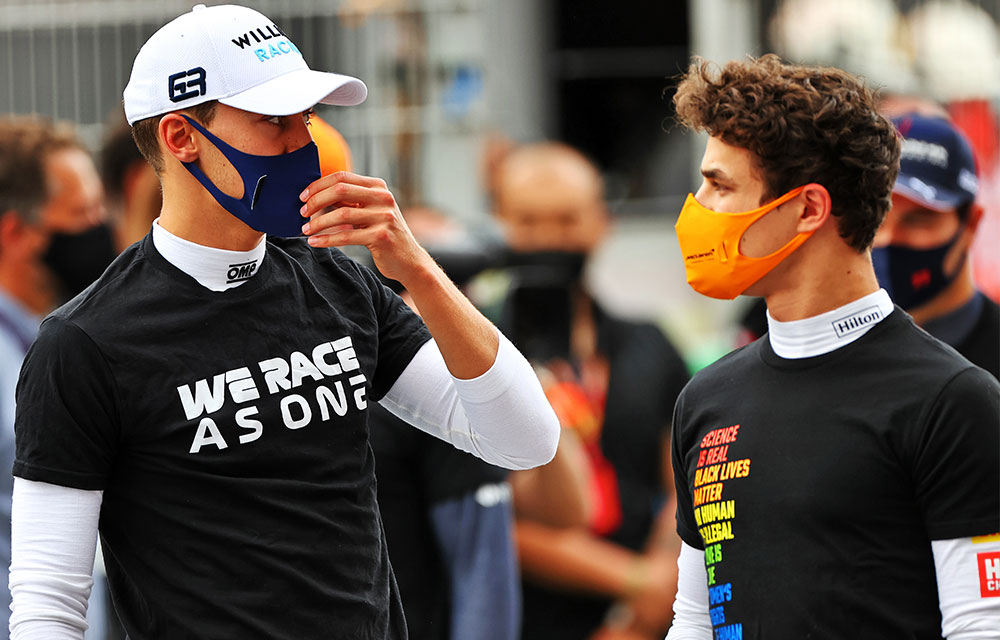 George had a mega quali in Sochi and somehow put his Williams third on the grid. He finished the race in the points again and had a brilliant weekend, all things considered. He's also managed points in four of the last five races!
"We held our own, made no silly mistakes and held our own throughout, really. I don't think we could've done much more better on the slick tyres, there was maybe slightly more in the wets, but overall I think it was a good race."
Horrible 'stat' this but the Twitch quartet have now all lost their first win in heartbreaking fashion 💔 pic.twitter.com/XOP5aE9gUQ

— Tom Bellingham (@TommyWTF1) September 26, 2021
"P8 was probably the maximum today, maybe slightly higher," continued George. "I thought we did a very good job managing everyone, and then when the rain came, we pitted at the right point, but we really really struggled.
"I don't know if it's because we were on old tyres because we used every single set of inters [in qualifying] and definitely a few cars around us who had new sets of inters and were much much faster than us. 
"Nevertheless, it's still P10. We'd have taken that prior to the weekend. Obviously not what we would've wanted from P3, but we have to be realistic as well."
Your time will come, guys.