We all want drivers to be pushing it to the limit at every circuit they go to. Some tracks have been called snooze-fests, meanwhile others like the Jeddah Corniche Circuit seem to be pushing that limit too far. Major incidents across F1 and F2 this weekend have left drivers unsure about the safety of the latest addition to the calendar.
One of the biggest critics is GPDA director George Russell, who was forced to retire from the inaugural Saudi Arabian GP after sustaining damage from a collision ahead of him.
Replays show a squeeze for Leclerc and Perez on the restart

The chain reaction behind caught out Russell and Mazepin#SaudiArabianGP 🇸🇦 #F1 pic.twitter.com/zpFKpedhl2

— Formula 1 (@F1) December 5, 2021
After Mick Schumacher spun into the barriers at Turn 23 on Lap 10, a standing restart saw Red Bull's Sergio Perez squeezed into the wall and tagged by Ferrari's Charles Leclerc. 
As Perez's car came to a sudden halt, the drivers behind him tried to take avoiding action. As Nicholas Latifi dived to the right to avoid the stricken Red Bull, his Williams teammate slammed on the brakes. Nikita Mazepin was then left with nowhere else to go and slammed into the back of Russell at high-speed, ending both their races.
Combining fast-flowing sections, an abundance of corners and close walls, the Saudi Arabian circuit was always going to be a challenge, but now some are questioning whether the track has pushed it too far at the expense of their safety.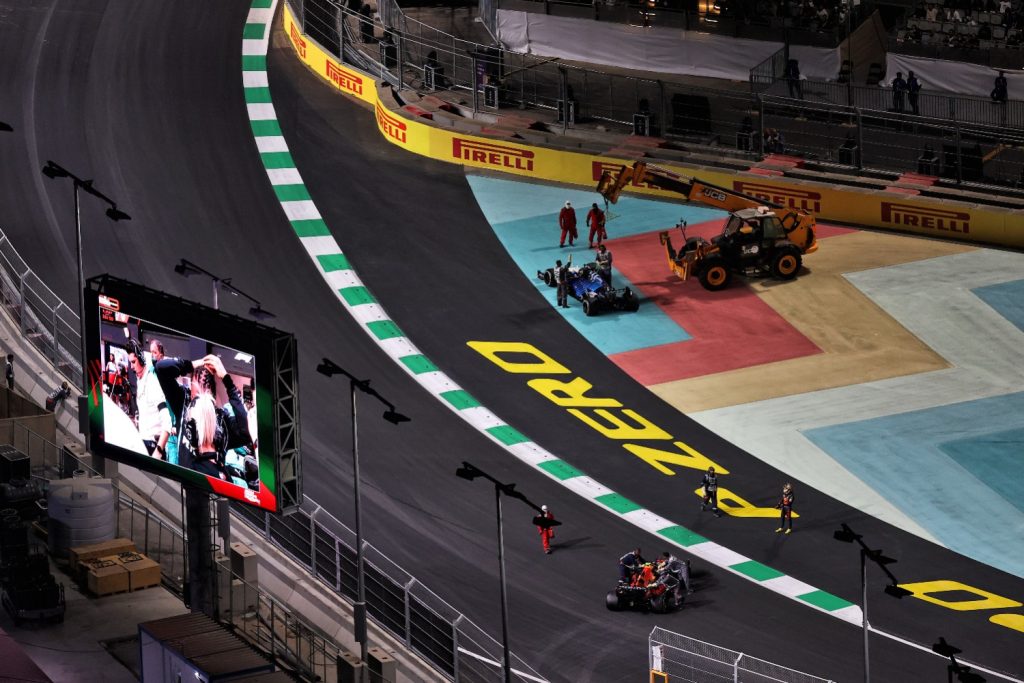 "A lot to learn, I think from this weekend in terms of these circuits. Incredibly exhilarating, so fast, exciting to drive from a driving perspective but lacking quite a lot from a safety perspective and the racing perspective. Let's see what happens in future," Russell said.
"It was just chaos through Turn 3 to Turn 7, you couldn't see anything, cars were everywhere. It's a great track to drive but it's a bit of a recipe for disaster.
"Definitely a rethink is needed and if we do come back here next year, which I guess we are, I think there are somethings that they need to modify to make these kinks just straights because it's so blind. We've already seen too many incidents waiting to happen."
An emotional weekend for the team comes to a close as the chequered flag falls on the #SaudiArabianGP

LAT 🇨🇦 P12
RUS 🇬🇧 DNF pic.twitter.com/uwgZAqXX2a

— Williams Racing (@WilliamsRacing) December 5, 2021
As one of the directors of the Grand Prix Drivers' Association, Russell's in a prime position to lobby for change on behalf of the grid. Considering the amount of collisions that occurred across the whole weekend, fingers crossed the FIA and organisers listen to their concerns and make the necessary changes going forward.
Should the Jeddah Corniche Circuit be redesigned? Let us know in the comments below.