It was a case of from hero to zero for Valtteri Bottas at the Mexican Grand Prix. Getting spun around by Daniel Ricciardo into the first corner, narrowly avoiding collecting Sergio Perez and ending up stuck staring at the McLaren's backend for the majority of the race. Surprisingly for some on Twitter, the Stewards decided it was a racing incident.
HANNAH'S THOUGHTS
In my view, it was a fair move. Bottas left a gap on the right-hand side heading into Turn 1. Yes Ricciardo did lock up, but he was in control before the apex. It was the Mercedes who jumped first, getting on the brakes early and diving across to slot in behind Lewis Hamilton at the last minute.
The McLaren had committed to the corner, if he went left he'd have ploughed straight into Bottas and Perez anyway and going right would have sent him off the track. There was nothing intentional by either driver, it's simple maths – two or three cars into one corner just doesn't go.
A nightmare start for Bottas, a thriller for Verstappen 😳😅#MexicoGP 🇲🇽 #F1 pic.twitter.com/YimWSYxe9i

— Formula 1 (@F1) November 7, 2021
Playing devil's advocate here, even if we disagree with a rule they have to be enforced fairly. A big problem with F1 is Stewards' decisions changing from race to race for seemingly no reason.  Do I prefer the Stewards to take a backseat role when it comes to on-track battles, absolutely! Yet it can't be one rule for some and another for the other, could Alonso have a point?
Just like with most opinions about F1, not everyone is going to agree. Let's take a look at who the WTF1 team thought was at fault…
KATY'S THOUGHTS
We all knew there was going to be some kind of incident going into Turn 1, and sure enough our suspicions were right. Personally, I think both drivers had their part to play.
Valtteri, starting from pole, didn't get the best start and left the door wide open for Verstappen on the clean side of the track to make a stunning pass for the lead. You can see that Bottas braked significantly earlier than those around him, even Checo had to avoid contact going into Turn 1.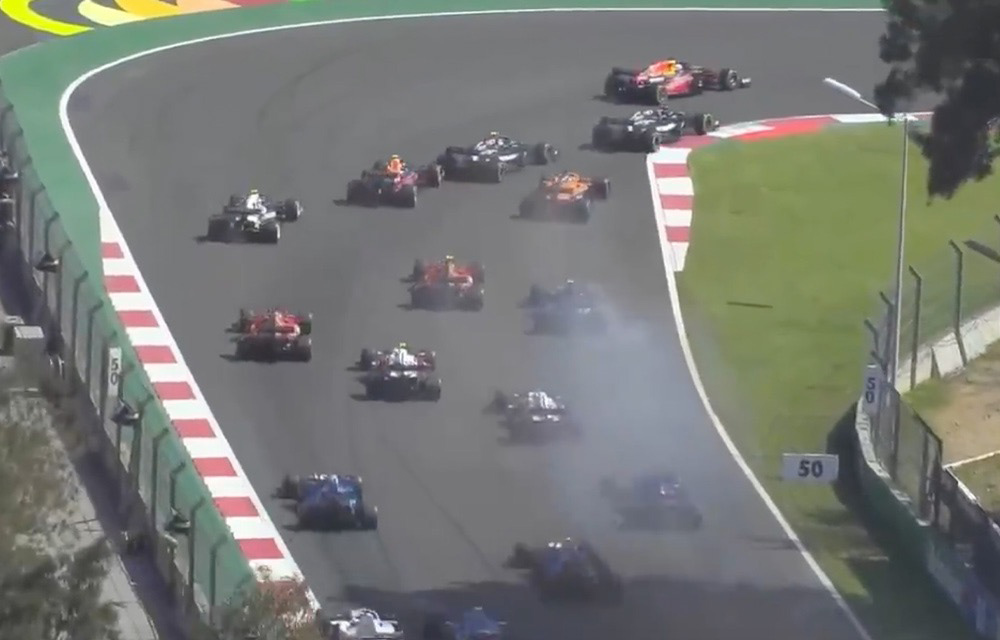 Ricciardo gets a much better start from P7 and rockets past, however is on the very dirty side of the track. He brakes late and locks up going into the turn, and approaches it at such an angle that I am unsure if he'd be able to make it around sensibly had Bottas not been there.
They make contact, sending them both to the back of the grid and with damage. I personally don't think the FIA should see this as 'Ricciardo taking out the polesitter' either, and shouldn't influence their decision. Both had their part to play in the incident, and I think it's right that it wasn't investigated further.
It's the same verdict I think Pierre Gasly and Fernando Alonso's clash should've had in Turkey, but hey, what do I know?

MATT'S THOUGHTS
Ricciardo should have got a penalty. I know there is the argument that Bottas braked early and what-not, but it's Lap 1. He was three wide going into Turn 1 so he took some caution there. Ricciardo on the other hand just locked up, of course he was on the dirty side as well. For me, he just needed to brake a little bit earlier and take it a little bit easier and he didn't, he locked up and wiped out the polesitter.
How that does not equate to a penalty I'll never know? I don't think it was a racing incident. A racing incident is when it's 50/50 and it wasn't at all. Bottas in my opinion wasn't at fault, he was just going into Turn 1. There needs to be a level of caution there on Lap 1 and there wasn't, so yeah surprised to see Daniel Ricciardo not get a penalty.
TOMMY'S THOUGHTS
I have no idea how Ricciardo managed to escape a penalty on this one, I can only assume the stewards had turned up late and missed the start of the race?! While there's no intent, and he has every right to go for the move, Danny Ric goes in too hot and he locks up, it is 100% his fault. When you think Gasly got a penalty in Turkey for something that was much more a racing incident, it's bizarre nothing was given.
You could say Ricciardo's race was already ruined but penalties should not be applied due to circumstance and even worse for Bottas, had Ricciardo been given the penalty he deserves, Bottas wouldn't have been held up by him the entire race when trying to get back through the field. So I completely understand Mercedes' frustration with the lack of penalty.
Do you think should Ricciardo have been given a penalty? Let us know in the comments below.