After yesterday's F1 Sprint, I've seen quite a lot of comments from fans saying, "'oh, that wasn't actually so bad", and you know what? I agree. With Sao Paulo being the third and final Sprint in 2021, F1 are probably rather thankful it was as eventful as it was and haven't left a sour taste in our mouths with double the number of Sprints planned for next season.
However, for me, there's one defining factor as to why this weekend's event was such a success; Lewis Hamilton starting at the back of the grid at fighting his way up to fifth. Of course, he has a nice fresh engine in the back of Mercedes, which would have helped, and DRS made passes simpler.
But had Hamilton not been disqualified from the results, he would likely have had a smooth start and led from start to finish. Of course, it's purely speculation, and we will never know what could have happened, especially with his teammate Valtteri Bottas also getting off to a good start. Still, it certainly wouldn't have been nearly as interesting as what we witnessed yesterday.
Looking back at the Sprint and how much it actually changed up the grid positions, there's still the argument that it isn't quite delivering the 'shake up' that F1 is hoping for.
24 laps. 15 overtakes.

Only one @LewisHamilton. 👏#BrazilGP 🇧🇷 #F1Sprint @MercedesAMGF1 pic.twitter.com/JLxIS1MZCv

— Formula 1 (@F1) November 13, 2021
In fact, apart from Hamilton's anomaly result yesterday, the most places made up Silverstone was Fernando Alonso and Kimi Raikkonen. They both managed to gain four positions on their original qualifying result. Nikita Mazepin was the star of the Sprint in Monza, going from last to 17th even though he earned two of those positions due to Pierre Gasly's retirement and Robert Kubica's spin on the opening lap.
We've seen it at all Sprint events, though, that all the action is bundled into the first few laps before it calms down again. Some positions are still made later on, but they're often in the bottom half of the grid, so they aren't going to have much of an impact come race day.
But yesterday was different and has left many people finally coming around to the idea of a reverse grid. I'm not suggesting that we have a Haas front row and chuck the championship contenders to the back of the grid, but perhaps it's time F1 think about doing a top eight or top ten reverse grid for the Sprint.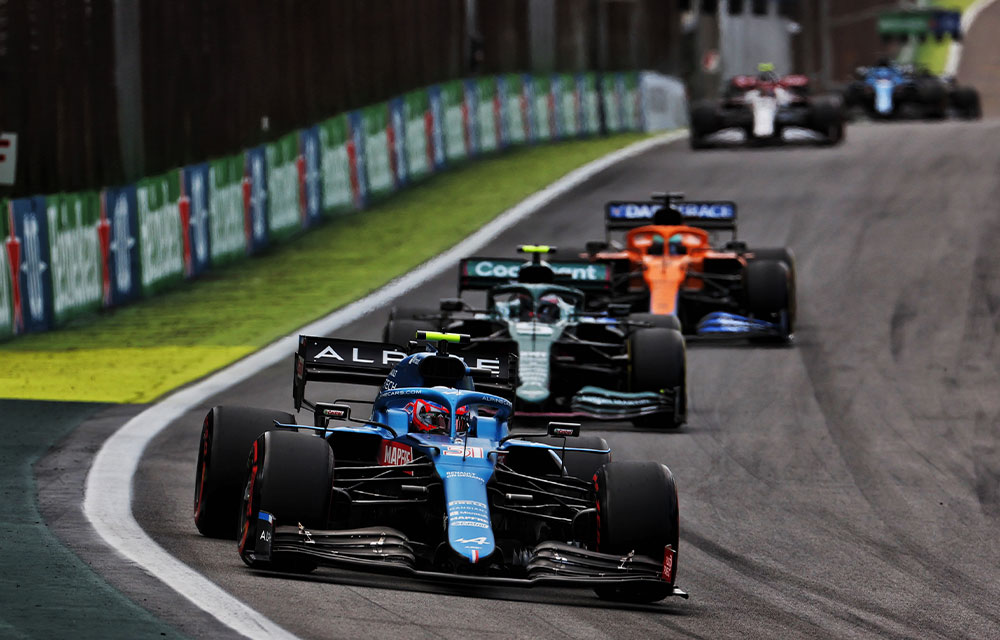 Now, before you start running to the comments to say this is the worst idea ever, let me explain. I think one of the most significant flaws of the Sprint is the fact that it shapes the grid for Sunday. What I think needs to happen to generate the entertainment they're so desperately craving is to have the Sprint as its own championship.
Don't let it influence the starting grid. Just let it be a separate thing with championship points on offer.
Say we do switch the top ten, just for the sake of this idea, that's an Alpine front row if we're using Friday's qualifying as reference. Esteban Ocon and Alonso line up P1 and P2, and the McLaren duo are second row. Sounds tasty. Verstappen starts tenth, and we'll also see the same battle for position as he fights his way up the grid for a few extra championship points.
Don't miss the #F1Sprint. 💨

It's almost time, so stay close to the action. 👇#BrazilGP 🇧🇷

— McLaren (@McLarenF1) November 13, 2021
Okay, so it rips up the rule book and goes against tradition, which I'm normally all in favour of, but otherwise, we're just going to have the same dull-ish 100km parade, just at six venues instead of three. Plus, we've seen how keen every circuit promoter is to host these events, so having almost half the races host a Sprint could probably come true in the not too distant future.
Reverse grids obviously have flaws, and, to me, it's apparent that the big teams like Ferrari, Mercedes and Red Bull could think of nothing worse than being basically punished for being quick and having to start a race in the middle of the pack. It's a fair point too.
But F1 needs to do something quickly, or the immediate reaction to wanting to watch Sprint races could soon die down and will undo all the hard work the championship has put into this new format.