Ayrton Senna, the man, the myth, the legend. Renowned in Brazil for both his skill on-track and giving away millions to charity, Senna's now being honoured ahead of the country's 50th Grand Prix!
You may have seen pictures of a great big silver figure doing the rounds on social media. No, your eyes are not deceiving you. That really is a 3.5-metre-tall statue of Senna's head!
Weighing in at a hefty 550 kilos, the aluminium statue wasn't designed by any old artist. It was actually created by the three-time world champion's niece, Lalalli Senna, to thank fans for all the support they gave the Brazilian legend during his career.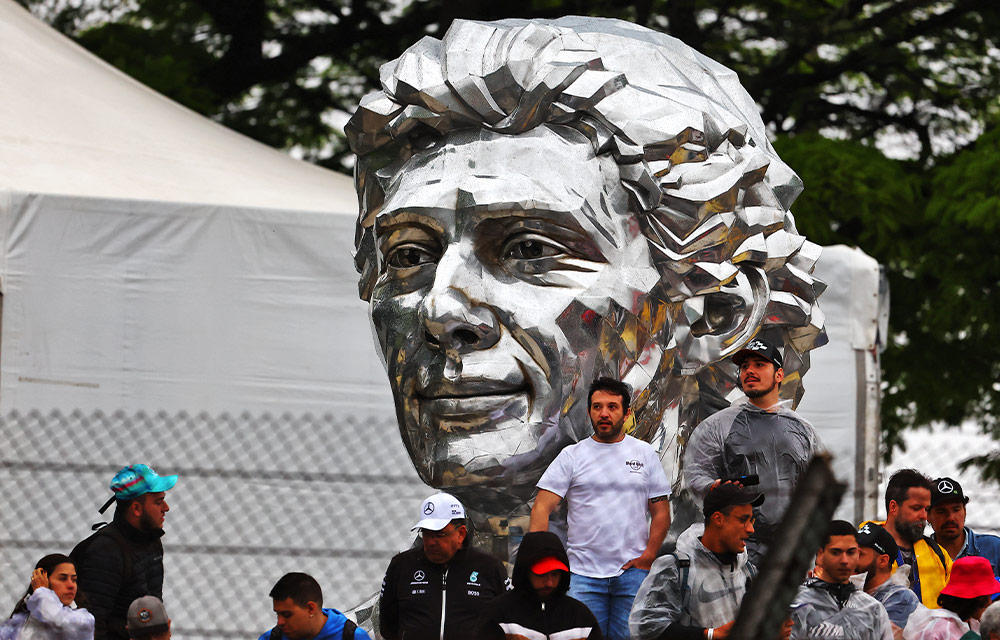 "This is a special tribute to Ayrton's eternal legacy," explained Senna's niece.
"[It's design] was closely monitored by my mother, Viviane Senna, and my grandmother, Dona Neyde, so that we could have the most faithful portrait of my uncle as possible."
To give fans the best possible access to this absolutely massive sculpture, organisers at Interlagos have built it inside the main grandstand.
Honouring the great Brazilian at Autódromo José Carlos Pace is fitting, not only because of his iconic wins there in 1991 and 1993 but the way his motor racing journey began nearby. 
Ayrton watching on ❤️

The new Senna statue was unveiled on Wednesday 🙌#BrazilGP #F1 pic.twitter.com/rBqyNsJ8AD

— Formula 1 (@F1) November 11, 2022
Senna started out at a local karting track that's since been named after him, and he now also has a statue to show for his incredible 41-win, three-championship, trophy-laden career. 
Interested in checking out the statue for yourself? If so, you're in luck. 
The colossal shiny bust is open to the public every race day at the circuit, giving his adoring public somewhere to pay tribute to the Brazilian's brilliant life and career. 
What's your favourite Ayrton Senna moment?