Hey folks, we're back with another edition of the Tier List! It's the written version of the show where we rank all of the GP's performances, and this time, it's for the Belgian Grand Prix! 🇧🇪
Now in case you missed it, we originally did this Tier List live on the WTF1 Wrap (Powered by Moneygram) on our YouTube Channel with special guest F1LukeSam from Tiktok and Twitch, so do check him out if you haven't already!
Now, a quick disclaimer: Because Belgium was a Sprint Weekend, we took the ENTIRE weekend into account when evaluating drivers here, not just the race. So just bear that in mind before you roast us in the comment section. No points for guessing the first name here:
S-Tier
Max Verstappen – Think the Earth stops spinning if we move him out of S-Tier. Starting 6th, mowing through the field and beating Sergio Perez by 22 seconds. Hamilton's fastest lap was the only thing that stopped Max from his fourth consecutive perfect-scoring weekend. This is beyond ridiculous at this point. A win at his second home track, Zandvoort, after the break would tie Sebastian Vettel's nine-race winning streak. Are you betting against that?
Charles Leclerc – His 20th pole position combined with a solid Sprint and a perfectly driven GP to third earned Charles an S-Tier ranking here. Ferrari's only had three podiums in 2023 and they've all come from Charles' side of the garage. A good way to stop the barrage of honse-related criticism.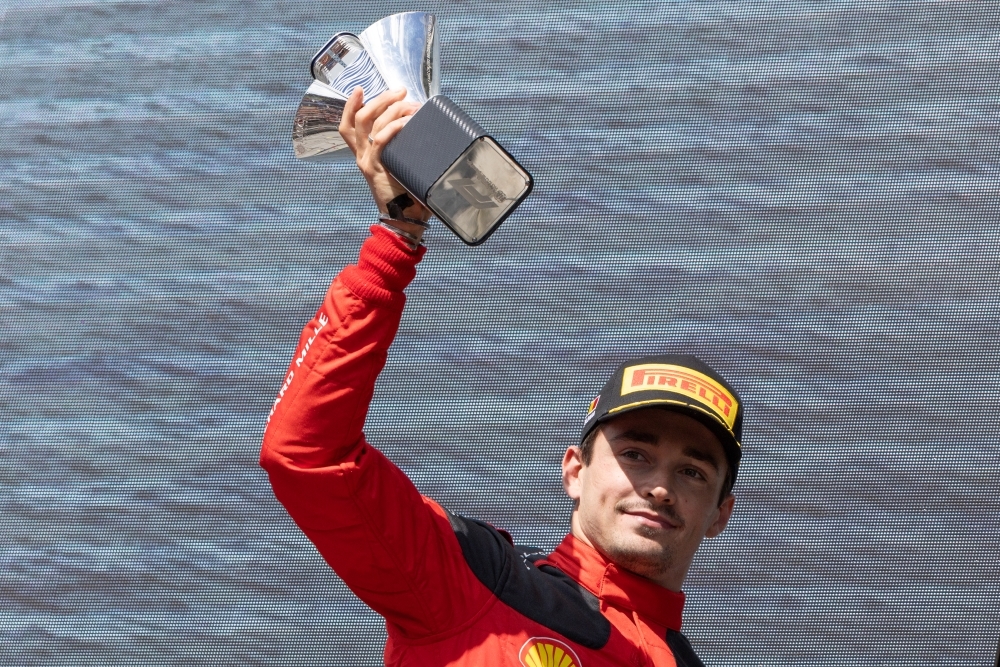 A-Tier
Sergio Perez – Was slipping in wet conditions in the Sprint even before the Hamilton collision unluckily ended his Saturday, but a solid 2nd in the GP gets him in A. Still not an ideal margin of defeat for Checo, but at least it's a finish he should be getting.
Lewis Hamilton – A harsh penalty in the Sprint we largely forgave, and 4th was the maximum on the table in the GP compared to an inspired Leclerc. Another good weekend for #44.
Yuki Tsunoda – A rough sprint, but an excellent Grand Prix for 10th place and a priceless point for AlphaTauri. Yuki probably had a nosebleed given he was running as high as sixth in the race, but in any case an excellent response to the Daniel Ricciardo hype train.
Oscar Piastri – We generally thought that Sainz shouldered more of the responsibility for the Lap 1 crash that put them both out, but missing out on pole by just 11 thousandths and an excellent 2nd in the Sprint put Piastri back in the A-Tier.
Pierre Gasly – A superb third in the Sprint and a ballsy performance in the race, stretching the soft tyre in the hope for rain that never got hard enough to warrant Inters. 11th in those circumstances was to us was pretty solid.
B-Tier
Carlos Sainz – A "meh" weekend and a clumsy Lap 1 GP error drop Carlos into the B-Tier here. Don't think his La Source mistake's punishment fitted the crime, but that's racing for you.
Esteban Ocon – A really solid 8th place in the race for Ocon – a shame he was second in the queue to get off the Extreme Wets in the Sprint.
Lando Norris – Damaged his car in Qualifying which compromised a lot of his weekend, but a rampage of a comeback in the race got him 7th – a solid recovery drive and more points taken out of McLaren's chase of Aston Martin.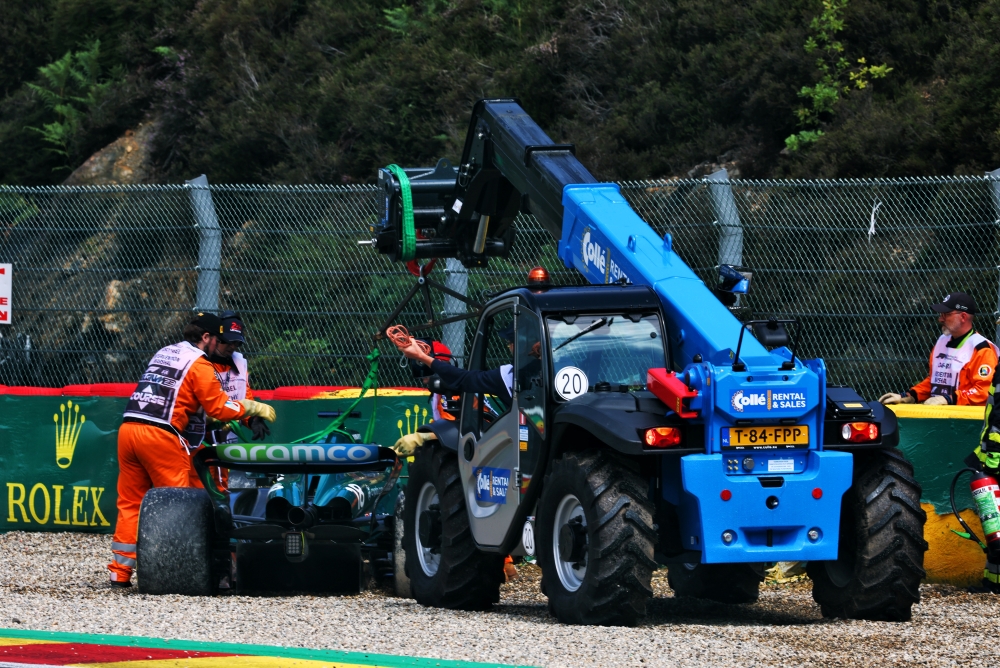 Fernando Alonso – A solid climb to 5th in the race for the now 42-year-old Veteran but he was marked down for his mistake in the Sprint that put him out. A decent salvage job in another scrappy weekend for Aston Martin.
George Russell – Just us that gets the impression that Lewis Hamilton is taking back the #1 status at Mercedes? Not bad by any means, but Russell was comprehensively beaten by LH all weekend long.
Alex Albon – We were generous with Albon due to his aggression, but the Williams really struggled to eke out its tyres and a forced three-stopper killed any chance of points.
C-Tier
Haas – We forgave both Haas drivers because a lot of their issues weren't on the drivers. Hulkenberg in particular suffered with power unit trouble, a pitlane start, and a strategic goof in the sprint qualifying.
Daniel Ricciardo – A track limits penalty that led to a disappointing Q1 exit, a great Sprint in 10th, but an anonymous GP. A reality check for the Honey Badger.
Lance Stroll – Applauded his dry tyre gamble in Qualifying, but another weekend where Alonso proved more had been on the table for Lance.
Alfa Romeo – Some fun action in the midfield from Alfa Romeo to get 12th and 13th on race day – but we thought B-Tier was a little too congested up there.
Logan Sargeant – As said with Albon, the 3-stopper had Williams dead on arrival, and Sargeant being forced to run long and lose track position did him no favours.
D-Tier
It's empty here! We genuinely thought that no one had a howler of a weekend and every possible contender (Haas and Sargeant were the big three we debated) had mitigating circumstances that made a D-Tier placing feel too harsh. Just this once!
But do you agree? The picture version of the final list is down below – let us know if there are any changes you'd make!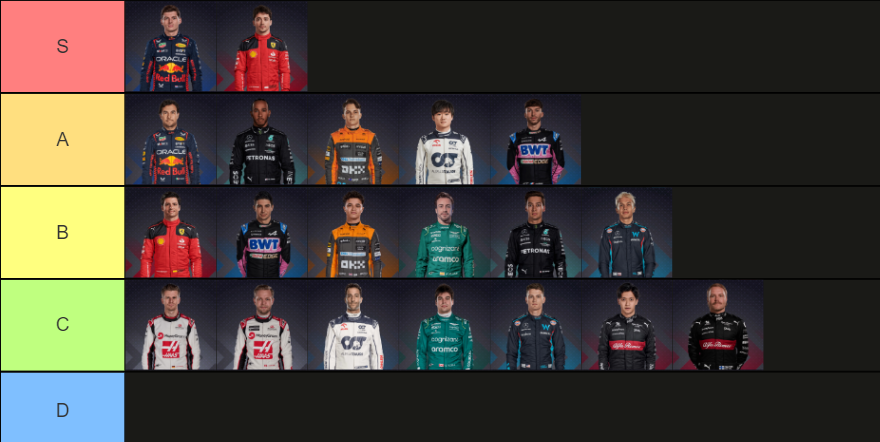 PS: Would you like to see a mid-season OVERALL Tier List? Let us know in the comments!