Max Verstappen has been given the blame for the crash with Lewis Hamilton that put the two championship rivals out of the Italian GP. The stewards have given Max a three-place grid penalty for the next race in Russia. Max Verstappen also gets two penalty points, which takes his total up to two in the 12 month period. 
The Stewards said in their decision statement that "the driver of Car 44 (Lewis Hamilton) was driving an avoiding line, although his position caused Car 33 (Max Verstappen) to go onto the kerb. 
"But further, the Stewards observed that Car 33 was not at all alongside Car 44 until significantly into the entry into Turn 1. In the opinion of the Stewards, this manoeuvre was attempted too late for the driver of Car 33 to have "the right to racing room"."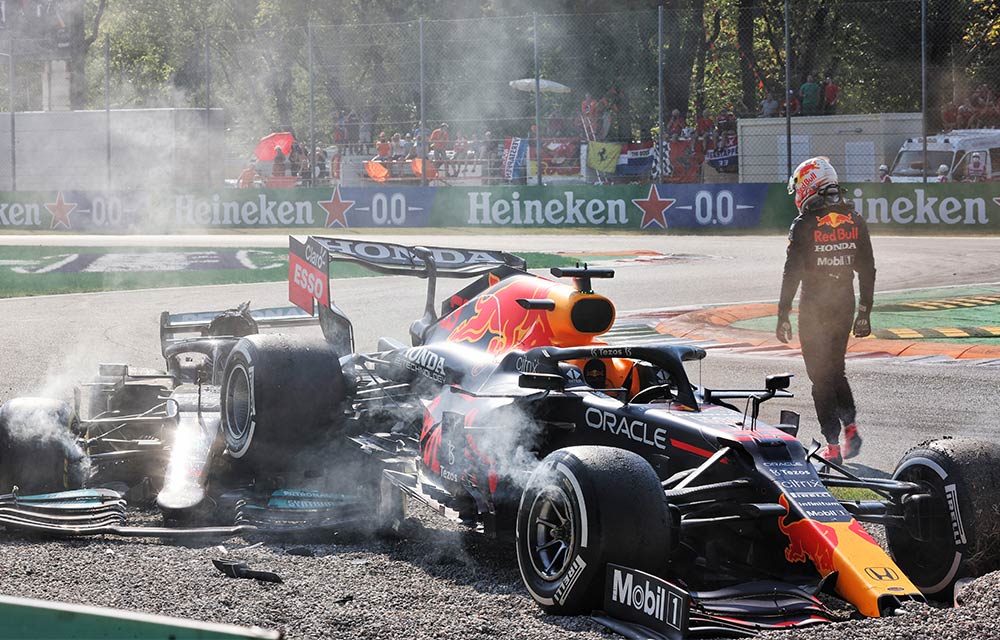 Lewis and Max were both involved in separate fights on track at Monza, with Lewis trying to pass Lando Norris and Max doing the same with Daniel Ricciardo. But both of them had slow stops, which meant that they ended up side by side when Lewis came out of the pits. Max went to go round the outside of Lewis at the very tight Rettfilio chicane.
They were side by side when Max was launched off the sausage kerb at the edge of the track. His rear wheel then connected with Lewis', and with both of them accelerating, Max's car was then launched again, and it flew up onto Lewis's car and rested on top.
It was another scary coming together between the two drivers, who are both fighting hard for the championship. Both drivers tried to carry on, Max trying to accelerate off the top of Lewis's car and Lewis trying to back out from behind. But both of them were stuck and were out of the race. It's another absolutely shocking flashpoint between these two fierce racers.
VERSTAPPEN AND HAMILTON CRASH!

THEY'RE BOTH OUT OF THE RACE!

📲 https://t.co/wJLcpqY0wk#SkyF1 | #F1 pic.twitter.com/KpJUL3alKA

— Sky Sports F1 (@SkySportsF1) September 12, 2021
After the race, eventual winner Daniel Ricciardo called it 100% a racing incident, saying, "you only know when it's too late".
The two made contact at the British GP with Verstappen getting thrown out into the wall at high speed and Hamilton being declared at fault before going on to win the race.
It's hotting up. This isn't the end of their fight. They're still only separated by five points! It'll be a miracle if we can get through the rest of the season without them making contact again!