What a race. Seriously, we will need a moment or two to process that. In all that madness, a million virtual safety cars and two red flags, Lewis Hamilton and Max Verstappen had yet ANOTHER coming together.
With Verstappen in the lead of the race, Hamilton tried a move to pass on the main straight on Lap 36. As we all held our breath, Max braked too late and ran wide but kept the lead.
Red Bull told Verstappen they needed to give the place back, but when slowing to do so, Hamilton wasn't aware of the switch around, and he crashed into the back of his championship rival and sustained front wing damage.
LAP 38/50

MAX AND LEWIS COLLIDE!

Verstappen is instructed to give the place to Hamilton, but they make contact 😱#SaudiArabianGP 🇸🇦 #F1 pic.twitter.com/QnRaWoaYzP

— Formula 1 (@F1) December 5, 2021
The whole manoeuvre is still to be decided by the stewards, with both drivers and team representatives heading to the office at 23:40 local time. Basically, it's a whole damn mess.
In addition to giving up the position, Verstappen also picked up a five-second penalty for the Turn 1 incident for leaving the track and gaining an advantage.
With the whole scenario being mega controversial and a potential penalty pending, Max Verstappen still had support from the fans as he won Driver of the Day.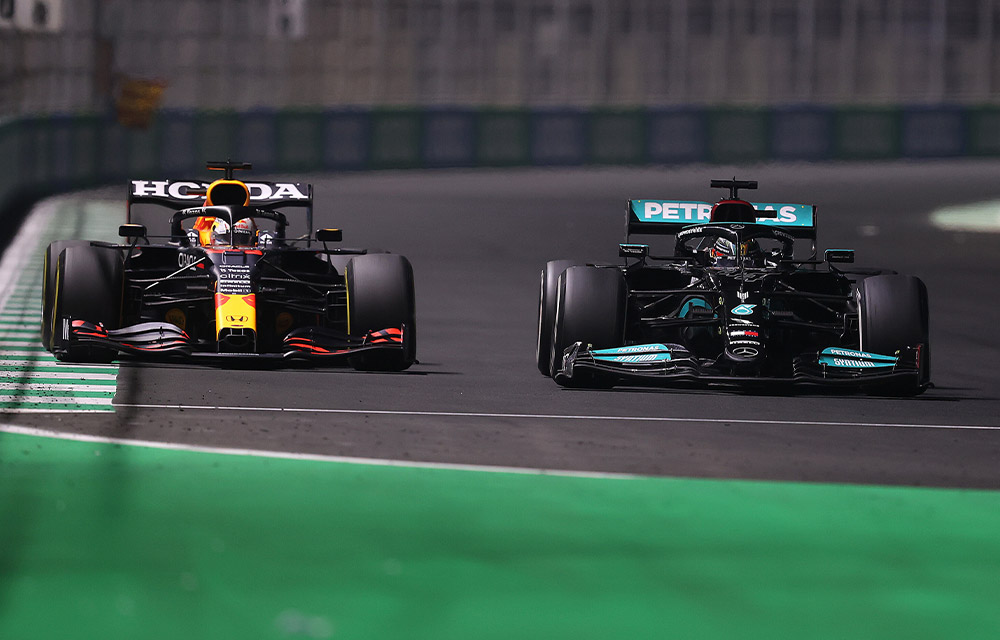 "Luckily, the fans have a clear mind about racing," Verstappen said in the radio conversation between him and F1 on his cool-down lap.
"Because what happened today is unbelievable. I am just trying to race, and this sport is more about penalties than racing.
"For me, this is not F1, but at least the fans enjoyed it, and I gave it all today, but clearly not quick enough. Still happy with second."
As the classification stands, Hamilton won the race with an almost 12 second lead to second-place Verstappen. Valtteri Bottas managed to swipe third place from Alpine's Esteban Ocon on the line.
However, it's not over yet.