Did anyone else get flashbacks to the 2021 season today? It gives me chills to even think about history repeating itself. The Hamilton vs Verstappen battle kept everybody on the edge of their seats, and my heart was in my mouth seeing the two of them go side by side into Turn 2 in Brazil 😱

The Red Bull's pace was a shadow of its former self this weekend and with a similar story to yesterday in terms of tyres degrading quicker than they'd like and the overall performance just not being there.
But that didn't stop Max Verstappen from battling with his 2021 rival. And I think we all saw what happened next coming, especially after the events of last season.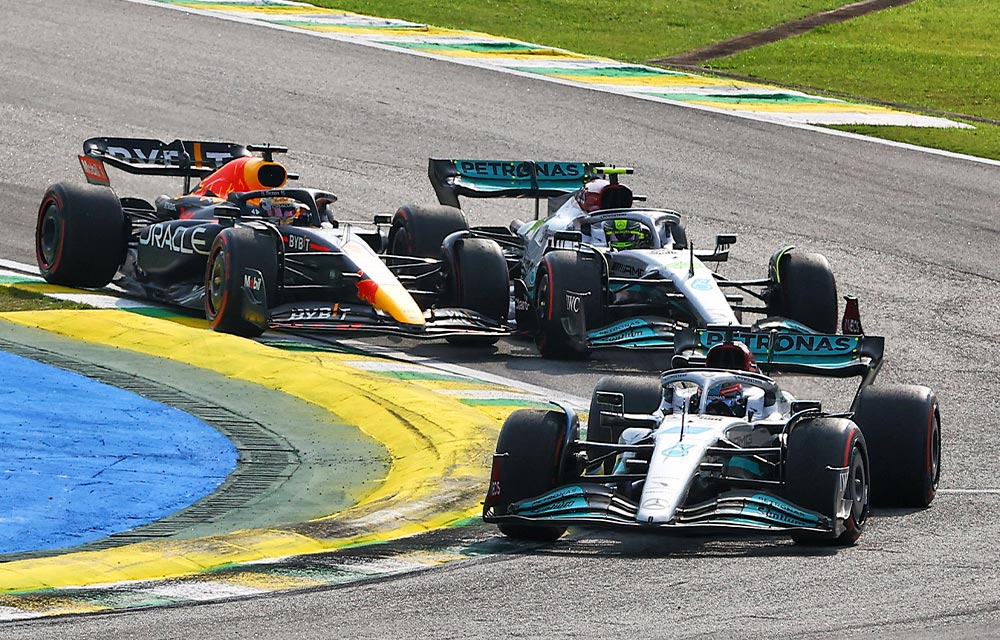 Verstappen is adamant that Hamilton didn't leave him enough space going into Turn 2 and says, "I went round the outside in Turn 1 and when we were like… I just felt it. Soon as I was going next to him, he had no intention to leave me space."
He continues, "I was like, okay if you don't leave me space, we're just going to collide, you know? At the end of the day, we were too slow anyway. For him, it ruined his chance to win the race.
"I thought after last year, we may be able to forget about it, and we can finally race."
During the incident, Lewis spoke to his team on the radio and said, "that was no racing incident, mate." Ah, memories.
The view from onboard, as Max and Lewis come to blows 💥#BrazilGP #F1 pic.twitter.com/2TRaFJFzO8

— Formula 1 (@F1) November 13, 2022
The stewards investigated, and Max was given a 5-second time penalty for causing a collision, the officials stating that as he didn't complete the pass at turn 1, his excess speed compromised his entry into turn 2, which caused the contact with Lewis.
Talking about the penalty, Verstappen said:, "I was surprised when I got the 5-second penalty. I was not upset. But, if you asked me would I do it again? Absolutely."
Lewis, of course, had something different to say about the situation – though he kept his words on it to a minimum.
"What can I say? You know how it is with Max, so." 😬
Do you think Max was at fault for the incident? Let us know in the comments.