Goodbye my lover, goodbye my frienddddd. Okay, so we don't think Lewis Hamilton and Valtteri Bottas will be singing that to each other in the team garage ahead of their final race as teammates on Sunday. Still, there's no denying the duo have both been at Mercedes for a long time together.
At the Abu Dhabi Grand Prix this weekend, Valtteri Bottas will start his 100th and final race as Lewis Hamilton's teammate. With that in mind, we take a look at F1's longest-lasting driver pairings!
MICHAEL SCHUMACHER AND RUBENS BARRICHELLO
104 RACES
F1's longest-lasting partnership began at the dawn of the new millennium. With Eddie Irvine heading to Jaguar, Rubens Barrichello joined Ferrari alongside Michael Schumacher in 2000. The pair went on to enjoy dominance unlike anything previously seen in F1.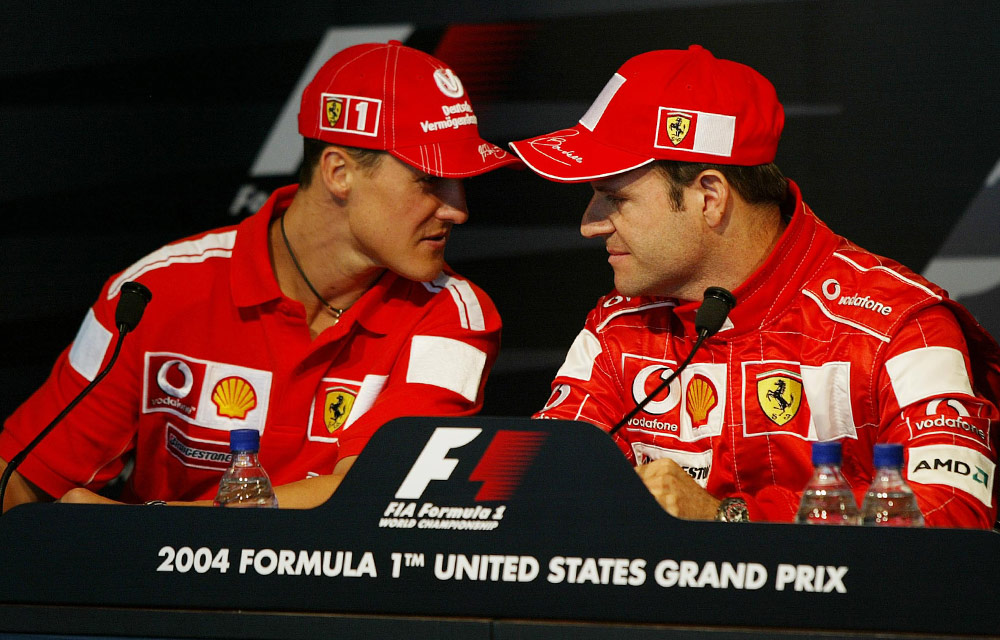 Already the reigning Constructors' Champions, Schumacher and Barrichello, secured the honours for Ferrari for five further seasons between 2000 and 2004.
Schumacher was also at the height of his powers during this time, winning every Drivers' Championship. The Ferrari success story was not without its controversy, however. Most memorably, Barrichello was told to move aside for his teammate and did so just metres before the finish line at the 2002 Austrian Grand Prix.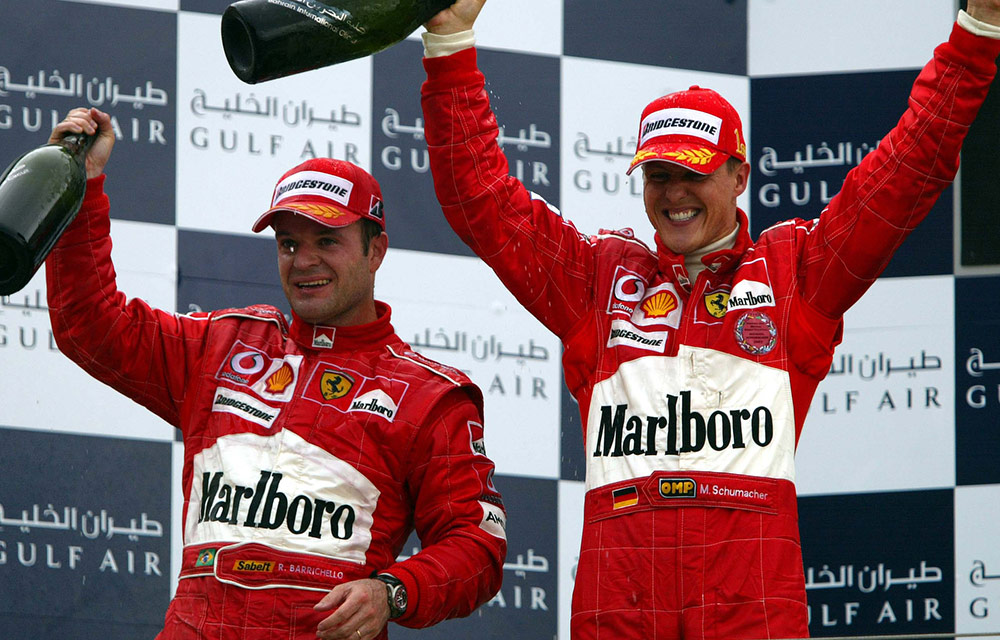 After a dominant streak in the early 2000s, Schumacher and Barrichello endured a more difficult season in 2005. Ferrari's only win that year came at the 2005 United States Grand Prix, in which only six cars competed. Barrichello left the team at the end of the season to join Honda. Fellow Brazilian Felipe Massa replaced him.
LEWIS HAMILTON AND VALTTERI BOTTAS
100 RACES
Lewis Hamilton and Valtteri Bottas' Mercedes partnership will end at the 2021 Abu Dhabi Grand Prix. The Yas Marina race will be the duo's 100th race as teammates, making them only the second pair of teammates to start a century of races at the same team.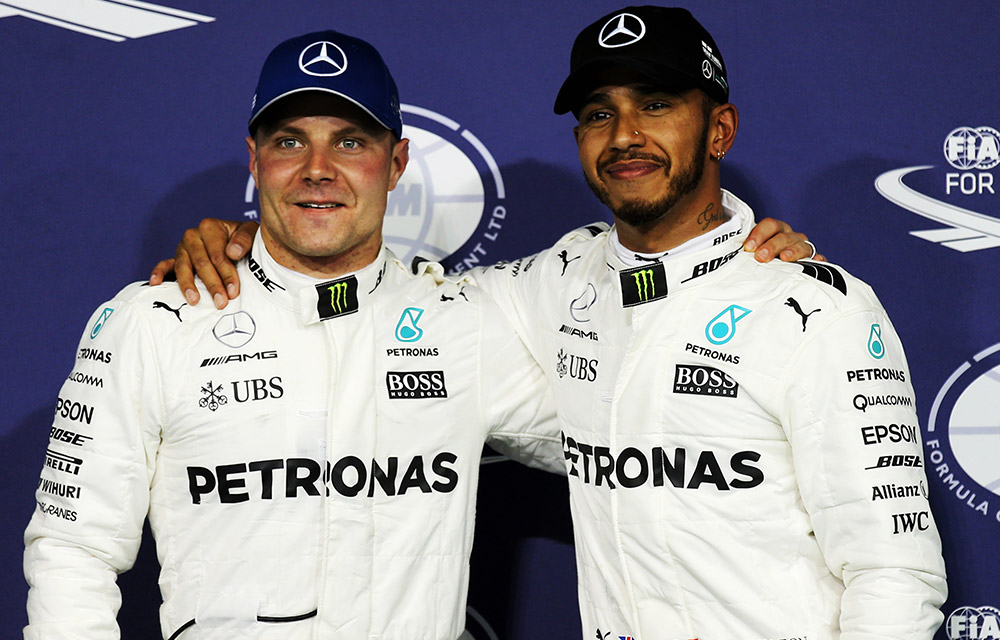 Hamilton and Bottas' partnership has been one of the most successful in F1 history. Since Bottas joined in 2017, the team has yet to lose the Constructors' Championship. Hamilton is yet to fail to win the Drivers' Championship – though ironically, both of those statements could become untrue at Bottas final start with the team.
Of the 99 races which the duo have completed so far together, 60 have resulted in a Mercedes victory. Not a bad stat! Between them, Hamilton and Bottas have recorded 62 poles in the last five seasons and have stood on the podium 135 times in total.
MIKA HAKKINEN AND DAVID COULTHARD
99 RACES
Like Schumacher and Barrichello, Mika Hakkinen and David Coulthard spent six seasons as teammates at McLaren between 1996 and 2001. The duo fell one race short of a century of starts as teammates, with Hakkinen retiring from F1 after the 2001 Japanese Grand Prix.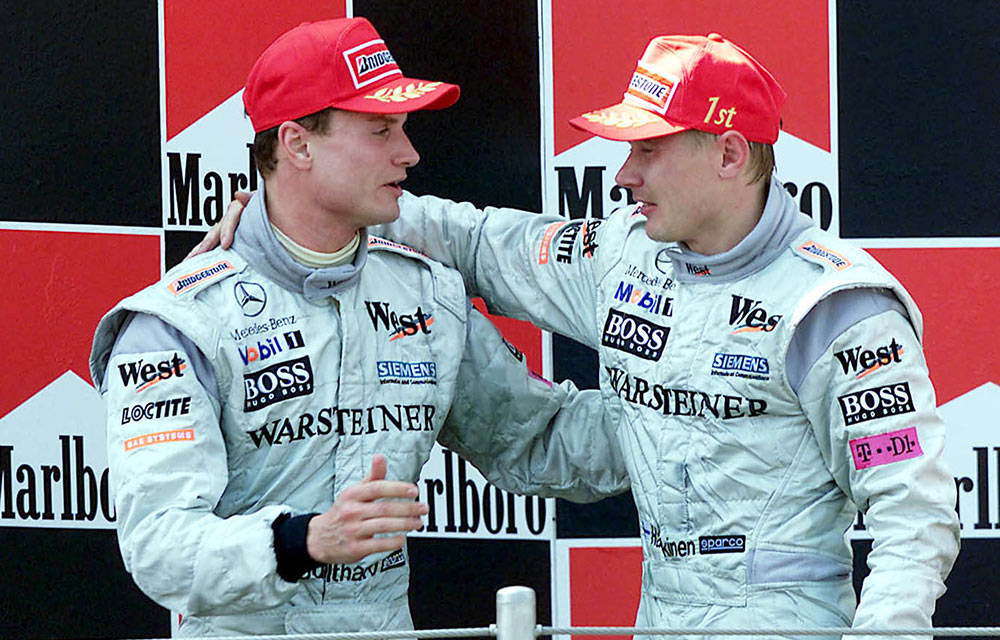 During their time together as teammates, Hakkinen won two titles – in 1999 and 2000 – while Coulthard finished as runner-up in the Drivers' Championship in 2001. The pair are also responsible for McLaren's last Constructors' Championship win. McLaren last won the title in 1998, finishing 23 points ahead of Ferrari.
SEBASTIAN VETTEL AND MARK WEBBER
94 RACES
Sebastian Vettel and Mark Webber spent five seasons together at Red Bull between 2009 and 2013. The last four of those five seasons resulted in Drivers' Championship wins for Vettel, while Red Bull won the Constructors' Championship, becoming the first team to win their first four titles consecutively.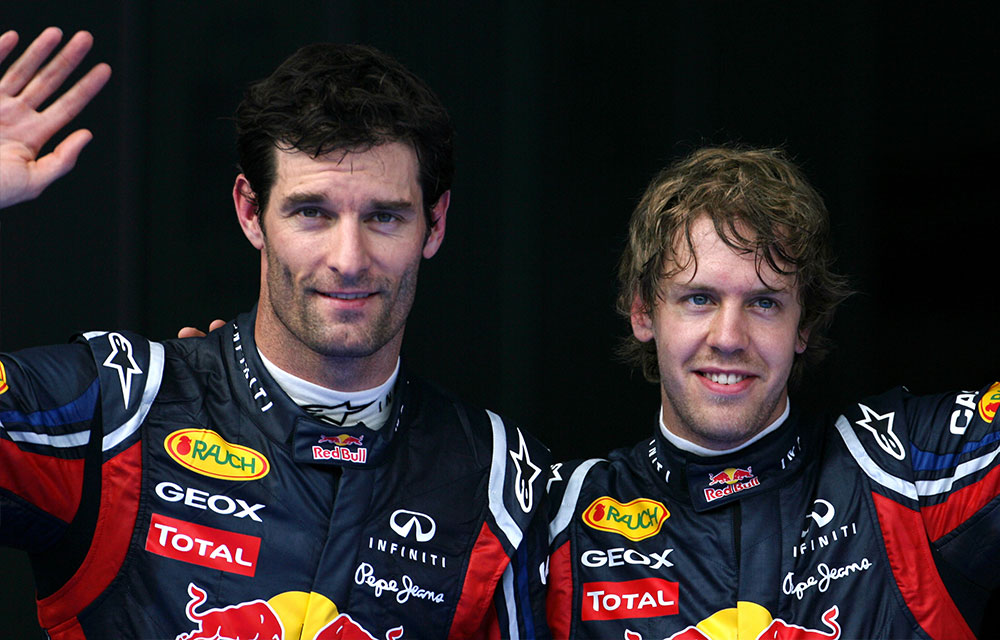 Vettel and Webber endured a tumultuous time as teammates, with notable flashpoints being their coming together at the 2010 Turkish Grand Prix and the infamous 'Multi 21' controversy at the 2013 Malaysian Grand Prix 😬
SEBASTIAN VETTEL AND KIMI RAIKKONEN
81 RACES
Sebastian Vettel has had two long partnerships in F1. After spending five seasons with Mark Webber at Red Bull, he went on to share four seasons alongside Kimi Raikkonen at Ferrari. The pairing became one of F1's favourite bromances, and the pair brought the Scuderia fourteen wins during their time together at the team.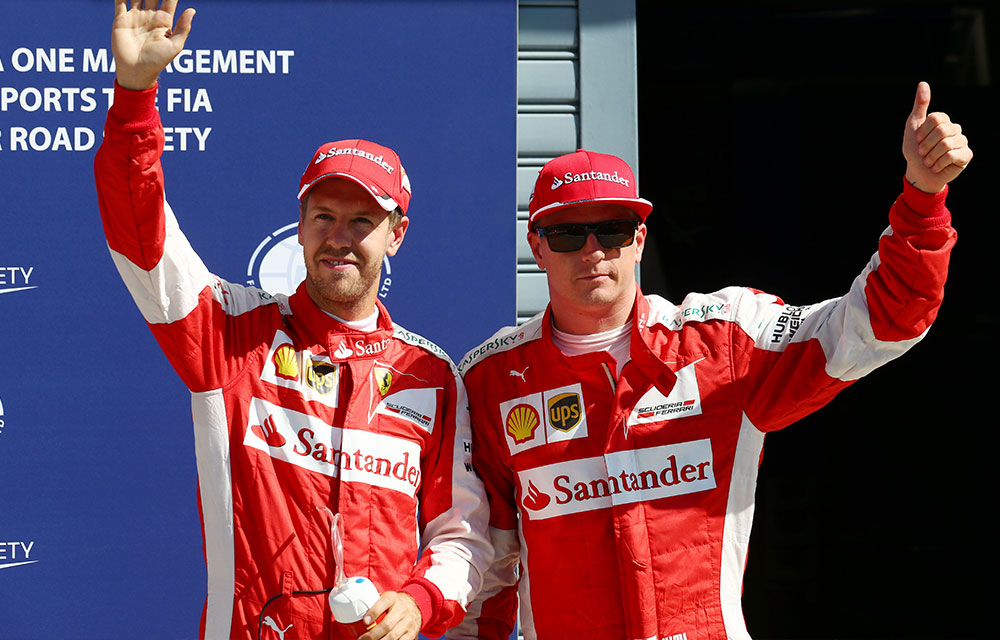 This is the only pairing in the top five longest-lasting partnerships, which did not result in any World Championship victories!
Which of these driver pairings is your favourite? Leave a comment below!