The 2021 Russian GP isn't going to be remembered for Sergio Perez's 8.9 second pitstop, nor for Daniel Ricciardo's slow stop that dropped him to 14th from second at the time. There was a much more heartbreaking headline that will probably dominate people's first thoughts about this race. But it's no coincidence that there have been so many slow pitstops recently, and that's because of a recent regulation change.
One of the coolest and most accessible things about F1 is the mind-blowing ability the teams have to change tyres on a car in two seconds flat, sometimes even less! It's an elite skill that is just exceptional to watch. The fact that a three-second stop is considered slow proves how magnificent modern F1 pit crews are. But since the summer break, a slow stop has become much more common.
This is all to do with a new technical directive which by no coincidence came into action after the summer break to make pitstops safer.
Earlier this year, the FIA became concerned that the super-fast stops were making the tyres less likely to be properly attached to the cars. They were worried there was more of a risk that they'd get detached and perhaps seriously injure someone.
In a pitlane full of people, making sure tyres are correctly attached is an obvious priority.
Take the race in Sochi, for example. The crazy scenes at the end of the race when the heavens opened meant that the pitlane all of a sudden became ridiculously busy as drivers scrambled for intermediate tyres so they could handle the wet weather.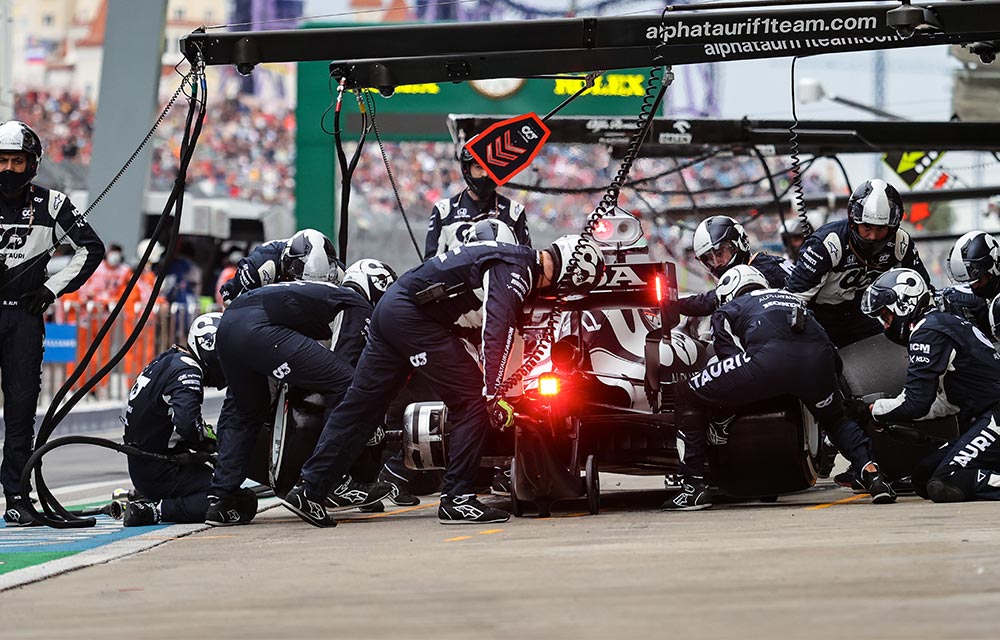 Ten teams, each with about 20 people servicing one car, means that in theory, there could be at least 200 people out of the garages at any one time. That's a huge number! And when you add all the staff on the pit wall, the PR teams, the marshalls and the camera crews, it becomes way bigger. If a tyre wasn't put on correctly and flew off and hit somebody, it could turn pretty nasty!
So to make this safer, the FIA introduced new procedures for the teams, which meant that each mechanic had to 'OK' the wheel they'd just put on the car. When all four wheels have been checked off, a green light comes on, and the driver is free to leave.
The front jack also can't come off the car until the wheel guns have definitely secured a tyre. This means there will be no chance of a car in the pitlane or on track with a loose tyre. There needs to be a gap of 0.2 seconds between the wheel being secured and the mechanic selecting the 'OK' button. This allows for a human reaction time which can definitely check the tyre is properly attached.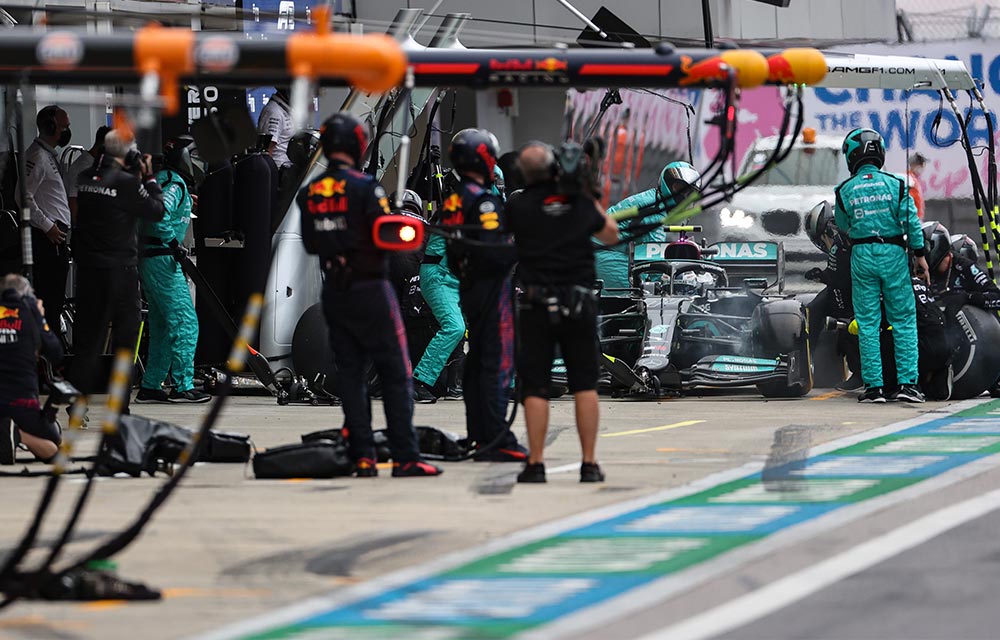 In recent races, making sure all the guns were ticked off as complete has been troublesome for the teams. For Ricciardo in Russia, McLaren changed all the tyres, and the mechanics were signalling that they'd done their job. However, the front jack hadn't been given the signal to let the car go. The rear left tyre had to be checked again, and then they could release him.
Both Ferrari's also had similar issues, which meant their pitstops were around five seconds. That's so much time lost. It's basically the same as running wide a couple of times in one lap!
Sergio Perez also had a slow stop – nine seconds in total – but after the race, Christian Horner said it wasn't an issue due to the new technical directive. 
LAP 36/53

Perez is next to pit but it's a slow stop – around 9 seconds

The Mexican returns to the track in P5 #RussianGP #F1 pic.twitter.com/N9D5c2mBVu

— Formula 1 (@F1) September 26, 2021
In Monza, teams had the same issues. Max Verstappen and Lewis Hamilton both had slow stops, and they inadvertently led to them meeting on track and having their latest mad crash. A few days later, Red Bull revealed an error from a mechanic who forgot to press the 'OK' button, which is why Max stayed in the pits for over ten seconds and later ended up alongside Hamilton.
These rules are taking some getting used to for the teams. They've made every pitstop much more complex. It adds a lot more jeopardy to the pitstop length, which is exciting and makes them much safer overall.
These teams adapt pretty well to this kind of regulation change but don't be surprised if we see a few more cars lose huge chunks of time in the pits at the next few races! It's going to take quite a long time before we see another sub-two-second pitstop!
Do you like the new pit stop rules?