Okay, pinch us, it's a miracle. F1 is back, the drivers are on track and Toto Wolff and Christian Horner are in agreement on something. Hurrah!
Forget Hamilton vs Verstappen, Prost vs Senna or Hunt vs Lauda, it's the two team bosses who've been locked in a war of words throughout last season. Three months and one replaced Race Director later, the final lap of the Abu Dhabi Grand Prix is still a hot button issue on social media, dividing F1 fans around the world.
Yet surprisingly, two of it's biggest players are united in wanting to draw a line under what happened.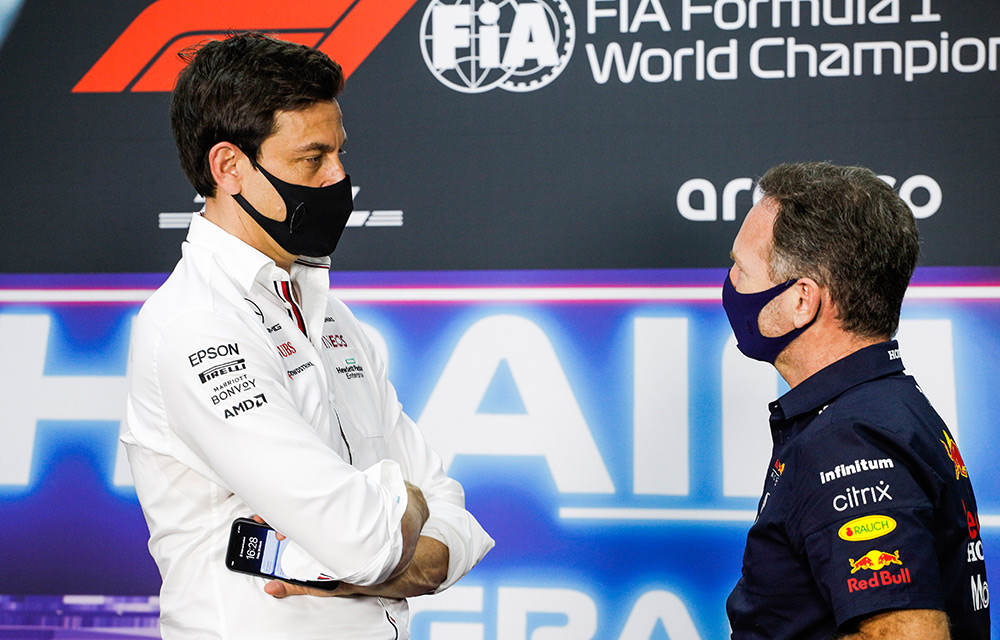 "Maybe we have different opinions, but that's behind us now," Horner said.
Echoing the Red Bull Team Principal's thoughts, Wolff agreed it was time for F1 to move on.
"There has been so much talk about Abu Dhabi that it came to a point that it is really damaging for all of us stakeholders of Formula 1 and we have closed the chapter and moved on," the Mercedes boss said.
"Now it is about 2022. The game is on again, all points are [reset] to zero and there are new opportunities and new risks."
Take 2. Horner forgets his mask. Wolff offers him his Mercedes one. pic.twitter.com/yof11OXrR1

— Philip Duncan (@PhilDuncanF1) February 23, 2022
These two have butted heads more times than we can remember, so they may be in harmony right now but their intense rivalry isn't going anywhere anytime soon.
"It's to be expected. It got fierce at times and brutal but there is a lot at stake," Wolff added.
"It is the Formula 1 World Championship and there is the fighting on track and the fighting off track, so that is OK."
Odds on they're already at each other's throats again before the first race in Bahrain.
Do you agree that it's time to move on from Abu Dhabi? Let us know in the comments below.