Mercedes are throwing down the gauntlet to Red Bull ahead of the final two races of the season. With Lewis Hamilton trailing his rival Max Verstappen by eight points, the Silver Arrows have decided to bring back their not-so-secret weapon – Lewis' engine from Brazil.
Unlike Red Bull, the seven-time champions have an extra engine to play with. The team chose not to use the power unit in Qatar as the Losail circuit's lack of straights means they wouldn't have gained much.
Plus, clearly, they didn't need it. Hamilton took pole by nearly half a second and took the chequered flag 25 seconds ahead of Verstappen, following the Dutchman's late pit stop to take the point for fastest lap.
As the championship fight hangs on a knife-edge, the high-speed Jeddah Corniche Circuit is expected to suit the Mercedes. However, Toto Wolff isn't leaving anything to chance.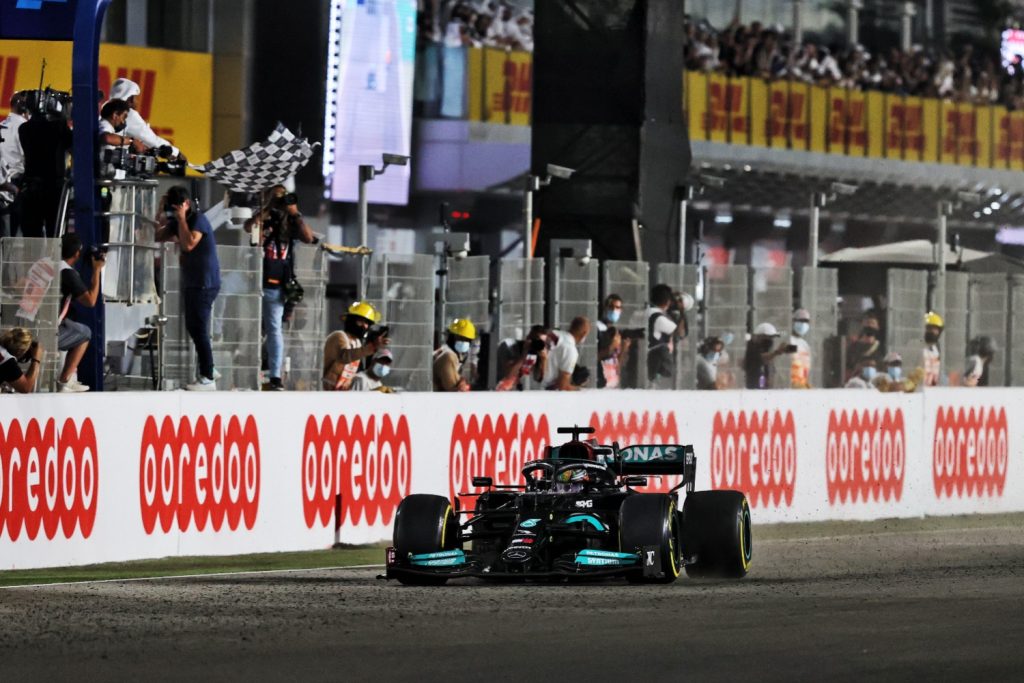 "The car is really fast. It seems to be in a happy spot, he controlled the race from the front, and that's a good indication for what's to come in Saudi Arabia and Abu Dhabi," the Mercedes boss told Sky.
"It should be a good track for us, but we know this year, when we think it is a good one, it can turn the other way around. But it's a long straight, and we will get our spicy equipment out, the engine, for Saudi Arabia."
As the engine will only need to last two more races, it can be run at higher power settings and should give Lewis a significant power advantage. Better turn it up to 11, then!
Max can win the title at the next race in Saudi Arabia if he:

– Wins with Fastest Lap, and Lewis is 6th

– Wins, and Lewis is 7th

– Is 2nd with Fastest Lap, and Lewis is 10th

– Is 2nd, and Lewis fails to score#F1 #HistoryAwaits pic.twitter.com/aqPZcTr8Vz

— Formula 1 (@F1) November 22, 2021
It was a "bittersweet" result in Qatar for Mercedes, with Hamilton's 102nd F1 victory alongside an unexpected puncture for Valtteri Bottas denying the team a potential double podium.
Interestingly, Verstappen's eight-point advantage means that he could take his first World Championship title if results in Saudi Arabia go his way, or Lewis can send it to a title-decider season-finale in Abu Dhabi.
Five points separate the two titans of the track in the Constructors' Championship. We hope Red Bull have got some milk ready, as things are about to get spicy 🌶️
Do Mercedes have the edge heading into the final two races? Let us know in the comments below.