Well, they do say to face your fears head on. Never one to shy away from a challenge, McLaren Racing CEO Zak Brown has faced his biggest fear yet… getting a tattoo.
Thanks to none other than Mercedes boss Toto Wolff and the Grand Prix Trust, a charity that helps those who have worked in F1 if they've fallen on hard times, Wolff nominated Brown to do something that he's scared of for their Industry Leaders' Challenge.
Famously, the McLaren boss is petrified of needles and with Daniel Ricciardo in your team, there was only ever going to be one option.
Not that Monza was going to be forgotten in a hurry… 🇮🇹🏆 #McLaren #F1 pic.twitter.com/wNgeNs4ecx

— Zak Brown (@ZBrownCEO) October 23, 2021
Visiting a local tattoo parlour ahead of the United States Grand Prix, Brown decided to keep things simple with the outline of the Italian GP circuit and the date of Daniel's victory.
"For me, because I'm terrified of needles, it was like mental trauma, and it doesn't feel good," Brown told Sky Sports F1.
"My first win in Formula 1, so I'm happy to take that all the way with me."
Although it looks a bit worse for wear at the moment, we're sure the pain will have been worth it to remember such an iconic victory for the team.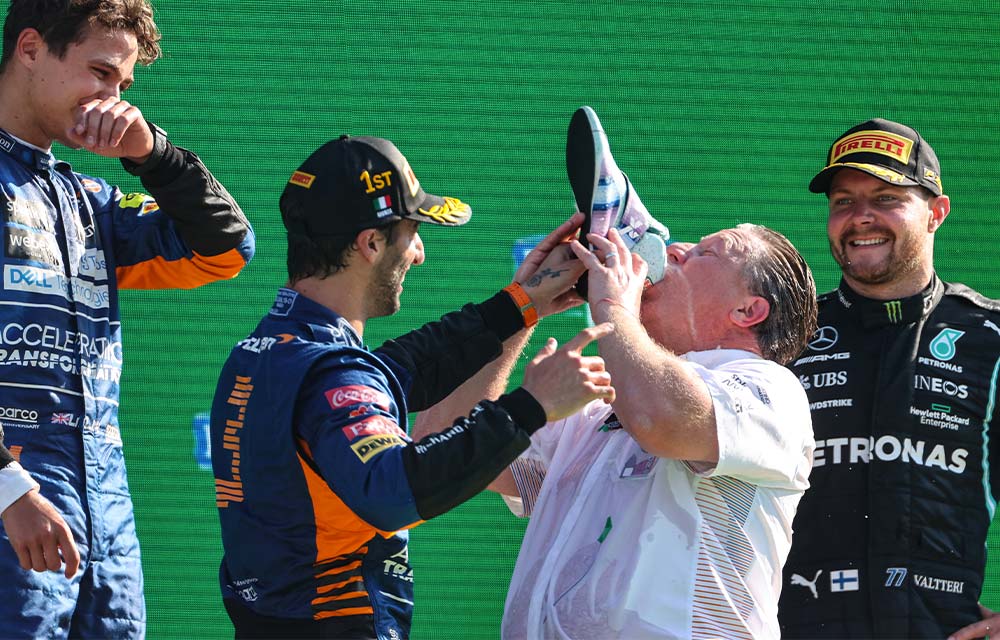 This isn't the only bet Brown has had to complete in Austin. Having agreed to give Daniel a drive in Dale Earnhardt Sr's NASCAR if he finished on the podium this season, the Aussie took to the track in the eye-catching car earlier today.
Unsurprisingly, you could see Daniel's smile from a mile away.
Now it's Zak's turn to nominate a member of the F1 paddock to conquer their fears, and he's set his sights on the very top of F1, CEO Stefano Domenicali. That's one challenge we can't wait to see.
Do you have an F1 tattoo?